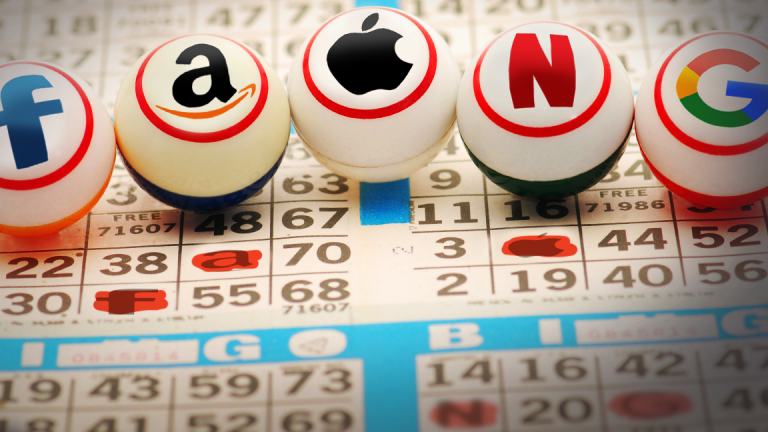 5 Biggest U.S. Tech Stocks Test $4 Trillion Valuation Amid Bullish Nasdaq Run
The five biggest U.S stocks, all of which trade in the tech sector, could top $4 trillion in value Thursday, overtaking the collective worth of all but one of the world's stock markets.
That's trillion with a 'T' (as in Tech).
The market cap of the five biggest U.S. tech stocks is set to top $4 trillion Thursday, taking their collective value past all but one of the world's stock markets and just outside of the global top ten in terms of total national national wealth.
With Facebook Inc. (FB) hitting an all-time high of $203.55 in Wednesday trading, giving the social media giant a market cap of $584.71 billion, the collective value of the five biggest stocks on the S&P 500 undefined --  which includes Apple Inc. (AAPL) , Amazon Inc. (AMZN) , Google parent Alphabet Inc. (GOOGL) and Microsoft Corp. (MSFT) -- was marked at $3.9501 billion. That's bigger than the entire value of both Japan's Nikkei 225, at $3.5 trillion, and Britain's FTSE 100, at $2.8 trillion. 
"FANG -- Facebook, Amazon, Netflix and Alphabet -- is 100% about growth without worries about tariffs and trade," TheStreet's founder, Jim Cramer, said late Wednesday. "We just learned today that Facebook's Instagram is close to a billion users. Facebook is about to start monetizing Messenger. And the company is testing paid for subscription groups. That's all in one day! All about growth and no trade war can stem any of these."
The value of the biggest stocks, plus that of Netflix Inc. (NFLX) , is $4.131 trillion, is only marginally lower than the value of China's Shanghai Composite. In fact, if you considered the FAANG+ complex as an individual economy, it would likely be just a few billion dollars from overtaking Italy as the world's tenth largest.
Bank of America Merrill Lynch pegs the market cap of the entire U.S. tech sector at around $6.6 trillion, a figure that dwarfs that of similar segments in China ($700 billion), Japan ($500 billion) and Europe ($500 billion).
"The extraordinary dominance of US tech in the global stock market is revealed by its $6.6tn market cap, larger than all of EM ($5.6tn) & Eurozone ($4.9tn)," BAML said in its latest Global Investment Strategy note.
The NYSE FANG+ Index, which tracks the moves of ten of the biggest and most active tech stocks in the world, hit a record high of 3,054.08 yesterday, taking its year-to-date advance to 37.4%. The broader S&P 500 Information Technology index closed 0.33% higher at 1,260.84 points and is up 14% for the year.
The Nasdaq Composite hit a record high of 7,781.51 points Wednesday, extending its year-to-date advance to 12.72%. 
Microsoft, Alphabet, Amazon, Apple and Facebook are holdings in Jim Cramer's Action Alerts PLUS member club. Want to be alerted before Jim Cramer buys or sells these stocks? Learn more now.