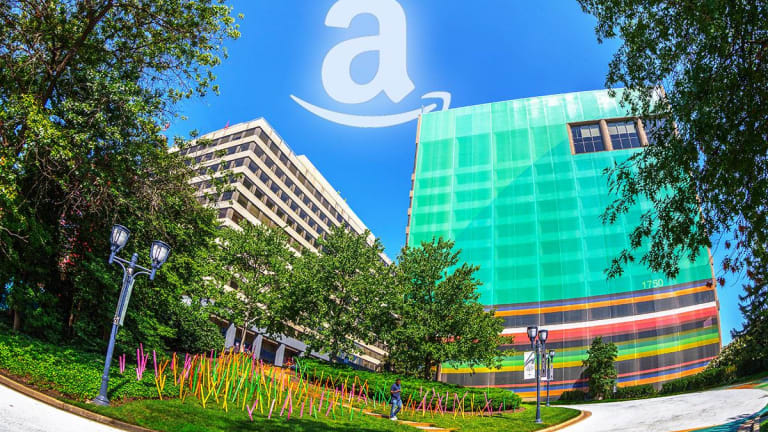 Amazon HQ2 Wins Virginia County Vote, But With Protests
Just a month after Amazon pulled plans to build new headquarters in Long Island City after facing criticism from public officials, skeptics and supporters lined up at county board meeting in Arlington on Saturday, according to live stream of event.
Just a month after Amazon (AMZN) - Get Amazon.com Inc. Report pulled plans to build one of its new headquarters in Long Island City after facing criticism from public officials there, the online retail giant found how residents of northern Virginia felt about giving tens of millions in public benefits for the project.
At a contentious hours-long county board meeting in Arlington on Saturday afternoon, town officials in the end voted on an incentive package worth around $51 million in total for the company. But voices of opposition had raised questions about whether this proposal could meet a New York-style backlash.
A number of people at the meeting objected to the plans, according to a live stream of the event, and after each board member voiced a vote in favor of the funding, they were met with chants of "shame, shame." 
Some opponents asked earlier in the afternoon why a huge company like Amazon should get cash from the county, while others worried about how residents could get priced out of living in the area. Still, others wanted conditions on the funding to include safeguards for construction workers and for use of clean energy for the headquarters.
Many supporters, however, said Amazon would add diversity to an economy that relies on federal government, and felt the trade-offs would be a net boon for the area. 
"Redeveloping Crystal City is good for this community," said member Katie Crystol, who said that the presence of Amazon would invite other corporate investment and potentially help offset the pain of another federal shutdown, according to the video stream.
Part of the $51 million sum -- a slice of the total the county is expected to handover to Amazon when the dust settles -- would include a $23 million pay-for-performance package that over 15 years would give Amazon as much as 15% of net new hotel tax revenues that are "associated with increased business travel to Arlington related to the Amazon headquarters," according to a press statement on the Arlington county government's website. Tourists and business travelers are expected to foot much of that bill. 
Arlington government will also set aside as much $28 million over a decade that would come from future tax revenue from the Crystal City, Potomac Yard and Pentagon City Tax Increment Financing Area around Amazon's planned headquarters.
Since choosing the site in November, Amazon has said it expects to create 25,000 jobs paying on average $150,000 a year in the area. The company also plans to occupy 4-million-square feet of office space within 11 years in Arlington, which expects to net hundreds of millions in taxes from the project over 16 years.
This story has been updated.