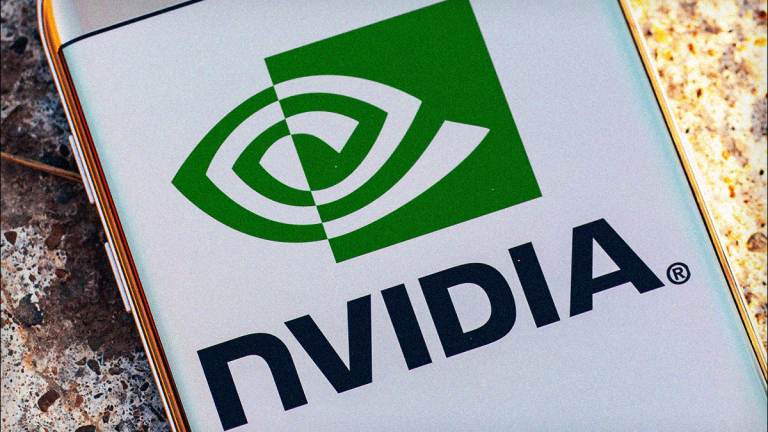 Nvidia Third-Quarter Earnings Live Blog
Real Money's Eric Jhonsa covers Nvidia's third-quarter earnings report and conference call with management.
Following its latest run-up, Nvidia's stock is up more than 125% in 2021, gains that leave the GPU giant sporting a $740 billion market cap.
Investors are clearly expecting Nvidia to once more post strong numbers when it reports after the bell on Wednesday. 
Among analysts polled by FactSet, the consensus for Nvidia to report October quarter (fiscal third quarter) revenue of $6.82 billion (up 44% annually) and non-GAAP EPS of $1.11 (up 52%).
Nvidia typically provides quarterly sales guidance in its reports. For the January quarter, Nvidia's revenue consensus stands at $6.89 billion (up 38% annually).
Eric Jhonsa, Real Money's tech columnist, will be live-blogging Nvidia's report, which will be posted at 4:20 p.m. Eastern Time, along with an earnings call scheduled for 5 p.m. 
Please refresh your browser for updates.
6:15 PM ET: Nvidia's call has ended. Though already up more than 120% YTD going into earnings, Nvidia's stock has risen another 4.7% after-hours to $306.44 after the company topped FQ3 estimates and issued FQ4 sales guidance that was more than $500M above consensus at its midpoint.
Gaming product sales rose 42% Y/Y thanks to both strong desktop and notebook GPU demand, while Data Center product sales (boosted by huge server GPU purchases by hyperscalers) rose 55%. Meanwhile, CMP mining GPU sales fell sharply Q/Q and are forecast to be negligible in FQ4.
On Nvidia's call, Jensen Huang repeatedly talked up the long-term opportunity he sees for Nvidia's Omniverse 3D design/collaboration platform, and in particular for Omniverse's recently-announced digital avatar solution. He also suggested Nvidia, which is making giant long-term purchase commitments with suppliers, will see its supply situation improve meaningfully by the second half of 2022.
Thanks for joining us.
6:07 PM ET: Huang makes some closing remarks. He recaps Nvidia's FQ3 performance across various end-markets. Says the company is working hard to increase supply in order to catch up with demand. Declares GTC highlighted Nvidia's "full-stack expertise" in a number of areas, while also showing how new software opportunities are opening up for it. Goes over Omniverse's capabilities once again, while declaring that they're just "the tip of the iceberg."
6:04 PM ET: A question about whether Nvidia is seeing some gross margin headwinds.
Kress: Our gross margin right now is largely stable. Product mix remains the largest driver for margin growth. Strong demand for high-end GPUs supporting AI workloads is a margin tailwind. But higher costs can be a headwind.
6:02 PM ET: A question about Nvidia's supply agreements. And one about where Nvidia thinks we are in the AI adoption cycle.
Kress: We're procuring supply not only for next year, but for the long-term. We plan to continue doing this.
Huang: Every single server will be GPU-accelerated someday. Today, that percentage is less than 10%. A lot of workloads still only run on CPUs. We've revolutionized a number of fields. A lot of the work we're doing right now to accelerate workloads will only begin paying off in future years. 
Huang also highlights Nvidia's efforts to drive AI-related chip design in partnership with EDA software firms, as well as its efforts to accelerate CAD software work. "People don't buy chips. They're trying to solve problems," he says.
5:56 PM ET: A question about whether Data Center will be a bigger contributor to FQ4 growth than Gaming. Also one about whether Data Center could see ~50% growth again next year.
Kress: You can probably expect Data Center to grow faster than Gaming in FQ4, both in percentage terms and dollars. We also expect CMP revenue to decline to a very negligible amount. We expect Data Center demand to be strong next year. But we'll wait until next year to provide guidance.
5:53 PM ET: An analyst jokes that he hopes Nvidia won't use Omniverse to target the sell-side research industry. Then asks a question about Nvidia's Data Center efforts and attempts to secure more wafer supply.
Huang: We've secured a very large amount of supply from the world's leading foundries, substrate suppliers and packaging/test firms. We feel very good about our supply situation, particularly starting in the second half of next year.
Also from Huang: About half of our Data Center business comes from the cloud, and about half comes from enterprises. Next year, we expect the cloud providers to scale out their AI workloads really aggressively. Our Triton AI inference server is one of our best pieces of work. Every single server within a data center could provide inference capacity. Triton now supports multi-node inference. Customers are very mindful of securing supply for their scale-outs, that gives us very good visibility.
He also gives another shout-out to Omniverse, arguing that digital avatars could help address customer support worker shortages.
5:43 PM ET: A question about Nvidia's software opportunity, and one about whether there'll be a new "killer app" coming out each year.
Huang: Chips don't create new markets. Software does. Accelerated computing requires a lot of work. For every major application it addresses, you need a whole stack (covering both hardware and software). Over the course of 30 years, we've become a full-stack company. We're working on a number of different stacks. Omniverse is one of them, it relies on a number of AI and computer vision solutions.
He adds that he believes Omniverse avatars will be in retail stores, restaurant drive-thrus, etc. within 5 years. 
5:36 PM ET: First question is about Omniverse. How do you define success here, and how is Nvidia thinking about subscriptions/licensing?
Jensen Huang: Omniverse success will be defined by developer support, enterprise adoption and usage by creators/designers. Omniverse has real, immediate applications. It serves as a way to connect 3D and digital design worlds. Think of Adobe or Autodesk as a world. Omniverse's collaboration features will be widely appreciated. And that drives more GPU sales.
He adds that the use of Omniverse to create digital twins for factories and other environments will also be a major use case. Also declares that robots will be both virtual and physical, and that he thinks avatars will be the biggest robotics use case (Nvidia revealed an avatar solution at GTC last week). Notes that Omniverse has a per-user licensing model that could generate $1,000 per user per year. And that tens of millions of digital avatars could be deployed across cars, customer support environments, etc.
5:26 PM ET: The Q&A session is starting.
5:24 PM ET: Kress: FQ4 sequential growth is expected to be driven by Data Center and Gaming, more than offsetting an expected decline in CMP (mining GPUs).
5:23 PM ET: Regarding Arm, Kress goes over the various antitrust probes related to the deal taking place around the globe. Says Nvidia continues to work with regulators and believe in the deal's merits. No ETA given for the deal's closing.
5:21 PM ET: Kress says Nvidia's Jetson AGX Orin solution for edge devices delivers 6x the performance of its predecessor. This is an end-market where Nvidia squares off against solutions from Qualcomm, Intel and others.
5:19 PM ET: She adds that CUDA has been downloaded more than 30M times, and that Nvidia's developer base is closing in on 3M.
5:18 PM ET: Kress asserts Nvidia's DOCA SDK is for its DPUs what its CUDA SDK is for its GPUs (i.e., it's meant to underpin a broad developer ecosystem)
5:16 PM ET: Kress is now recapping the GTC conference announcements made last week. The company unveiled a very long list of new software offerings, as well as new networking and edge AI hardware.
5:13 PM ET: Kress: Networking revenue was impacted as demand outstripped supply.
5:12 PM ET: Nvidia is now up 5.5% AH. The disclosure about just how much mining GPU revenue fell Q/Q might be helping, given how nervous markets have been about the sustainability of miner demand.
5:10 PM ET: Sales related to AI inference workloads once again outpaced total Data Center growth. More than 25K companies worldwide are said to now use Nvidia for inference.
5:10 PM ET: Regarding Data Center, Kress says growth was one more led by hyperscalers, and that hyperscaler compute revenue more than doubled Y/Y.
5:08 PM ET: Kress: More than 700 companies are evaluating Nvidia's Omniverse 3D design/collaboration platform.
5:07 PM ET: Kress reiterates that Nvidia doesn't have visibility into just how much its gaming GPUs are used for crypto mining. Adds that sales of mining-specific GPUs totaled $105M in the quarter.
Also mentioned: Nvidia now has more than 14M users for its GeForce Now cloud gaming service.
5:05 PM ET: Kress says Nvidia estimates about a quarter of its installed base has now adopted RTX GPUs.
5:04 PM ET: Kress notes that more than 200 games and apps now support RTX (real-time ray tracing), with 125 also supporting DLSS.
5:04 PM ET: Kress: Gaming demand was strong across the board. While we continued increasing desktop GPU supply, channel inventory remains low. Laptop GPU benefited from strong high-end demand.
5:03 PM ET: Kress is talking.
5:02 PM ET: IR chief Simona Jankowski is going over Nvidia's safe-harbor statement. Nvidia's call typically features prepared remarks from CFO Colette Kress, after which Kress and CEO Jensen Huang both take questions from analysts.
5:01 PM ET: The call is starting. Nvidia is up 4.2% AH going into it.
4:58 PM ET: Nvidia's call should start in a couple of minutes (I'll be covering). Here's the webcast link, for those looking to tune in.
4:57 PM ET: Nvidia's FQ3 revenue by segment and end-market. Gaming accounted for 45% of revenue, while Data Center accounted for 41%.
4:53 PM ET: Free cash flow, which can be lumpy from quarter to quarter, totaled $1.28B. That helped Nvidia end FQ3 with $19.3B in cash, down by just $350M Q/Q in spite of large supply prepayments and the maturing of $1B worth of debt.
4:51 PM ET: Non-GAAP operating expenses totaled $1.38B -- up 9% Q/Q and 25% Y/Y, and close to guidance of $1.37B. GAAP opex, which includes $515M in stock comp and $70M in "acquisition-related and other" costs, totaled $1.96B.

For FQ4, Nvidia is guiding for non-GAAP opex of $1.43B and GAAP opex of $2.02B.
4:48 PM ET: The 11% Q/Q drop seen in Automotive revenue is attributed to automaker supply constraints, while the strong growth seen in ProVis revenue is attributed to both desktop and notebook workstation GPU demand.
Both hyperscalers and "vertical industries" (Nvidia's term for traditional enterprises) are once more said to be growth drivers for the Data Center segment.
4:46 PM ET: Nvidia also notes that shipments of its CMP mining GPUs fell Q/Q and drove the 43% Q/Q drop it saw in OEM & IP revenue.
4:44 PM ET: Regarding gaming GPU sales, Nvidia says nearly all of its Ampere-architecture GeForce desktop GPU shipments now consist of GPUs with limited mining hash rates, as it tries to direct GeForce supply to gamers.
4:40 PM ET: Nvidia's non-GAAP gross margin was 67% -- up 30 bps Q/Q and 150 bps Y/Y, and in-line with guidance. The company's FQ4 GM guidance is also at 67% (+/- 50 bps).
4:38 PM ET: Shares are mostly holding onto their AH gains: They're currently up 2.5%.
4:36 PM ET: Against a backdrop of very tight wafer supply, Nvidia continues making big chip purchase commitments with foundry partners TSMC and Samsung: Its outstanding inventory purchase and long-term supply obligations totaled $6.9B at quarter's end, up from $4.79B three months earlier and just $2.57B twelve months earlier.
Nvidia adds that it made $1.64B worth of advance payments in the quarter related to new supply agreements, and will make future payments of $1.79B related to them.
4:33 PM ET: Nvidia on the Arm deal: "Although regulators and some Arm licensees have expressed concerns or objected to the transaction, we continue to believe in the merits and benefits of the acquisition to Arm, its licensees, and the industry."
4:32 PM ET: Here's a link to Nvidia's FQ3 report. And here's a link to their CFO commentary.
4:31 PM ET: OEM & IP revenue, which among other things covers low-end PC GPUs and cryptocurrency mining GPUs, came in at $234M -- down 43% Q/Q, up 21% Y/Y and above a $198M consensus.
4:27 PM ET:  Professional Visualization revenue (includes workstation GPU sales) rose 11% Q/Q and 144% Y/Y to $577M, beating a $537M consensus.

Automotive revenue (it covers infotainment processor sales and Nvidia's Drive autonomous/ADAS platform) totaled $135M, down 11% Q/Q and up 8% Y/Y. That's below a $162M consensus.
4:23 PM ET: Gaming revenue (it covers gaming GPUs and game console SoCs) rose 5% Q/Q and 42% Y/Y to $3.22B, topping a $3.13B consensus.
Data Center revenue (it includes server GPUs, DGX servers and Mellanox's networking products) rose 24% Q/Q and 55% Y/Y to $2.94B, beating a $2.74B consensus.
4:21 PM ET: Shares are up 3.2% after hours to $302.00.
4:21 PM ET: Nvidia guides for FQ4 revenue of $7.4B, +/- 2%. That's above a $6.89B consensus.
4:20 PM ET: Results are out. FQ3 revenue of $7.10B beats a $6.82  consensus. Non-GAAP EPS of $1.17 beats a $1.11 consensus.
4:16 PM ET: Consensus revenue estimates for Nvidia's business segments:
Gaming - $3.13B
Data Center - $2.74B
Pro Visualization - $537M
Automotive - $162M
OEM & IP - $198M
4:09 PM ET: Also likely to be closely watched: Any updates Nvidia shares about its deal to buy CPU IP giant Arm. Yesterday, the U.K. announced it'll conduct a "Phase 2" probe of the deal's antitrust and national security implications. And in August, Nvidia said the deal is unlikely to close by its original March 2022 ETA.
4:05 PM ET: From all indications, Nvidia still has all the demand it can handle right now: Gaming GPUs remain out of stock and selling for large aftermarket premiums, and Internet/cloud giants (the proverbial hyperscalers) continue making giant AI-related investments.
As a result, any comments Nvidia shares about the GPU supply situation (whether for the rest of this year or 2022) will be closely watched. Some other major fabless chip developers, such as Qualcomm and AMD, have indicated they've seen some improvement in wafer supply.
3:58 PM ET: Nvidia is heading into the close down 3.1% on the day. But shares are still up 122% YTD and more than 30% just in the last month. Those gains leave Jensen Huang's company sporting a $733B market cap.
3:55 PM ET: Among analysts polled by FactSet, the consensus is for Nvidia to post FQ3 revenue of $6.82B, GAAP EPS of $0.90 and non-GAAP EPS of $1.11, and to guide for FQ4 revenue of $6.89B. Informal expectations are likely higher.
3:51 PM ET: Hi, this is Eric Jhonsa. I'll be live-blogging Nvidia's FQ3 report (due at 4:20 PM ET) and call (set for 5PM).