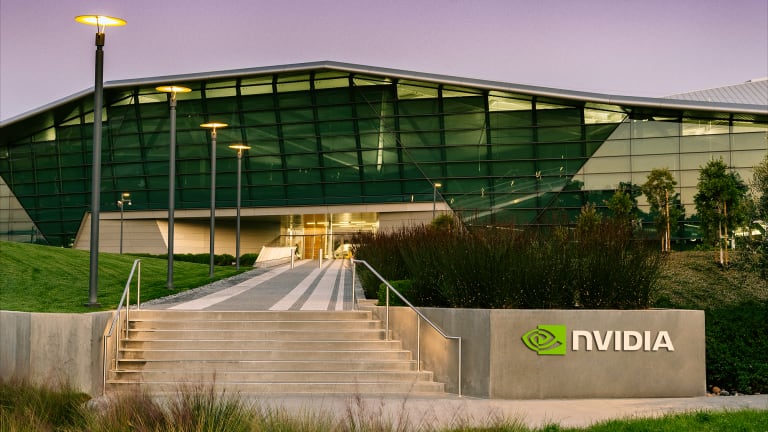 Nvidia First-Quarter Earnings Live Blog
Real Money's Eric Jhonsa covers Nvidia's first-quarter earnings report and conference call with management.
Amid broader selling pressure in growth stocks, Nvidia's shares are down 42% year-to-date. Bulls are hoping a strong earnings report will help erase some of those losses.
Among analysts polled by FactSet, the consensus is for the GPU giant to report April quarter (fiscal first quarter) revenue of $8.12 billion (up 44% annually) and non-GAAP EPS of $1.30 (up 42%).
Nvidia shares quarterly sales guidance in its reports. The company's July quarter revenue consensus stands at $8.4 billion (up 29%).
Eric Jhonsa, Real Money's tech columnist, will be live-blogging Nvidia's earnings, which is scheduled to arrive at 4:20 P.M. Eastern Time, along with a conference call with management that's scheduled for 5:00 P.M.. (Please refresh your browser for updates.) 
6:09 PM ET: Nvidia's call has ended. Shares are down 6.6% after-hours to $158.59 after the company beat April quarter sales and EPS estimates on the back of above-consensus Data Center and Gaming segment revenue, but issued below-consensus July quarter sales guidance, while stating it expects a ~$500M impact from China's COVID lockdowns and from exiting Russia.
On the earnings call, CFO Colette Kress said Nvidia's Gaming segment expects a ~$400M July quarter revenue hit from China and Russia, and that its Data Center segment expects a ~$100M hit from Russia. Gaming revenue is forecast to decline Q/Q -- North American demand is said to remain strong, but some weakness is now seen in parts of Europe and China -- while Data Center revenue is expected to be up Q/Q in FQ2, as well as in subsequent quarters this fiscal year.
Nvidia also disclosed that it bought back ~$2B worth of stock in its April quarter, and that it has extended its buyback program "to repurchase additional common stock up to a total of $15 billion through December 2023."
Thanks for joining us.
6:03 PM ET: Huang with some closing remarks. Says the duration of the war in Ukraine and China lockdowns are hard to predict, but Nvidia's business remains on solid footing. Reiterates Nvidia is focused on ramping Hopper, new networking products, Grace, Orin and its software platforms. Declares these initiatives "will greatly advance AI."
6:01 PM ET: A question about expected Automotive segment growth.
Huang: We just started shipping Orin. It's designed for a software-designed robotic car or factory equipment. It has 35 automotive design wins and many non-auto design wins. We have over $11B in automotive design wins secured for the next 6 years. AI systems at the physical edge are going to be the next big computing segment. 
He also notes Nvidia's edge AI efforts also extend to software, AI models, mapping, etc.
5:56 PM ET: A question about Nvidia's purchase-obligation growth.
Kress: For the first time ever, we're pre-paying for supply. Many of our purchase obligations are for long-lead-time items. Much of it is for our Data Center business. Networking is still supply-constrained.
5:55 PM ET: A question about whether Nvidia expects continued sequential Data Center growth through the end of the year.
Huang: The answer is yes. We see strong Data Center demand. Ampere continues scaling out. We'll be layering Hopper and new networking products on top of that. And we'll have increased supply.
5:53 PM ET: A question about second-half Data Center visibility.
Huang: On first principles, it should be the case our Data Center is vastly better than a couple years ago. Back then, deep learning adoption wasn't as widespread. We can now do all kinds of interesting things that don't require human-labeled data. Also, before we were training-focused. Now inference is a large business for us. Vertical industries AI adoption is now taking off. And now we have a networking portfolio thanks to the Mellanox acquisition.
5:47 PM ET: A question about FQ2 China headwinds are more supply-related or demand-related.
Kress: The current China lockdowns have implications for both supply and demand. We've seen logistics challenges in China. There's also a demand impact. We do believe they'll come out of COVID and that demand for our products will come back. In the case of Russia, we're not selling to Russia. It has been about 2% of company revenue historically, and a little larger percentage of our Gaming revenue.
5:45 PM ET: A question about the impact of new products later this year. And one about whether macro headwinds will impact Data Center demand.
Kress: Most of the ramp we'll see from new architectures will be later this year. Hopper will launch in FQ3 but ramp towards the end of the year.
Huang: Our Data Center demand remains strong. We're seeing really strong A100 adoption. A100 is unique in the world of accelerators. We're now able to accelerate quite a few data functions. Deep learning recommender systems are foundational to the Internet. Conversational AI adoption is also growing. And large-language models are now taking off. Thousands of AI developers are now using our solutions.
5:39 PM ET: A question about how cloud and enterprise Data Center demand are respectively faring. And one about enterprise software attach.
Huang: We expect to have another record quarter for Data Center, and we're enthusiastic about the second half of the year. AI investments are incredible strategic to companies. Most companies are about domain-specific intelligence. Nvidia's networking business remains highly supply-constrained due to parts shortages. But supply is expected to gradually improve over the course of the year.
Regarding software, Huang highlights the adoption of a variety of AI models by enterprises, and argues enterprises need a partner to provide solutions that go beyond just hardware. He also gives a shout-out to Omniverse, stating about 10% of the world's top 100 companies are now Omniverse clients and that it has now been adopted by more than 700 companies.
5:32 PM ET: A question about how much Gaming sales are expected to drop Q/Q in FQ2.
Kress: We expect Gaming to decline sequentially in the teens in FQ2. We think gaming end-demand still remains strong. We expect gaming end-demand to still grow Y/Y in FQ2.
5:30 PM ET: A question about Data Center sales, and whether future demand will be more system-driven than it is today.
Huang: The next generation of servers support PCIe Gen 5. They have much greater I/O performance. We're perfectly timed with Hopper (H100) to support the Gen 5 refresh. Different workloads require different architectures. One size doesn't fit all. NVLink makes it possible for us to mix and match chips, dies, packages, etc. We'll see even more types of configurations over time. Custom hardware solutions will be developed for cloud and edge AI workloads.
He adds Nvidia will support a number of types of systems integration for OEMs, including semi-custom chips, modules and packages.
5:24 PM ET: A question about gaming demand and how it looks beyond FQ2.
Jensen Huang: The underlying dynamics of the gaming industry remain solid. Many new PC gamers have been created over the last couple of years. It's hard to predict when COVID and the war will be behind us, but industry dynamics remain great.
5:21 PM ET: The Q&A session is starting. Shares are currently down 7.1% AH.
5:20 PM ET: Kress says Nvidia is still on track to grow its non-GAAP operating expenses by a high-20s % this fiscal year.
Regarding FQ2 guidance, Kress says Russia/China are expected to have a ~$400M impact on Gaming sell-in and for Russia to have a ~$100M impact on Data Center. Data Center revenue is expected to be up Q/Q, while Gaming revenue is expected to be down.
5:18 PM ET: Kress highlights Nvidia's efforts to drive industry adoption of its NVLink high-speed interconnect, as well as the start of the ramp for its Spectrum-4 high-speed Ethernet product line.
Regarding gross margin, Kress reiterates Nvidia has opportunities to further grow its GM long-term as it launches new products and rolls out more software.
5:15 PM ET: Kress says the H100 GPU and DGX H100 servers will ramp later this year. Reiterates Nvidia is on track to launch its Grace Arm server CPU in 1H23 and highlights recently-announced Grace design wins with server OEMs.
5:12 PM ET: Regarding Data Center, Kress says sales to hyperscale and cloud-computing customers more than doubled Y/Y. Also says demand is still strong from "vertical industries" clients (traditional enterprises), and that networking revenue accelerated.
Networking products (like many of Nvidia's GPUs) are still supply-constrained, though improvement is expected over the course of the year.
5:10 PM ET: Kress notes Nvidia's Drive Orin SoC is now in production and now has 35 design wins. Says Nvidia's total auto design win pipeline now exceeds $11B over the next 6 years.
5:09 PM ET: Kress says workstation GPU remained strong, as companies continued investing to support remote workers. Also highlights customer wins for Nvidia's Omniverse 3D collaboration/simulation platform with the likes of Amazon, PepsiCo and Kroger, and notes Omniverse is boosting GPU sales.
5:05 PM ET: Kress recaps Nvidia's Gaming performance. Highlights strong demand for Ampere gaming GPUs. Says Nvidia estimates almost a third of Nvidia's gaming installed base is now using RTX GPUs.
She adds that gaming demand remained strong in North America, but also says Nvidia saw some softness in parts of Europe and in China. Gaming revenue is expected to decline Q/Q in FQ2, and channel inventory is said to have largely normalized.
5:03 PM ET: Kress is talking. She notes Data Center is now Nvidia's largest reporting segment, and that Nvidia sees "strong momentum" in it going forward.
5:02 PM ET: IR chief Simona Jankowski is going over the safe-harbor statement. Typically, Nvidia's call features prepared remarks from CFO Colette Kress -- CEO Jensen Huang also jumped in last time around -- with Kress and Huang then fielding questions from analysts.
5:01 PM ET: The call is starting. Shares are down 6.8% AH going into it.
4:58 PM ET: Nvidia's call should kick off shortly. Here's the webcast link.
4:57 PM ET: Nvidia's GAAP R&D spend rose 40% Y/Y to $1.62B, as the company continues investing heavily in a number of hardware and software project. SG&A spend rose 14% to $592M.
For FQ2, Nvidia is guiding for non-GAAP operating expenses of $1.75B, up from FQ1's $1.61B. Excluding a termination fee related to the Arm deal, GAAP opex is expected to rise to $2.46B from $2.21B.
4:51 PM ET: Ahead of its buyback authorization hike, Nvidia spent $2B in the April quarter on payments related to common stock repurchases.
Quarterly free cash flow was $1.35B, and the company ended FQ1 with $20.3B in cash and $10.9B in debt.
4:49 PM ET: GPU archrival AMD's shares are down 2.6% AH following Nvidia's report. Intel is down fractionally.
4:47 PM ET: Nvidia's Professional Visualization revenue (driven by growing workstation GPU sales) rose 67% Y/Y to $622M
Automotive revenue fell 10% Y/Y to $138M, with Nvidia attributing this to auto supply constraints and lower "legacy" infotainment SoC revenue.
"OEM and Other" revenue, which among other things covers non-gaming consumer GPU sales, fell 52% to $158M. In line with its prior guidance, Nvidia says the segment recorded only "nominal" sales of crypto mining GPUs, compared with $155M a year ago.
4:41 PM ET: In its CFO commentary, Nvidia says its outstanding inventory purchase and long-term supply obligations (a large portion of which appear to involve foundry partner TSMC) totaled a whopping $9.59B at the end of FQ1.
That's up from $9B at the end of FQ4 and just $3.46B a year earlier, and suggests Nvidia remains eager to secure wafer capacity as it ramps its new H100 server GPU and preps a gaming GPU refresh set for later this year.
4:38 PM ET: Nvidia's FQ1 non-GAAP gross margin (benefiting from ASP increases, hurt by higher costs) was 67.1% -- up 10 bps Q/Q and 90 bps Y/Y, and slightly above a guidance midpoint of 67%.
For FQ2, the company is guiding for a non-GAAP GM of 67.1%, plus or minus 50 bps.
4:33 PM ET: Here's Nvidia's earnings release. And here's its CFO commentary.
4:31 PM ET: Nvidia is now down 7.2% AH. FQ1 results weren't bad, but the FQ2 guidance is weighing heavily for now. Any comments management shares on the call about how long they expect China headwinds to last -- and whether it expects the sales lost in FQ2 will be made up later this year -- will be closely watched.
4:27 PM ET: Nvidia says it has "extended the company's share repurchase program to repurchase additional common stock up to a total of $15 billion through December 2023."
4:26 PM ET: Nvidia's Data Center revenue totaled $3.75B in FQ1 -- up 15% Q/Q and 83% Y/Y, and above a $3.6B consensus.
Gaming revenue totaled $3.62B -- up 6% Q/Q and 31% Y/Y, and above a $3.46B consensus.
4:23 PM ET: Shares are down 8.8% after-hours to $155.00
4:22 PM ET: Nvidia guides for FQ2 revenue of $8.1B, plus or minus 2%. That's below an $8.4B consensus.
The company notes the guidance assumes a ~$500M revenue hit related to Russia and to China COVID lockdowns.
4:21 PM ET: Results are out. FQ1 revenue of $8.29B beats an $8.12B consensus. Non-GAAP EPS of $1.36 beats a $1.30 consensus..
4:15 PM ET: As a reminder, Nvidia is scheduled to release its FQ1 report at 4:20 PM ET.
4:14 PM ET: From all signs, business remains very good for Nvidia's Data Center segment amid very strong server GPU demand from cloud giants: The consensus is for FQ1 Data Center revenue to be up 76% Y/Y to $3.6B.
Gaming segment demand also still looks strong, but (with aftermarket GPU prices cooling off some) investors are looking for Nvidia to affirm demand will remain good in the back half of the year. The FQ1 Gaming revenue consensus is at $3.46B (+26%).
4:09 PM ET: Nvidia closed up 5.1% today to $169.75, but remains down 42% YTD, amid a 28% decline for the Nasdaq. Shares are heading into earnings trading for 30 times Nvidia's FY23 (ends Jan. '23) EPS consensus and 25 times its FY24 EPS consensus.
4:04 PM ET: The FactSet consensus is for Nvidia to report FQ1 revenue of $8.12B and non-GAAP EPS of $1.30.
The consensus for FQ2 sales guidance, which will be closely watched, stands at $8.4B.
4:02 PM ET: Hi, this is Eric Jhonsa. I'll be live-blogging Nvidia's report and call.