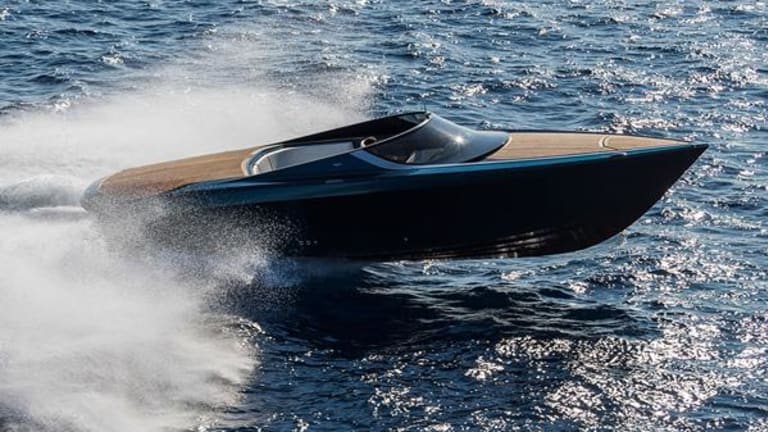 Would James Bond Drive This Boat?
Aston Martin, most well-known for making James Bond's favorite car, is expanding its brand offerings to include everything from powerboats to SUVs and sunglasses.
Editors' pick: Originally published Oct. 17.
The company most well known for creating the car of choice for James Bond has just unveiled a stylish powerboat worthy of any self-respecting screen icon, secret agent or international jetsetter.
The Aston Martin AM37 powerboat made its debut at the Monaco Yacht Show in late September and is part of a brand expansion for the exclusive luxury car maker that includes everything from selling Aston Martin sunglasses and SUVs to opening a jaw-dropping brand experience boutique on one of London's most exclusive streets.
But first things first, the boat, which at 37-feet is just large enough for Bond to squire a lady friend around in elegance.
The AM37's vital statistics include that it's a day cruiser, available in two versions, capable of reaching a staggering 45 to 50 knots respectively.
The cabin includes mood lighting (of course), air conditioning and fine leather interiors. There's also such standard amenities as a refrigerator, microwave, and coffee maker, as well as a lavatory.

Among the exterior details worth noting are the wraparound windscreen crafted from a single piece of sculpted glass that's fluidly draped over the AM37's foredeck and the sliding deck technology that allows for covering the boat's entire cockpit at the touch of a button.
The AM37's carbon fiber dashboard meanwhile was designed to echo styling elements from Aston Martin's sports cars. It includes more fine leather and a steering wheel, throttle handles and joystick in polished metals.
Additional niceties include navigation, control monitor and entertainment systems integrated with multimedia functions and a swimming platform extending from the aft deck.
Marking the luxury car brand's entry into the nautical world, the AM37 might seem a little tame by Bond's notoriously gadget-laden standards. But those who love boats say Aston Martin's new offering is a thing of beauty, exceedingly sophisticated in much the same way the company's cars are (and well, in the same way 007 is).
"It has really fabulous design, with old world class to it and very rich materials," says Kelly Blue Book Senior Analyst Karl Brauer. "And certainly high-end boating goes right along with the customer profile that the brand appeals to."
The boat was designed by the same Aston Martin craftsmen who worked on the brand's One-77, Vulcan and DB11. It's being produced by Quintessence Yachts.
The two versions available for purchase are the AM37 and the AM37S. One of the most notable differences between the models is speed. The AM37 has an estimated top speed of 45 knots and a choice of two 370 hp Mercury diesel or two 430 hp Mercury petrol engines. The top speed of the AM37S is 50 knots and the boat includes twin 520 hp Mercury petrol engines.
The starting price for all of this sophisticated elegance was not included in initial data released by the company.
However, company executives were very effusive about the thought process behind the boat and its styling.
"AM37 is a pure translation of the Aston Martin DNA into an entirely new maritime concept. The powerboat reflects our values in terms of power, beauty and soul," said Aston Martin's EVP & Chief Creative Officer Marek Reichman in a press release. "The most important attribute for Aston Martin is the design language and proportion, we have transferred this DNA into AM37. It was important to us when considering this project to make sure that the boat design was as beautiful and timeless as our cars, the AM37 is a striking boat with fantastic proportion and elegance."
By many accounts, Aston Martin, founded in 1913, is going through a pivotal phase at the moment. The company has a relatively new CEO, and established a new technical relationship with Mercedes-AMG not all that long ago. It also recently launched a lofty new Art of Living concept.
Described in a press release from Aston Martin as an "opportunity to experience the company's legendary reputation for cutting-edge technology, iconic design and exceptional craftsmanship across a portfolio of the finest artisan products and truly bespoke experiences," Art of Living promises offerings ranging from behind the scenes access to some of the world's top events to a unique pair of sunglasses or beautiful watch.
"It is a way of life that captures the very essence of the Aston Martin brand," the release continues.
It's also a way of life that will champion independent talent, refined craftsmanship and design integrity to create beautiful objects.
One of the best ways to experience this promise at the moment seems to be through the company's first brand experience boutique in the heart of London's Mayfair district.
Opened at the beginning of September, the store, "Aston Martin at No. 8 Dover Street," is billed as an intersection of the company's products, experiences and brand collaborations.
Details about this glam boutique are as sexy as some of James Bond's leading ladies.
No. 8 Dover Street features a selection of fine artisan and bespoke products that fit in with the Aston Martin lifestyle of elegance and exclusivity.
The store itself features modern design mixed with artisan craftsmanship. There's a bespoke mosaic floor handcrafted from European oak that follows a nautilus shell design. The floor's concept is mirrored on the store's ceiling with a "Starry Night" light installation meant to highlight the sleek, elegant lines of the Aston Martin sports car on display in the store.
At the showroom's edges are tailor-made oak cabinets and walls decorated with art from London-based Vezzini & Chen, whose work is a mixture of hand carved ceramics and blown glass.
And in perhaps an ode to the notoriously high-tech secret agent, the store includes a 120-inch, 4K Ultra HD, LED-LCD TV screen, (one of the largest in Europe) to allow guests to explore content created by Aston Martin and its partners.
One can almost imagine Bond making an appearance at this swank boutique, in a tuxedo, with a beautifully dressed woman on his arm, before dashing off on some high stakes chase.
Glamorous as it all may be, luxury analysts and experts have mixed opinions about whether such brand transitions can ultimately be successful.
"When a luxury brand starts to branch out, and we have seen this in retail a lot, we've seen Hermes doing this, Ferragamo is another great example, they used to be just handmade shoes, now they have an entire clothing line - they run the risk of diluting the brand," says Nicholas Kinports, executive vice president of strategy for Notice Agency, which represents luxury lifestyle brands such as Porsche, Loews and Hilton.

Kinports also happens to be an Aston Martin owner himself, and has been a fan of the brand since childhood, in large part because of its association with Bond and all that came along with that mystique, the cool and suave leading men playing bond, the aspirational lifestyle the movies and cars represented.
All of which, for Kinports, meant that the first chance he had, he bought an Aston Martin.
Now as the brand transitions into boats, SUVs and lifestyle products, he and others are watching with hesitation.
"Does it change what makes them fundamentally great to begin with?" Kinports wonders.
Doug Gollan, author of the book Secrets of Selling to the Super Rich and the founder and editor of DG Amazing Experiences, a weekly travel and lifestyle e-newsletter for private jet owners, sees the challenge as well.
Gollan notes that putting one's brand name on another luxury product doesn't ensure success.
As an example, he points to Ralph Lauren. One of the best run companies in the luxury segment, Ralph Lauren has struggled with weak sales of its high-end mechanical watches, (an offering that seemed to make sense to Mr. Lauren, who was a well-known watch collector.)
"The challenge is super rich consumers don't wake up in the morning and wonder about what new products Hermes or Bentley are launching," says Gollan. "There are more luxury brands than ever, offering more luxury products, so the question is, have you figured out a cost-effective way to get to the very narrow market of ultra high net worth individuals that can actually afford to buy these things."
Brauer, the Kelly Blue Book analyst, says Aston Martin's move makes perfect sense. A longtime watcher of the brand, he says the landscape of premium cars is very crowded these days with Bentley seeing a revival in recent years, as well as Rolls-Royce. At the same time, McLaren is offering a brand new premium brand of automobile that has taken off in the past two years.
"It's a smart move on their part, because even having a premium car isn't all that unique now," says Brauer. "Aston Martin wants to offer a premium experience that goes well beyond the cars. I think that is the thinking and it makes sense."
Kinports, however, remains in wait-and-see mode - still happily driving his Aston Martin and hoping that as the brand makes this shift it retains the exclusive quality and high standards that have inspired decades of devotees.
"The really interesting question here is whether a brand that has so much equity built up over a century can translate that into other areas" says Kinports. "How are they going to pull this off? I'm not sure. With James Bond they had one of best historic marketing campaigns going."
Uncharted waters for the company perhaps. But even Bond himself was always up for a good challenge.