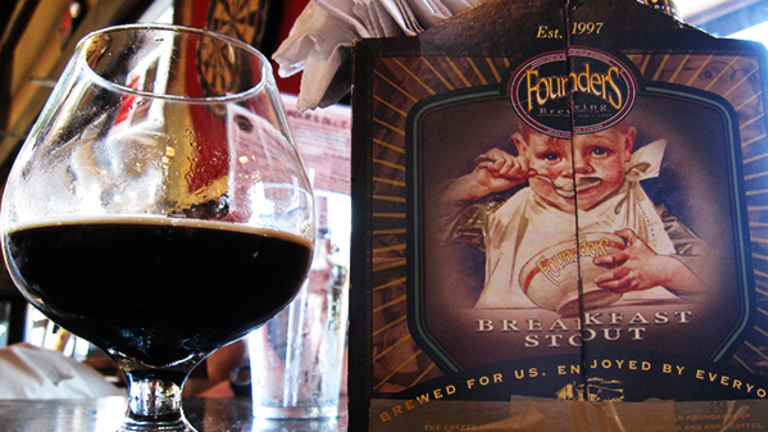 10 Winter Beers Here Before Halloween
Craft beer brewers release seasonal beer early because you won't drink winter beer later. What winter beer is already in stores in September?
People are still complaining about pumpkin-spice everything, but breweries are already releasing their winter beers.
Unlike fall, which leans heavily on pumpkin beers and Oktoberfest Märzen beers, winter beer tends to be a bit more diverse. Porters, Stouts, Brown Ales, Old Ale, Barleywine, Amber Lager, Wheat Wine, White IPA -- all of those qualify and "winter beer" and all of them are usually among brewers' winter offerings. They aren't just for small brewers, either: MillerCoors's (TAP) - Get Molson Coors Beverage Company Class B Report Leinenkugel and Blue Moon brands produce winter seasonals, as do some of its recently acquired craft brands including Saint Archer and Terrapin. Anheuser-Busch InBev (BUD) - Get Anheuser-Busch Inbev SA Sponsored ADR (Belgium) Report , mean while, releases winter seasonal beers through its Shock Top label as well as many of the ten craft beer brands it's purchased since 2011.
All of those styles come during a tough part of the calendar for brewers. According to the Treasury Department's Alcohol and Tobacco Tax and Trade Bureau, the 16 million barrels of beer that the industry sells in August winnows away to 12 million by November before briefly climbing to 13.5 million for the December holidays. By January, sales drop to 12.9 million barrels and remain frozen there until roughly St. Patrick's Day.
While we understand why some brewers would want to get a jump on things and boost numbers a bit, we'll admit that September is very early for winter holiday beers. Bart Watson, chief economist for the Brewers Association craft beer industry group in Boulder, Colo., notes that November 1 is typically when U.S. reach their limit on fall beers and move onto the next season. He pointed out that interest in seasonal beers plummets on November 1, but quickly climbs again throughout the month.
That said, market research group IRI Worldwide notes that 11.6% of seasonal beers are sold in October. By comparison, just 9.3% of seasonal beer is sold in November. That's kind of a tough comparison, though as Watson says winter beers can be hard to track.
"The way the data is structured, I don't really know what seasonals are selling - just how much of the generic seasonal SKU [stock-keeping unit, or beer packaging] sells in a given period," Watson said last year. "That said - fall seasonals, particularly pumpkins - kind of die in November, so it's likely any pickup is from winter seasonals."
Those winter seasonals fall into a broad spectrum. Stout is often considered a winter beer, but it comprises sweet Milk, Oatmeal and Chocolate stouts, roasty dry Irish stouts and high-alcohol Russian Impeerial stout. That's just one style amid English Old Ales, India Pale Ale variations, Scotch Ale, Barleywine, Porter, smoky Rauchbier and even Saison and certain varieties of wheat beers.
However, while it's a bit odd to drink pumpkin ale or even Märzen beyond late summer or fall, all but the Christmas-decorated winter warmers are pretty much fair game until early spring. Watson noting at sales of winter seasonals are strongest in the second half of both November and December, but that seasonally unspecific styles can carry over better than, say, pumpkin beers did when temperatures stayed unusually warm during fall 2015.
However, the main reason you'll see a wintry beer around this early in the year is because nobody wants to see it after New Year's Day. It's a shame, since the early months of the year are a wasteland for beer production and consumption, but Watson says that "lots of new resolutions, people saving a bit of money after holiday spending, etc." takes all beer off the table at least until Super Bowl Sunday.
With more than 5,300 brewers in the U.S. and limited shelf space for all of them, everyone is looking for a seasonal edge and nobody wants to be the last seasonal beer lingering around in January. We took a look at winter beer releases and found 10 -- some stalwarts and some newcomers -- that are bringing the holiday cheer as early as early as September.
More of What's Trending on TheStreet: