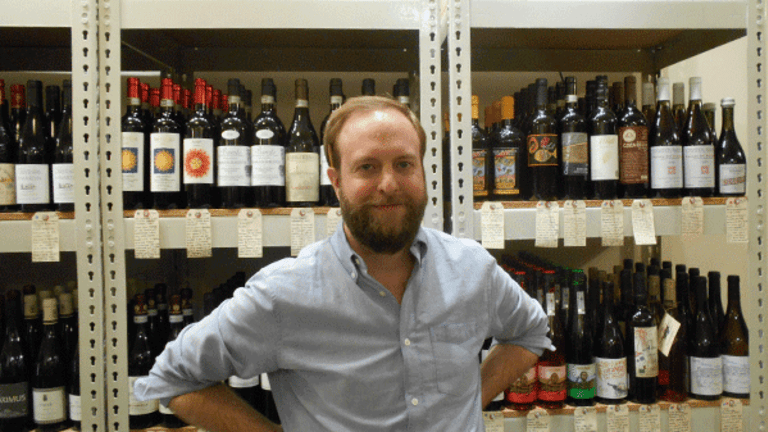 Wines--And Books About Wine--for Christmas From Hipster Williamsburg
Jonathan Kemp at Vine Wine in Brooklyn suggests wines for the holiday season, with some books to go with them
Editor's pick: Originally published Dec. 19.
The Christmas season demands wines that pair well with a range of foods and please a range of palates without being too punishing on the pocketbook. Jonathan Kemp, the buyer at Vine Wine in Brooklyn's trendy Williamsburg neighborhood, suggests ten wines that fit the bill, a few of which would be ideal accompaniments to books that the wine lovers in your life would enjoy receiving.
Sparkling wines are a holiday staple. Not only are they celebratory; their effervescence and acidity make them exceptionally versatile. Kemp suggests the Atmosphères Brut ($17) from Jo Landron, an organic producer in the Loire Valley who is best known for Muscadet. A blend of 80% Folle Blanche and 20% Pinot Noir that sees two years of of aging, this makes a great apéritif with its notes of citrus and red fruit.
Sometimes only Champagne will do. Laherte's Blanc de Blancs ($42) is a lean, focused Champagne made entirely from Chardonnay grapes. Kemp says the wine's "invigorating, bracing minerality" and notes of lemon and salt make for a perfect accompaniment to oysters and light hors d'oeuvres. The Champagne aficionados on your gift list will enjoy receiving this wine even more if you throw in a copy of David White's new book But First Champagne: A Modern Guide to the World's Favorite Wine.
Every host needs a Chardonnay, and the 2015 Petit Chablis from Isabelle and Denis Pommier ($22) is a perfect choice. Kemp says it's a "generous" Chablis with ripe fruit and restrained acidity. It would work well with oysters and sushi as well as turkey or chicken.
Riesling is an exceptionally versatile grape because of its acidity, though many drinkers as suspicious of it because they think it will be too sweet. Weiser-Kunstler's 2015 Riesling ($20) will make some converts. Last year was a warmer vintage ion the Mosel Valley, Kemp says, which the Weiser-Kunstler reflects in its notes of ripe apple and pear and a barely detectable sweetness that adds body to the wine and balances its acidity. This is a perfect wine for a holiday dinner of turkey, stuffing and sweet potatoes but works equally well with Asian takeout; Riesling fans can peruse John Haegar's excellent Riesling Rediscovered: Bold, Bright & Dry while they savor the Weiser-Kunstler.
The I Tigli from Piemontese producer Saccoletto Daniele ($20) is a great choice for those who want to try something unusual. A blend of the rare Italian grapes Bussanello and Timorasso, the I Tigli is fermented on the skins for about ten days, which gives it more structure than most white wines. Kemp says it has notes of ginger and salt with a subtle earthy smokiness and pairs well with root vegetables and roasted sweet potatoes. The I Tigle will win you points with any wine geeks who show up at your house; The Four Horsemen, one of the best wine bars in Brooklyn, has poured this wine by the glass.
The Domaine de Sablonettes P'tit Blanc ($17) is an excellent pairing with turkey, because it has some weight on the palate and notes of white flowers, almond and pear with the hint of honey on the finish characteristic of Chenin Blanc, the grape from which the wine is made by Loire Valley producers Christine and Joel Menard.
Steve Edmunds has been making wine in Berkeley, Calif. since the 1970s. Best known for his Syrahs, he merits a chapter in Patrick Comiskey's new bookAmerican Rhȏne: How Maverick Winemakers Changed the Way Americans Drink, one of the best wine books of the year and a great gift for oenophiles with a fondness for California wines. Edmunds pays homage to Beaujolais with his Bone Jolly ($23), which he make from Gamay grapes. Light in alcohol at 12.6%, it takes a slight chill and with its hints of dark fruit and good acidity is one of the rare reds to pair well with spicy foods, Kemp says.
Bernard Baudry's Cabernet Francs consistently deliver great value, and his single-vineyard wines make affordable, age-worthy gifts. The entry-level Les Granges ($18) has balances cherry, strawberry and raspberry notes with an earthy, savory quality that cuts through fatty meats. Serve it with duck breast or, if you're tired of holiday meats, a grilled steak.
The 2010 Pacina Toscana IGT ($30) is made from Sangiovese grapes grown in the Castelnuovo Berardenga district of Colli Senesi in Chianti. Kemp says it's a good gift wine because it has some age but is ready to drink now. "You get structure and complexity with this one," he says, citing its "earthy, leafy, autumnal flavors." If you want to give someone a book along with this wine, Chianti Classico: The Search for Tuscany's Noblest Wine, by Bill Nesto and Frances di Savino, would be most appropriate.

As Comiskey details in American Rhȏne, there have always been California winemakers attracted to red grapes other than Cabernet and wine styles other than robust, high-alcohol, oaky and fruity. Lagier Meredith follows in that counter-cultural tradition with its 2010 Mondeuse ($40), a grape from the Savoie region of France. The Lagier Meredith has notes of cherry, spice and mint and good tannic structure.