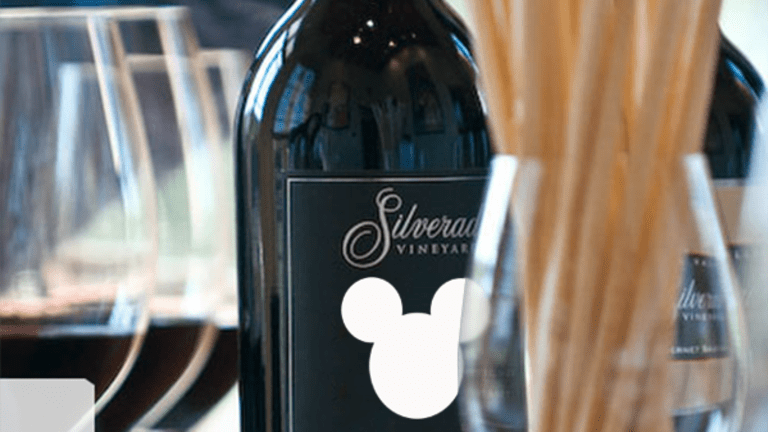 Publish date:
Why This One Napa Vineyard Is a Magic Kingdom in Its Own Right
Disney ties at Silverado Vineyards have allowed for all kinds of enchanted vintages.
Disney ties at Silverado Vineyards have allowed for all kinds of enchanted vintages.
Maybe the Most Magical Place on Earth isn't in Orlando after all.
Walt Disney's daughter Diane seemed to think it was in the Napa Valley.
That's why she and her husband, Ron Miller -- a former president and CEO of what is now The Walt Disney Company (DIS) - Get Walt Disney Company Report -- decided to buy property there in the early 1970s.
Today, their Silverado Vineyards makes around 17 different wines, produces approximately 65,000 cases a year and sells its wines in 35 countries. 
And while Diane has since passed, the Disney family still is fully involved and has complete control of every bottle. Even her granddaughter Annabelle, recently created its new label, which is a pen drawing of the winery. 
Keeping it all in the family has been the tradition from the beginning and is still one of the things that still sets Silverado apart. Its wines are "grown, produced and bottled all on their estates," says general manager Russ Weis. "That allows the family to have complete control from grape to finish."
Doing it all in-house is rare these days as production costs and limited land have become an issue in Napa Valley. But it is a core part of the Silverado's history.
Rose in Paris
Diane's interest in wine was piqued on a trip to Paris with her parents. Her parents ordered a rose and Diane asked to smell it. As a teenager, she was blown away that something that came from grapes actually could smell like strawberries. 
Years later, after she married Miller and they were living in Los Angeles with their seven kids, Diane started reading about all the wonderful things Robert Mondavi was doing for the American wine scene up in Napa. In 1974, she went to see for herself.
And she fell in love with Napa's beauty. "Because sometimes it really is just about how beautiful a place is," says Weiss.
By 1976, she was fixated on buying a piece of property owned by Harry See, who created See's Candies (which is now owned by Berkshire Hathaway (BRK.A) - Get BRK.A Report .
And while See originally said no, after much pestering, Diane got her property.
One of Napa's Founding Families
While the property dates back over 125 years, Diane and her husband started running it in 1976.
And they are now considered one of Napa Valley's founding families and a part of the history that began the California wine scene -- along with the likes of the Wagners of Caymus, the Duncans of Silver Oak, the Shafers and the Barretts of Chateau Montelena.
Diane and Miller first grew grapes to sell. But in 1979, they finally decided to start making wine and produced their first vintage in 1981. 
Today the family owns six properties and produce wines you can drink today, because that is the style of wine the family likes.
"Ron Miller has an amazing cellar of wine - and he drinks all of it," says Weis. As a result, their wines are refreshing and work great with food. So the bulk of their sales are to restaurants. And they now are in some of the biggest - including high-end steak houses Peter Luger, Morton's, The Capital GrilleBobby Van's and Delmonico's Kitchen. 
The State of the Restaurant Industry Matters - A Lot
It's no surprise then that one of the family's biggest concerns is that many restaurants are struggling, says Weis: "Because that's our core." 
Restaurants are so important to many wines, because that's where the wine is shown off. That's where people drink it with food. And if you enjoy a glass at dinner, you often want to buy a bottle for home. 
"About 20% of our production is in restaurants," says Weis. "That has taken a dip. It used to be 40% to 45%. The other 20% has gone to directly to the consumer thankfully." 
But that drop-off is concerning.
And while there is always talk of Napa wines being overpriced these days, the Miller family doesn't worry nearly as much. "The Valley has a limited amount of land and a high level or craftsmanship," says Weis. So, to them, that adds a premium. 
Legacy in a Bottle
Before Diane passed in 2013, she was highly involved in the production of their Solo Cabernet Sauvignon. She named the wine and selected the grapes that went into the bottle. 
It was her last special project. Although throughout her life, Diane was involved in every aspect of their wine production and just loved living in Napa.
The Napa Valley has often been called a playground for wine-lovers. Well, Diane certainly found her Magic Kingdom.
Editors' pick: Originally published April 28.