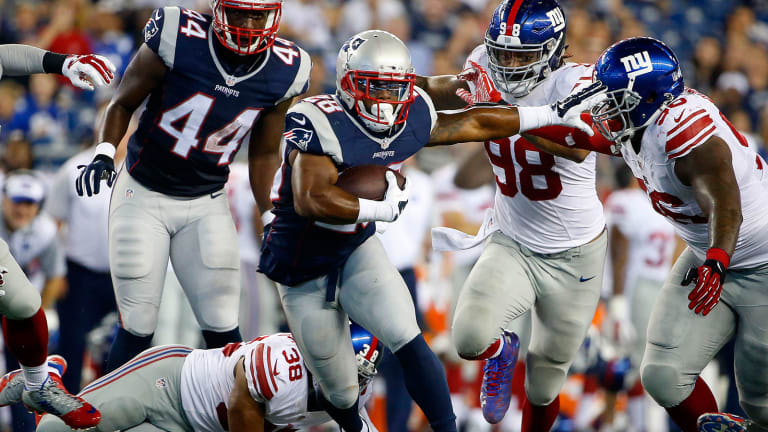 Why Super Bowl Ads Take Almost an Hour of Your Time
More advertisers want to reach a Super Bowl audience, but the price of admission has led to shorter ads from a bigger pool of companies.
You're watching more Super Bowl commercials for longer amounts of time, and it isn't just because the games are getting longer.
Super Bowl ads took up 51 minutes and 30 second of the game's broadcast time on Fox last year, according to market research firm Kantar Media. That includes two minutes of commercials broadcast after the Atlanta Falcons blew a substantial lead against the New England Patriots and sent the game into overtime. That block of ads in 2017 was second only to the 51 minutes and 40 seconds of Anheuser-Busch InBev (BUD) - Get Report , PepsiCo (PEP) - Get Report , Procter & Gamble (PG) - Get Report and other company ads CBS ran during the blackout-extended Super Bowl in 2013.
The sheer amount of ads you're seeing is multiplying as well. Last year, according to Kantar, Fox managed to wedge 102 ads into its broadcast. That includes network promotional ads that make up 25% to 35% of all commercials broadcast during the game. That isn't a record, but only because a financial crisis forced CBS to cut ad prices in 2010 from a year earlier. As a result, CBS found itself airing 104 ads that year.
Those discounted 2010 Super Bowl ads cost $2.98 million per 30-second spot, down from $3 million a year earlier. Last year's ads average $5 million per 30 seconds and were nearly double the price companies paid 10 years ago ($2.7 million).
When, Who: Super Bowl 2018 will feature the New England Patriots playing the Philadelphia Eagles. Super Bowl 52 will be held Sunday, Feb. 4 in Minneapolis, starting at 6:30 p.m. Eastern.
No Other Choice
Why would 49 companies, including 10 first-time Super Bowl advertisers, pay a combined $419 million to have their brands advertised during the big game? Because it's the only guaranteed way to put yourself in front of 111.3 million viewers, the number Nielsen reported for last year. No other broadcast comes close to the Super Bowl's audience, which forced 22% of last year's advertisers to spend more than 10% of their annual marketing budget on the Super Bowl alone.
84 Lumber, which spent 15 million on a 90-second ad about labor and the U.S. border with Mexico, burned through more than 70% of its annual ad budget just to get that message on screen. That's equal to the amount that 21st Century Fox (FOX) - Get Report spent advertising its movies during the Super Bowl, yet half of what far bigger companies like T-Mobile USA (TMUS) - Get Report ($30 million) and Anheuser-Busch Inbev ($35 million) threw at the game last year.
But those desperate attempts to reach bigger audiences and get an edge on the competition is only adding to the ad count. Hyundai/Kia pays more than $50 million year to be the NFL's official automobile partner, but has put up with Super Bowl ads from General Motors, Toyota, Honda and Fiat Chrysler in recent years. Pepsi and Frito-Lay are the NFL's official soda and snack food sponsors, yet PepsiCo has dumped more than $150 million into Super Bowl ads in the past decade just to fend off competitors including Coca-Cola (KO) - Get Report and Mars Corporation's Skittles and M&Ms. Just last year, PepsiCo faced five competing beverage brands during the Super Bowl.
A Precious 15 Seconds
Despite an overall increase in Super Bowl ad spending and total advertisers, ads during the Super Bowl broadcast haven't turned into a parade of droning, epic productions. In fact, advertisers have taken a cue from online ads and trimmed down their spots into shorter clips. Just 19% of Super Bowl ads were 60 seconds or more, compared to 41% when long-form commercials hit their peak in 2014.
Instead, 15-second commercials took up 15% of all Super Bowl ad time in 2017 as advertisers tried to secure a place at the big game without denting their budgets too seriously. Considering there were no 15-second ads as recently as 2013, and that such ads were just 3% of all Super Bowl commercials last year, this seems to be a strategy that's gaining traction and changing the mix of ads you're seeing. Bigger companies aren't afraid to take a discount on Super Bowl ads if they can manage it. Last year, Amazon ran a 15-second spot for its Echo device, while Procter & Gamble did the same for its Tide detergent brand. Pepsi and Yum Brand's KFC, no strangers to pared-down combo deals, took 15-second ads as well. Spending $2.5 million on 15-second ads in 2017 got advertisers roughly half of what the same amount bout a decade earlier, but it also allowed Fiji Water, Wonderful Pistachios and Wargaming.net to get in on the action.
Fans will be watching nearly an hour's worth of ads again during this year's Super Bowl, and NBC will charge companies an estimated $5.5 million for every 30 seconds of your time. At that price, it pays to keep it short, entertaining and less intrusive than a day clicking around online.
More of What's Trending on TheStreet:
This article is commentary by an independent contributor. At the time of publication, the author held no positions in the stocks mentioned.