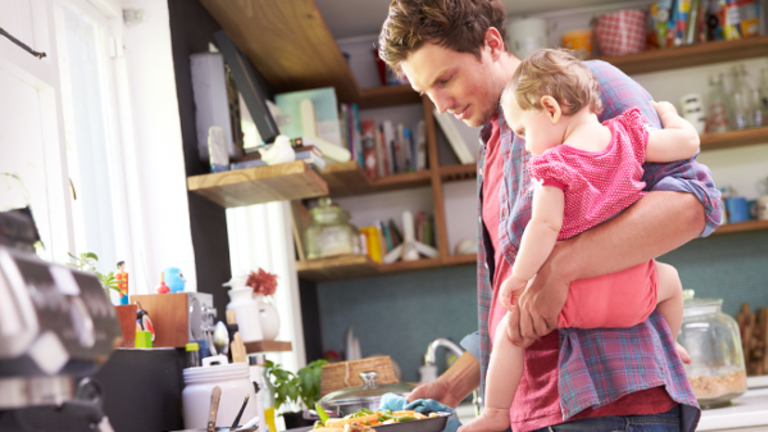 Why Father's Day Lags Behind Mother's Day For Both Spending and Deals
The parental retail holidays aren't competing, but a combination of guilt, jewelry and tech sales leave Father's Day in the dust.
It isn't mom's fault that Mother's Day gets all the deals and Father's Day gets polite recognition from retailers.
The National Retail Federation estimates that U.S. consumers will spend $23.6 billion (or $186.39 apiece) on Mother's Day this year. Last year, however, the NRF put Father's Day spending at $14.3 billion, or $125.92 per person. If it feels like that spending is always similarly skewed, you're not wrong: IBISWorld notes that the $9.75 billion spent on Father's Day in 2008 was dwarfed by the $16.76 billion spent on Mother's Day.
As a survey by DealNews found out, however, this disparity is mostly your fault. While 46% of people plan to buy a gift for their mom this Mother's Day, just 30% of people plan to buy a gift for their dad this Father's Day. Maybe it's because mothers are just better at laying on the guilt: 40% feel obligated or pressured to buy for their mom on Mother's Day, while just 30% feel the same about Father's Day. Sons are particularly susceptible to this gambit, with 62% of males feeling obliged to spend on Mother's Day, compared to just 36% of women.
That said, Mom shouldn't overdo it with the guilt. While 59% of single people and 57% of people who are single but living with a partner celebrate Mother's Day with their mom this year, just 40% of married people will spend Mother's Day with their mom. It gets worse when kids enter the picture: 44% of people with children get their mom a gift, while 56% of those without kids do likewise. It's similarly bleak for dad, who gets presents from 39% of people without children of their own, but watches that decline to just 28% once kids come on the scene.
However, the National Retail Federations note that not all mothers are treated equally. Among those folks buying Mother's Day gifts, 63.9% are doing so for their mother -- which compares well to the 53.3% of Father's Day shoppers who are shopping for dad. However, while 23.3% buy Mother's Day gifts for their wives once they become mothers, 28.4% give husbands similar treatment on Father's Day. Meanwhile, the 10.7% of shoppers who buy Mother's Day gifts for daughters who've had children of their own, just 8.9% of Father's Day shoppers get gifts for sons with children.
But it isn't just the percentage of folks doing the buying that throws Mother's Day and Father's Day out of balance: it's what's being bought. You could get your dad the costliest item on his wish list (electronics, at an average of $75.65 per person in 2016, according to the NRF) and toss in some books and CDs ($23.43) and it would only be slightly more costly than the average $95.71 spent on Mother's Day jewelry alone last year. Also, not only are mom's tech toys pricier than dad's ($112.45 on average), the average $55.75 spent on a spa visit, facial or massage is well above the $35.84 spent on dad's hot shave and haircut. Even mom's brunch or dinner out costs more than dad's, on average.
As a result, retailers have stocked Mother's Day with sales while leaving Father's Day with relatively little. The folks at DealNews note that Mother's Day has become a huge boon for tech sales. For three years, electronics store Newegg has highly discounted smartwatches, refurbished tablets and noise-cancelling headphones. Dell Home, meanwhile, celebrated Mother's Day large number of TV offers that came bundled with high-value gift cards. Last year, a 32-inch HDTV was bundled with a $75 gift card for just $200, while a similar 24-inch model with the same credit offer fell to just $150. Microsoft's Mother's Day sale was particularly impressive, as it knocked up to $600 off a wide selection of laptops and desktops. TechRabbit posted its Mother's Day sale early, taking up to 88% off electronics and accessories.
Clothing designers get in on the deal as well. Last year, both Coach and Michael Kors took 25% off their respective lines in the run-up to Mother's Day, which meant deals on handbags, shoes, sunglasses, and pages of discounted apparel. Nordstrom Rack, meanwhile, posted its Mother's Day sale in early May and featured massive 90% discounts.
While you won't see huge markdowns on jewelry, given that this is one of the few times of year that people reliably buy it, occasionally a sale comes through. This year, Zales is offering a selection of Mother's Day pieces for just $29.99.
"Consumers are planning to open up their wallets a little bit more to celebrate the women with the most important jobs in the world on Mother's Day," says Prosper Principal Analyst Pam Goodfellow. "We will see older Millennials (25-34) spend the most, and younger consumers are putting their online shopping skills to good use to purchase their moms the perfect gift."