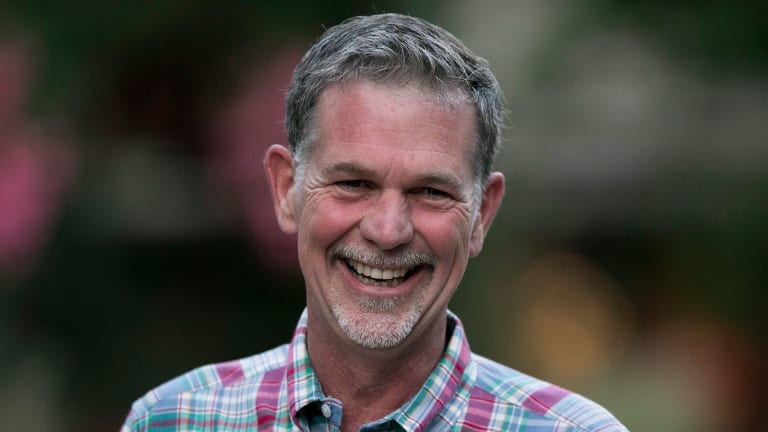 Who Owns Netflix? CEO Reed Hastings' Career
Co-founder Reed Hastings has been CEO since 1999. Here's how he created the Netflix empire, and what he is worth as a result.
As Netflix continues to dominate the streaming industry, the stock continues to rise. Its peak price in 2018 has been double what shares were worth in 2017 - and it was already worth over $200 by the end of that year.
Netflix is a cultural juggernaut, starting as a movie-sharing service and becoming a haven for original online programming. It has more 2018 Emmy nominations than HBO, an incredible feat in just its fifth year of original television.
It is one of the greatest successes in the history of the internet, changing both digital media and Hollywood for good. Who owns this company, and who created it?
Who Owns Netflix?
Reed Hastings co-created Netflix with Marc Randolph in 1997, and has acted as the CEO of the company since 1999, taking over for Randolph. In his nearly two decades as CEO, Netflix took down then-behemoth Blockbuster, carved out a name for itself, and successfully staved off competitors like Hulu, forcing them into a distant second.
Hastings' tenure has seen plenty of doubt for his ambitious ideas - like moving away from DVDs to streaming and creating original programming. Yet these ambitions have yet to fail.
Reed Hastings: Before Netflix
Hastings' ambition was evident long before Netflix was even a thought. After getting his bachelor's degree (in mathematics), Hastings joined the Peace Corps and spent two years teaching math to high schoolers in Swaziland. From there, he wasted no time and got his master's (in computer science) from Stanford University.
After just a few years working for others in computer engineering, in 1991 Hastings founded his first company - Pure Software. Pure Software developed debugging tools for engineers and was an instant success and Hastings, despite his relative lack of experience, soon found himself in the CEO role for the first time. It was at this company that he met Marc Randolph. According to Randolph, Pure Software purchased the QA company he was working for at the time, and they realized they worked quite well together.
After the 1997 acquisition of the company by Rational Software, Hastings decided to leave the company. Later that year, Netflix was founded.
Creation and Development of Netflix
Multiple stories have surfaced about what led Hastings to the creation of Netflix, from late Blockbuster fees to wanting to compete with Amazon. Regardless of the actual origin, the company was founded in '97 and in 1998 the website was online. In doing this, Netflix got on board two big trains early: DVDs and internet sales. By 1999, they were offering subscription services similar to what Netflix users are accustomed to now: Unlimited movies for one monthly price.
Much of what has seemed groundbreaking at Netflix is actually even more groundbreaking than you may realize. According to their media center, their first movie recommendation system, customized based on a user's taste, was introduced all the way back in 2000. By 2008, they were partnering with devices like the Xbox 360 to include Netflix, and they had apps on Apple's App Store in 2010.
Netflix made its IPO in 2002 at $15 a share, and by 2005 the subscriber count was more than 4 million.
January 2007 saw Netflix's largest game-changer, the introduction of streaming. In a press release, Hastings described the move as a natural transition for the company, saying, "We named our company Netflix in 1998 because we believed Internet-based movie rental represented the future, first as a means of improving service and selection, and then as a means of movie delivery." By the end of August 2007, there had been 10 million streams on the website.
Over the next several years Netflix would expand not only in terms of entities available to stream, but countries they were available in. 2011 saw an expansion into Mexico, as well as the countries of Central America and the Caribbean. The next year they expanded to Ireland and the U.K.
2011 saw good and bad for the company. Hastings made the disastrous decision to try and separate Netflix's DVD service as a separate entity, and raise prices for subscriptions. This was quickly reversed after major public outcry. But 2011 was also when it announced its first official foray into original programming, picking up 26 episodes of David Fincher's House of Cards. The show debuted in 2013 and was an instant success, as was the summer debut of Orange Is the New Black. Suddenly Hastings had a hybrid streaming service/cable channel on his hands.
The original programming of Netflix has expanded exponentially, leading to massive increases in subscriber count and share price. Some wonder if the 2018 explosion in share price has peaked, while others say it could keep rising all the way up to $450.
Netflix Culture
One large part of Hastings' legacy with Netflix is the document he co-created with former Netflix chief talent officer Patty McCord called the Netflix Culture Deck.
Hastings, as so many other Silicon Valley CEOs do, had a different vision for what an office culture could be. Much of what the culture deck offered was extremely employee-friendly; there was no longer a set amount of allotted vacation time or parental leave. Employees were able to use their own discretion. The culture was designed to be loose and flexible, not excessively micromanaged.
Originally a 124-page slideshow made for presentations, the Netflix Culture Deck spread throughout Silicon Valley as a promising sort of disruption for the office environment.
Reed Hastings Net Worth
Hastings was doing just fine financially speaking even before Netflix became a fixture in people's homes. But Netflix's ascension and the astonishing rise in share prices have made him much richer in a very short amount of time. By July of 2017, his net worth rose to over $2 billion.
As of this writing one year later, Forbes has him worth $4.1 billion - double what he was worth last year.
Hastings has assisted other companies in his free time as well - he has been on Facebook's Board of Directors since 2011, and spent 2007-2012 on Microsoft's Board of Directors before deciding to leave and focus more of his time on Netflix. Perhaps not too coincidentally, it was after Hastings focused more on his company that it grew into the content-creating monster it is today, bringing him beyond $4 billion.