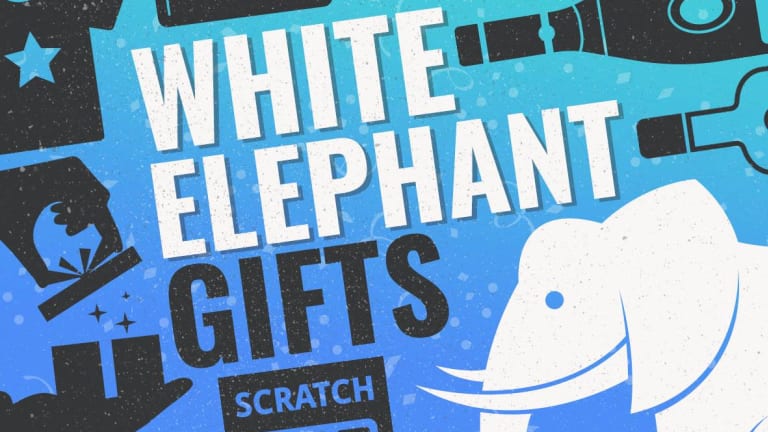 White Elephant Gift Ideas for 2018: 20 Gifts Under $20
Not sure where to start for your upcoming White Elephant gift exchange? Here are some ideas.
Not sure where to start for your upcoming White Elephant gift exchange? Here are some ideas.
Figuring out what to get for a White Elephant exchange can be even more difficult than picking out a gift for someone you know. You're no longer getting something personal for a loved one, or even considering what one individual would want.
Instead, you're trying to think of something that many people in a group could conceivably want, and even try to trade for. You're also figuring out if you want to pick a funny present or a cool present or a practical present - and all below a set maximum! It's a lot to consider.
Where do you start with a White Elephant gift? We've got some ideas.
20 White Elephant Gift Ideas
In White Elephant, people open random presents or have the option to swap for an already opened one. Here are some general gifts that are likely to find a great match in your group.
1. The Office "Dunder Mifflin" T-Shirt
$19.90 on Redbubble
Look, if someone set up a White Elephant in your office or friend group, they've probably seen The Office. And if they have, a lot of other people probably have. It's one of the biggest hit shows of the 21st century, still beloved and binged on Netflix (NFLX) - Get Report constantly. This shirt, with the famous Dunder Mifflin logo, is a simple and inexpensive homage to the show with a notorious episode where Michael turns the office Secret Santa into a a cutthroat Yankee Swap.
2. Harry Potter Gryffindor Scarf
$14.99 at JCPenney (JCP) - Get Report
If you're looking for another pop culture thing with universal appeal, Harry Potter is your best option. If anyone in this group is a big Harry Potter fan, they've almost certainly let everyone know. They are compelled to. This Gryffindor scarf is instantly recognizable and is a licensed Harry Potter product, so it's the real deal. Just be warned that whoever excitedly picks this one is gonna try to talk more about Harry Potter. Don't let them corner you.
3. "Funemployed" Card Game
$9.70 on Amazon (AMZN) - Get Report
The classic card game option for these gift exchanges tends to be Cards Against Humanity, but after enough White Elephants people probably already have the full game with expansion packs. Funemployed is a different twist on card-based board games, using the cards to create an absurd job interview. That angle makes it immediately relevant and perfect for office White Elephants.
4. Fuzzy Winter Fleece-Lined Socks
The stereotype is that socks are a bad, lazy gift to give someone over the holidays. That stereotype is from when you were a kid and wanted toys and video games. You're an adult now, and it's cold out. Socks rule. There is undoubtedly someone in your group who will see these fleece-lined winter socks and happily exclaim that they needed a warm pair for the winter. It's not just a lazily practical gift anymore.
5. Dark Horse Rosé
Wine may be associated with wine snobs, but most people understand that there's great wine to be found at a value. If you're not sure whether everyone prefers red or wine, why take a side? Dark Horse sells a rosé that's crisp, fruity and floral - not to mention under $10.
6. Stemless Holiday Wine Glasses, 4-Pack
$9.99 at Target (TGT) - Get Report
And if you're in a casual environment for the White Elephant, whoever gets wine may be inclined to open it up right then and there. Why not be merry with friends with a convenient 4-pack of stemless wine glasses? Adorned with cheery tidings, they have a classic holiday look to them that someone is bound to appreciate. But most importantly, it's a place to put your wine.
7. Jack Daniels Winter Jack Tennessee Cider
Jack Daniels has experimented with their products a number of times, and no product is more relevant than this one. Mixing their whiskey with spices and apple cider liqueur, the result is a uniquely wintry drink. It's a unique gift for the drinkers in your group who don't enjoy wine
8. Golden Girls Shot Glasses
For a normal holiday gift, maybe you'd get your alcohol-loving friends some normal shot glasses, nothing too fancy, just something to get the job done. White Elephant requires something with a little more personality. Doing some research for an unusual find. Learning that someone makes shot glasses with the Golden Girls' faces on them. Whether the person who gets them loves the show or doesn't even know if it exists, the unexpected existence of these alone might compel someone to hold onto them.
9. Vinyl Record Coasters
Maybe you want to get something more practical, but that still has a little flair. Coasters are always a practical gift - no one likes a dirty table. These coasters, resembling old vinyl records, give a little more personality to the practicality. Perhaps in an older crowd who loves talking about older music and having drinks, you can find someone who would appreciate the novelty of these coasters.
10. Delish Cookbook
$18.60 at Barnes & Noble (BKS) - Get Report
We're approaching the end of the year, which means people are figuring out New Year's Resolutions. One popular one is to learn something new, like cooking. Not everyone will actually achieve the resolution. But in the meantime, a cookbook from the editors of food website Delish promoting hundreds of new recipes can certainly catch the eye of someone who wants to start making more home-cooked meals. 
11. Inspirational Journal
Perhaps you're not in an environment where funny gifts and alcohol aren't too appropriate. There's nothing wrong with a nice gift. Inspirational journals, filled with motivational quotes and room to write out your thoughts, are popular in an era where self-care is promoted more often. Those who like a little inspiration in their holiday season can find plenty to love about this.
12. Donut Coffee Mug
Coffee is evergreen. Any group of people in a White Elephant exchange is at least half filled with people who love it, and there's no shortage of novelty mugs to try and mine some humor from. In the shape of a sprinkled donut with a bite freshly taken out of it, this is a mug for morning people who love their coffee and their breakfast.
13. Death Wish Ground Coffee
Then again, a mug is nice, but it's just a means to the end of feeding your need for caffeine. If you don't wanna beat around the bush with a mug, just buy actual coffee! The top-selling ground coffee on Amazon currently comes from Death Wish, named such because they advertise themselves as having "the world's strongest coffee." It's hard to imagine an office environment where someone wouldn't want fresh, strong coffee at their disposal.
14. Retro Tetris iPhone Case
Novelty phone cases are a simple and inexpensive way to meet your White Elephant quota. This case is only $12, and allows you to play a retro game of Tetris when bored! Compatible with the iPhone 7 Plus and 8 Plus, this case is designed to resemble the original Gameboy to look like you've traveled back from the not-too-distant past playing Tetris on your old handheld Nintendo (NTDOY) system.
15. Game of Thrones Letter Opener
A letter opener sounds like a hilariously antiquated gift idea. But throw the Game of Thrones logo on something and suddenly there's a big market for it. This letter opener is not just emblazoned with the logo of the hit series of books turned TV show, but comes in a velvet pouch adorned with it as well. If you know you've got a Game of Thrones fanatic in your group, or some weirdo who's really into opening mail, it's an inexpensive gift with an audience.
16. Bob Ross Fridge Magnet
Bob Ross is a universal touchstone to multiple generations of people who grew up with his calming presence on their television screen. That's pretty helpful if you need a gift with a general appeal. People love Bob Ross and they love his catchphrases; why not get something that incorporates both?
17. Majestic Pure Himalayan Salt Body Scrub
There's something to be said about a practical White Elephant gift if you're doing this exchange with the right group of people. It's not the gift that's gonna get a laugh, but body care and skin care products always come in handy. This body scrub, blended with Himalayan pink salt, exfoliates and moisturizes skin. Someone will likely want it. And even if they don't, someone will likely need it.
18. TruSkin Naturals Vitamin C Professional Face Serum
Another popular skin care product is serum. This particular serum, with thousands of five-star Amazon reviews, is one of the most popular. Vitamin C-based, TruSkin claims this plant-based formulation can help with a number of aging signs on the face, such as wrinkles and sun spots. Its popularity with customers is a good thing to bring up when an intrigued friend or co-worker in your gift exchange wonders if it really works.
19. Reese's Peanut Butter Trees
Because White Elephant exchanges have a maximum price, no one is expecting a crazily expensive gift in the bunch. People expect fun knick-knacks and gag gifts. So if you want to bring something festive that people in the moment will actually want to fight over, there's no rule against bringing candy. And there's no better candy for this time of year than Reese's peanut butter trees. Watch it become the gift everyone wants to swap for.
20. Amazon Gift Card in a Gift Tag
There's something to be said for getting a funny gift that people will laugh at, or something cool and unusual to impress and intrigue. But honestly, if you want to give out something that you know will get used, there's no shame in just bringing an Amazon gift card in a festive little box and calling it a day. Someone always wants one.