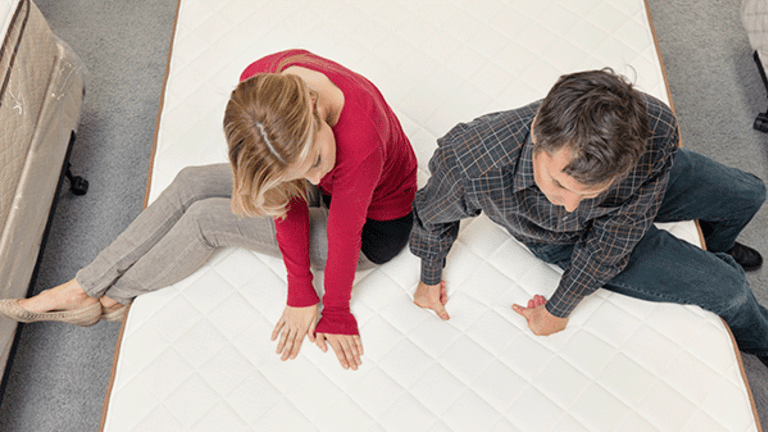 Where the Best Deals Are in May
There are a ton of reasons to shop in May, but avoid the crowds unless you're thumbing through late-season spring apparel or mattresses.
With Mother's Day, Memorial Day and college graduations all crammed into one month, May brings out the shoppers and makes deals a bit more difficult to find.
If you're good at shopping against the grain, however, it can be a godsend.
Even during the recession in 2009, May boosted retail sales $2.9 billion from the month before and set momentum for summer spending. Last year, it added more than $3.5 billion to the retail economy from the month before and marked three-straight years of more than $300 billion in May spending.
The folks at The National Retail Federation have credited Mother's Day with at least some of that added spending and predicted $23.7 billion in Mother's Day purchases alone this year. That's up from $21.4 billion the year before with individual spending rising from $171 to $186. That's the highest spending prediction in the NRF's 14-year history.
However, that still trails the $225 that the folks at online retail site Goodshop say is spent on Memorial Day weekend staples including food ($70), booze ($55) and items from Memorial Day sales ($100). That doesn't even factor in Memorial Day weekend travel spending.
With many colleges ending their spring semesters this month, graduations only add the the parade of potential spending. Consumers facing all three events this year could use any savings they can get, though deals aren't quite as plentiful as they are in less popular months. With help from DealNews and Offers.com, we've found five discounts that may help shoppers get through the month:
Editors' pick: Originally published May 1.
Spring clothes
People are going to start thinking about summer around Memorial day, which is why "Memorial Day sales" now appear at the start of May. DealNews sees them up to four weeks in advance, but 90% of Memorial Day deals still come out in the week leading up to Memorial Day. You're not getting a break on summer apparel until August or September, so Offers.com advisestaking advantage of savings of up to 90% at spots like Macy's, Amazon, and Express. DealNews expects deals from Uniqlo, Saks Fifth Avenue, Sierra Trading Post, Gap and Eddie Bauer between 20% and 90% off. Designer brands like Ralph Lauren, Calvin Klein and Cole Haan will also offer discounts ranging from 30% to 50%. Expect to see accessories like leather belts from $3 (low by $27), casual linen dresses from $9 (low by $33), and men's casual shirts from $4 (low by $46). Coupons can get you an extra 40% off, but Saks Fifth Avenue has offered free shipping on some orders with a coupon, as did Eddie Bauer.
Appliances and cookware
DealNews notes that last year, more than 20% of all Memorial Day weekend sales were for home items, including appliances and kitchen supplies. Offers.com notes that there will be discounts of up to 30% from home good retailers like JCPenney, Kohl's, and Kmart. However, DealNews says Williams-Sonoma and Chef's Catalog will be cutting prices by 60% and 70%, respectively. Those sales will drop a countertop convection oven (toaster oven) to $45 (low by $20), and upright vacuums from $75 (low by $25). Dishwashers start at $295 ($165 off), and washers start at $300.
Mattresses
If you tried to shop for a mattress after February, you already know that the pickings were slim and the deals were nearly nonexistent.
However, spring is a much better time for mattresses, and DealNews suggests that buyers who aren't concerned with the type of mattress they buy shouldn't settle for less than 50% off the sticker price. Also, stackable coupons from Memorial Day sales and elsewhere can take 10% to 40% off already-discounted items. DealNews notes that Sears, JCPenney, Overstock, Macy's, and US-Mattress are the most likely sources for those discounts.
Jewelry
Yes, just after Mother's Day is actually a great time to shop for diamonds. Engagement season has been over since Valentine's Day and peak wedding season won't hit until the summer months.
While sites including Jewelry.com started posting Mother's Day discounts of more than 80% since April, DealNews recommends looking at daily deals on Amazon and elsewhere to get the best savings. Offers.com finds that jewelry prices fall by as much as 70% at spots like Zales, Sears, and Macy's.
Home and Office Furniture
Desks, wheeled chairs and more get a huge price cut in May after people set up home offices after tax day in April. Also, as DealNews notes, stores are clearing out indoor furniture as attention shifts to outdoor items.
In addition to stores like Office Depot, Staples, Walmart, Target and Quill, laminate desks sell from $60 (lower by $20), and high-backed executive wheeled chairs from $50 (lower by $100). Spring is also the time when stores clear out their home furniture inventory to make way for new lines. Look to Rooms to Go and Cymax for 10% to 20% off dining and living room sets. Walmart will have shelving and entertainment centers from $13 (low by $10).