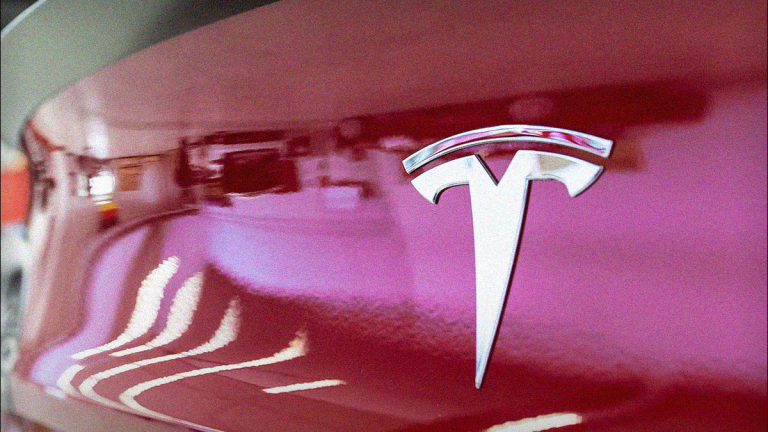 What to Expect From Tesla's Autonomy Investor Day
On Monday, Tesla will be sharing more details about its autonomous driving efforts and progress. Here's what to expect.
Tesla (TSLA) - Get Tesla Inc Report CEO Elon Musk is a big believer in his company's autonomous driving program and what its future can bring to the roads.
Autonomous driving has its doubters and a public that is quite shy of the new technology. Add Tesla and its detractors to the mix and it's sure to become a wide-ranging discussion.
Initially, Tesla announced that it would show off its autonomous driving capabilities at an Investor Day event on April 19. That has since been changed to the Monday, April 22 and will feature test runs for investors, as well as a presentation. 
The event, which will take place in Palo Alto and is scheduled to begin at 2 p.m. ET, comes at a time where many investors -- long and short -- want to know more than just what's going on with the company's autonomous driving plans. They want to know how the first quarter went, beyond deliveries, and what the company sees going forward. They also want to know how the financials look after a quarter full of hurdles for Tesla management and its logistics team.
We'll get those results too, but this event is going to be about Tesla and its self-driving capabilities. During the event, expect Musk & Co. to talk a pretty strong game about the future of its autonomous driving system, highlighting Tesla's capabilities, laying out an aggressive rollout timeline and talking up the autonomous ride-hailing and ride-sharing potential.
While autonomous driving is improving at a very rapid pace, we won't be at fully autonomous level 5 capabilities across the entire country anytime soon. That doesn't mean some of the features and capabilities Tesla talks about on Monday won't come to fruition, but at the very least, it may not be in the timeframe some investors are thinking. Musk has already talked about the price of Tesla's autonomous driving features increasing substantially in the future and said he believes buying a Tesla will result in an appreciating asset, rather than a depreciating asset. 
You can see why there are doubters out there. 
Already, we've seen changes from the automaker as well.
For instance, Tesla is going to offer leasing availability on the Model 3. However, Tesla says it will not allow the customer to purchase the vehicle at the end of the leasing period, as it plans to put the vehicle in its ride hailing network. Presumably, Tesla plans to have this network operated by autonomous vehicles, much like Alphabet's (GOOGL) - Get Alphabet Inc. Class A Report (GOOG) - Get Alphabet Inc. Class C Report Waymo.
However, Tesla and Waymo are quite different. In fact, Tesla has taken a very different approach to autonomous driving.
Through over-the-air updates, current Tesla models with the proper self-driving hardware can become better "drivers" over time. However, rolling out a semi-autonomous system known as Autopilot has caused a lot of debate.
Bears have raised the argument that regulators shouldn't allow this controversial system to be on the streets, given that accidents and fatalities have resulted while using it. Supporters of Tesla's autonomous driving program say it's necessary to accelerate the technology's potential, while others use autonomous driving vs. human driving data points to argue that those using Autopilot are actually safer than those not using it. Many also argue that Autopilot still requires drivers to stay attentive and alert.
In either case, Tesla's Autopilot lives on and on Monday we'll get an idea what the automaker thinks of its autonomous future. Aside from the presentation, look for more details on a potential ride-hailing and ride-sharing network that others have mentioned in the past, and don't be surprised if that draws plenty of skepticism. 
Tesla shares were down 1.7% to $268.50 in pre-market trading on Monday, potentially due to reports of a Model S spontaneously combusting in a parking garage in China. Share are down almost 18% year to date.
This article is commentary by an independent contributor. At the time of publication, the author had no positions in the stocks mentioned.