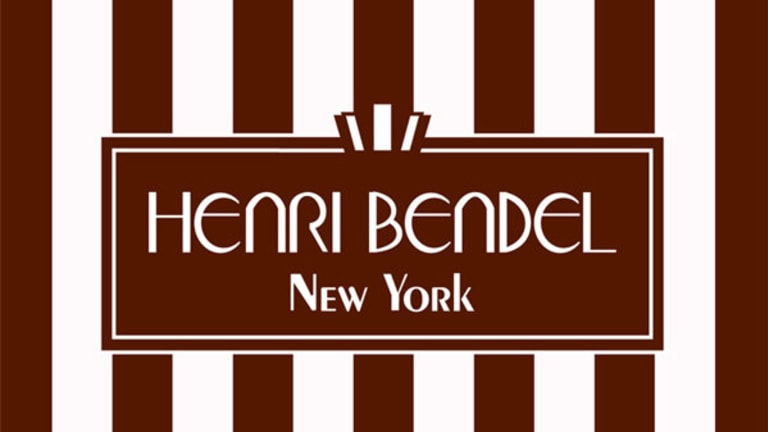 Publish date:
What the Hell Happened to Henri Bendel?
And why isn't anyone talking about the company's car crash of a rebrand?
And why isn't anyone talking about the company's car crash of a rebrand?
Founded in 1895, Henri Bendel was one of New York's more iconic stores. The brown and cream striped mecca carried the finest of Paris couture and was credited with the discovery of Andy Warhol (who was initially the company's in-house illustrator) and the introduction of Coco Chanel designs to America.
To add to the company's cachet, Henri Bendel was the first retailer to brand himself; the first luxury retailer with an upper Fifth Avenue address; and the first brand to hold a semi-annual sale, offer in-store makeovers and hold a fashion show. That's a whole lot of firsts for a brand slowly drifting into irrelevance, only buoyed by the ghost of its storied past.
So what the hell happened to this once proud luxury retailer? Amanda Mull, managing editor of PurseBlog.com, hits the nail right on the head. "Bendel's 'uptown' branding is a tougher sell for young women than it might have been in the early 2000s," she wrote. "Most bag designers that have major success with affluent young women under 35 have embraced a more alternative sense of luxury - the look is more discreet and minimalist."
In 1985, Bendel's was acquired by L Brands, (LB) - Get Report the parent company of mall stores such as Victoria's Secret, Bath & Body Works and The White Barn Candle Company. In 2010, Bendel's stopped selling apparel, and in 2014 the company stopped carrying third-party products and instead focused on its in-house brand that featured a lot of logos on handbags, accessories and home goods.
It was a mistake that L Brands treated Bendel's like another mall brand without evolving it to fit an audience that has shifted its perception, or even definition, of luxury. In terms of legacy brands, Bendel's is definitely up there with names like Tiffany's and Brooks Brothers. However, the majority of people that shop at those stores are not interested in wearing logos, and rather let the products be a symbol of good taste for those in the know, or as a standalone item that's simply a hallmark of good style.
In the L Brands portfolio, Bendel's is certainly the most luxurious of the offerings, but to the Millennial shopper it doesn't feel like one.
"When young women are shopping at an elevated priced point, they want to feel like they're buying something carefully designed by another human being," Mull continued. "Walking into a store you're not familiar with and seeing racks upon racks of everything from home goods to handbags can be unpleasant for those shoppers because it feels like an environment and product assortment created by a marketing firm instead of one dreamed up by a couple of creative people with good taste. Although Bendel is not a new company, it's new to many young consumers, and its value proposition may ring false to them."
"Ultimately, their bags and accessories look like what a teenager thinks a 'New York Woman' would carry," noted a New York transplant and former Bendel's shopper who is familiar with the company's history. "When I google Henri Bendel, their ad describes their handbags as 'Embrace Your Inner New Yorker with Henri Bendel Handbags' - that pretty much sums it up."
Without brand awareness, even with 28 stores and a thriving e-commerce platform, why would shoppers shell out hundreds of dollars for a legacy brand that has no history to them? Value proposition is also tricky for mid-level luxury right now. The brand has to be well-known, but also a precarious mix of niche higher-end product and mass market logos that can turn a profit.
Tory Burch is a prime example of a brand who has gone about it the right way, by carrying not only exquisitely designed higher end apparel and accessories but also lower-end logo products. If a shopper can't justify $550 riding boots, she might settle for the $225 Reva flats that quietly scream, "I'm wearing Tory Burch." On the other end of the spectrum, Ralph Lauren has multiple levels of pricing but is having trouble maintaining its value as a luxury company because of its marked-down prevalence in department stores.
The other modern retail conundrum - buying new mid-tier luxury or secondhand higher end luxury? With websites like TheRealReal that specialize in luxury consignment, you can snag secondhand Céline, Hermès and Chanel for the retail prices of some of these full-price mid-tier bags. The concept of attainable luxury has changed with the internet, and a lot of the time it simply boils down to personal preference.
But back to how Bendel's can once again carve out its niche. Mull continues to break down where Bendel's has gone astray: "As far as the bags go, this may sound odd, but the selection is too big. There are nearly 300 bags available right now on the brand's website, and with that kind of range, there's no way everything will be good or that it will present a cohesive vision of what the brand stands for to a shopper that's browsing for the first time. Some of the bags are very good and on-trend, especially at Bendel's low three-figures price point, but there's too much to sort through to find them. It makes for an overwhelming shopping experience that could be easily improved by having a more tightly edited assortment." Mull also noted that "[i]f the company wants to target Millennials, it hasn't done a great job entering the spaces where affluent young women shop within its price range, like Shopbop or Nordstrom."
By going back to its own roots - the original boutique was a curated collection of what Paris' latest and greatest along with Henri Bendel's own designs - it'll feel like it has more of a concept behind it. Severely editing the company's offering, focusing on the heritage aspect in its marketing to a wider audience via other e-commerce sites and becoming an incubator again for smaller designers (like it did before 2014) would bring in fresh eyes. However, that's all easier said than done. 
As a Millennial shopper myself **flips hair** I can attest that I do wander into Bendel's when I'm near their flagship. However, I've also compared it to an elevated Claire's in that it's a lot of random accessories at once, and I'm really only there for the candles. As a sucker for a good ambience, I effing love the candles.
At the end of the day (or, er, quarter), Henri Bendel isn't a lost cause, just another victim for expanding too much and losing sight of its heritage in favor of the quicker, cheaper way to profitability. Unfortunately for the company and other mid-level luxury retailers, the customer has a lot to choose from and can afford to be picky.