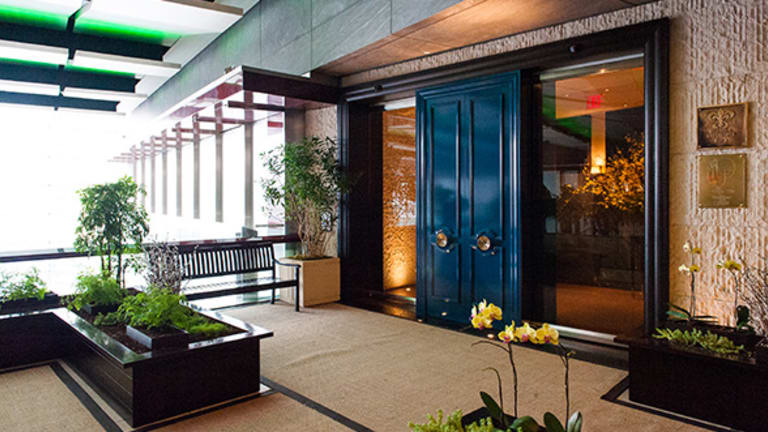 Publish date:
What Our Fancy Restaurants Tell Us About Ourselves
Ten portraits of temples of fine dining, ethnic restaurants and chains combine to offer a sweeping history of American food
Ten portraits of temples of fine dining, ethnic restaurants and chains combine to offer a sweeping history of American food
Editors' pick: Originally published Oct. 20.
Americans eat out at every opportunity and in every way. Workers on the go can start the day with coffee and a chocolate-covered custard-filled at Dunkin' Donuts (DNKN) - Get Report , then get a mid-morning Frappuccino at Starbucks (SBUX) - Get Report and a lunch burrito at Chipotle (CMG) - Get Report before picking up a bucket of fried chicken with mashed potatoes at KFC (YUM) - Get Report for a quick family dinner.
At the other end of the social spectrum, New York machers can start their day with a $21 California omelet at Michael's, have the orechiette with lamb neck sausage at Mario Batali's Del Posto and finish the day by wolfing down a steak at Peter Luger in Brooklyn. The tab for this zealous patronage of restaurants was $55 billion last year, which exceeded for the first time the amount of money spent on groceries in the U.S.
Paul Freedman traces the history of our spendthrift foodways in his new book, Ten Restaurants That Changed America. Freedman, a professor of medieval history at Yale University, uses case studies to organize a subject that touches on numerous themes both culinary and cultural, from "the erosion and survival of American regional cooking, the role of women as customers and restaurateurs, the pressures of efficiency and standardization in American history, and the various obfuscations as well as explorations of what it might mean to talk about 'American cuisine,' " as Freedman writes in his introduction, to the rise of the automobile and a national highway system and the urbanization of the U.S. since 1900.
The book treats three kinds of restaurants: chains, represented by Howard Johnson's and Schrafft's; regional or ethnic restaurants, which include Antoine's of New Orleans, Mamma Leone's, The Mandarin in San Francisco and Sylvia's of Harlem; and four temples of fine dining, Delmonico's, Le Pavillon, The Four Seasons and Chez Panisse. Each chapter is generously illustrated with menus and photos of chefs, owners and restaurant interiors, which situate the reader in a given milieu and thereby how difficult it is for a restaurant or chain to transcend its time and place.
That was certainly true for Schafft's, which built a business serving "ladies who wanted to dine alone or in a pleasant setting," as Freedman writes. That doesn't sounds revolutionary now, but it was when the company opened its first restaurants at the turn of the 20th century. At the time, restaurants were either elegant or gritty; in either case, single women weren't made to feel welcome. Schrafft's "balanced efficiency with graciousness" in a way that its mid-century customers found irresistible and that still inspires considerable nostalgia, but the company was unable to adapt in the 1960s to changes in American dining and the changing role of women in society.
Howard Deering Johnson created a chain of restaurants that prospered along with advances in frozen food technology that began in the 1930s and the growth of the interstate highway system after World War II. But HoJo couldn't compete with fast food outlets such as McDonald's and had faded into irrelevance by the early 1990s. The stories of Schrafft's and Howard Johnson's show how hard it is for a chain to reorient itself and suggest that turnaround efforts at today's troubled fast-food companies will likely have little effect.
Freedman's four chapters on regional or ethnic restaurants show the mutability of the cultural identities behind the food. Acculturated Americans may have thought that the bowls of pasta drowning in sauce and the massive meat entrees served at Mamma Leone's in Manhattan were typical Italian fare, but immigrants were not deceived. As a native of Agrigento, Sicily working in a Chicago packinghouse told a sociologist who asked him to compare the food in his homeland with that in the U.S.: "Forget it, there's no comparison. In America, I have all I want to eat." Nevertheless, Mamma Leone's became a place of "mild hedonism," as Freedman puts it, succeeded on the high end by Frankies Spuntino, Carbone and Parm and in the mass market by Olive Garden.
And in a classic example of cultural assimilation, Cecilia Chiang opened The Mandarin in 1961 and made it a San Francisco dining destination by serving the most authentic Chinese food possible, while her son Philip made a fortune by building the P.F. Chang chain of restaurants, which Centerbridge Partners bought for $1.1 billion in 2012.
The book's four chapters on gastronomic temples trace a move away from massive menus and French technique to an ingredient-driven cuisine served in a less formal environment. In mid-century New York, Le Pavillon proprietor Herve Soulé could say of his ingredients, "Everything is fresh all year round and never quite fresh, if you see what I mean," but The Four Seasons and Chez Panisse emphasized seasonality and freshness above (or in addition to) luxuriance, a change in approach that has revolutionized American fine dining and had a profound effect even on fast food.
Chez Panisse remains profoundly influential, but it was founded in 1971 and had its greatest influence in the 1980s. Freedman could have selected a restaurant that brings the narrative up to the present. Mario Batali's Babbo launched him as a superchef who's built a chain of more than 26 restaurants and become a television personality. David Chang's Momofuku would have illustrated the increasing popularity of Asian cuisines in the U.S. and the allure of the mass market to elite chefs and restaurant owners. Still,
Ten Restaurants That Changed America
succeeds brilliantly in making us think about what our restaurants tell us about ourselves.