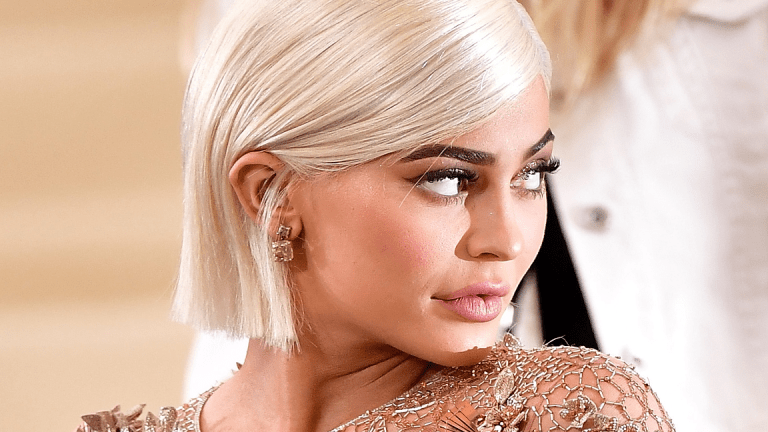 What Does Self-Made Really Mean? The Kylie Jenner Debate
There has been a lot of talk about what 'self-made' really means after Forbes called Kylie Jenner a 'self-made billionaire' with her net worth hitting $900 million. But what does being 'self-made' actually mean?
At this point, we've all seen the Forbes article calling Kylie Jenner a 'self-made' almost-billionaire. But, is she? For many of us, the idea that the "Keeping Up With The Kardashians" star was anything near self-made is humorous. But what is the definition of 'self-made'? And does it apply to Jenner?
What Does Self-Made Mean?
If the debate over Jenner's label of being self-made has taught us anything, it is that the idea of being 'self-made' may mean different things to different people. The traditional 'rags-to-riches' may come to mind, or better still some narrative akin to the colloquial 'American Dream.' But, inserting the identifier 'self-made' into an article is sure to engender certain preconceptions about how much or little help the person had with their success. And that's where the Kylie Jenner debate comes in.
The controversy ensued when the Forbes article (titled "How 20-Year-Old Kylie Jenner Built A $900 Million Fortune In Less Than 3 Years") came out.
Forbes put Jenner on the list of America's Richest Self-Made Women -- and, at 20 years old (she turns 21 in August), she's the youngest one on it. With a cosmetic empire churning out $630 million worth of lip kits and other makeup products in just two years, the reality TV star's company, Kylie Cosmetics, is worth an estimated $800 million -- according to Forbes. Jenner also reportedly owns 100% of the company.
While undeniably impressive, the public has taken issue with one detail -- the claim that Jenner is self-made.
Self-Made Definition
Dictionary.com defines "self-made" as "having succeeded in life unaided." The dictionary's Twitter account even humorously threw some shade at Jenner, retweeting the Forbes article with a seemingly sarcastic quote.
"Self-made means having succeeded in life unaided. Used in a sentence: Forbes says that Kylie Jenner is a self-made woman." - @Dictionary.com wrote on Twitter.
While many online thought the comment was hilarious, it is certainly amusing that a dictionary bothered to fact-check a publication. And in savage fashion nonetheless.
But the definition of self-made seems rather black and white - Merriam-Webster defines it as "made such by one's own actions; especially having achieved success or prominence by one's own efforts." And in the case of Jenner, whose ultra-famous family has been televised since 2007, it seems clear that the young entrepreneur has had a leg up on the rest of the world.
The 20-year-old's Instagram brags 110 million followers, and it may just be the key to her ultimate success.
"Social media is an amazing platform," Jenner told Forbes. "I have such easy access to my fans and my customers."
Still, Jenner's net worth dwarfs her 37-year-old sister Kim Kardashian, who Forbes estimates is worth $350 million.
Regardless, there may be enough ambiguity in the definition to allow for those like Jenner to warrant it. At least, Forbes thinks so.
Forbes' Definition of Self-Made
Shortly after the piece about Jenner (dubbing her 'self-made') was published, the subsequent media storm caused Forbes to clarify.
"To be clear, Forbes defines 'self-made' as someone who built a company or established a fortune on her own, rather than inheriting some or all of it," Kerry A. Dolan wrote for Forbes on Friday. "As long as the list member didn't inherit a business or money, she is labeled self-made. But the term is very broad, and does not adequately reflect how far some people have come and, relatively speaking, how much easier others have had it."
To Forbes, the fact that Jenner's net worth is not based on any inheritance is the key differentiating factor that allows the publication to stamp her with the 'self-made' label.
It is hard to argue with Forbes' logic, despite the fact that it is very much their own definition. Still, the publication listed Jenner at number 7 with the descriptor "self-made who got a head start from wealthy parents and moneyed background."
Is Kylie Jenner Self-Made?
It is true that Jenner's fortune (over $600 million of which was made through her makeup entrepreneurial venture) came in large part from her own efforts.
In fact, Jenner owns 100% of her business, and largely uses her own Instagram and other social media to promote the products -- which reach over 100 million people.
In fact, Forbes acknowledges this fact themselves.
"At 21, she's set to be the youngest-ever self-made billionaire," reads the cover of the August 2018 magazine. "Welcome to the era of extreme fame leverage."
Still, because of the advantages given to her by being one of the most famous celebrities in the world, the internet seems confused as to the title of 'self-made.'
Reactions to Kylie Jenner Forbes Article
Almost immediately after the article's release, Twitter did its thing, accruing backlash for the label.
Some Twitter users were not amused by the Forbes' list.
"Calling Kylie Jenner self-made without acknowledging anywhere the incredible headstart she had is what allows people to turn around and look at poor people and ask them why they haven't become billionaires yet. Her story is not inspiring or motivating for anyone" - wrote @lola_adewuya.
Another Twitter user commented on Kim Kardashian's congratulatory status to her sister, claiming:
"Self made lol. Born into privilege and used that as a start up. Honour the women and men who started with nothing and made billions . The real entrepreneurs who literally had nothing and made it." - wrote @ThomasHinds86.
Others wrote:
"Kylie Jenner is not "self-made" at all. This is the problem with talking about successful people in America. We act like they did it by themselves when that's never the case. And, with people like the Kardashians/Jenners, they were always rich." - wrote @samwhiteout.
Still, some fans came to Jenner's defense on Twitter.
"Your family can give you millions to start a business
But to get $670m in sales from strangers takes some doing
Let's give Kylie Jenner the respect she deserves" - wrote @Stevie_Madisha.
And others seemed to take Forbes' point of view.
"There is no inheritance or big corporation behind Kylie Cosmetics. There is no other investor apart from Kylie Jenner. That's a self made woman." -wrote @graffigirl.
Still, the somewhat ambiguous nature of the term 'self-made' seems to be what is driving the debate -- and it doesn't seem to be resolving.
Regardless of what side of the debate you're on, the definition of 'self-made' is a bit open ended, but is clearly intended to convey succeeding without assistance or aid.
Kylie Jenner Net Worth
Jenner's net worth is estimated to be $900 million - just shy of $1 billion. At 20 years old, she is the 27th-richest-self-made woman in the United States, according to Forbes.
Much of Jenner's net worth comes from her makeup venture Kylie Cosmetics, which is estimated to be worth $800 million, raking in $330 million in sales in 2017. And in the absence of owners or investors, Jenner owns the whole company herself.
At this rate, Time projects that Jenner is on track to overtake Mark Zuckerberg as the youngest self-made billionaire.
Jenner also brags a clothing brand with her older sister Kendall Jenner called Kendall and Kylie, which was created in 2015. The sisters' brand sold in Nordstrom (JWN) , Saks Fifth Avenue (SKS) , and even PacSun undefined . 
Jenner's cosmetic company -- which sells the voluptuous-lipped lip kits and more recently eyeshadow, eyeliners, and other products -- is maximizing profits by using third-party Shopify to fill orders, according to Forbes.
At the time of publication,
, which Cramer co-manages as a charitable trust, was long JWN.