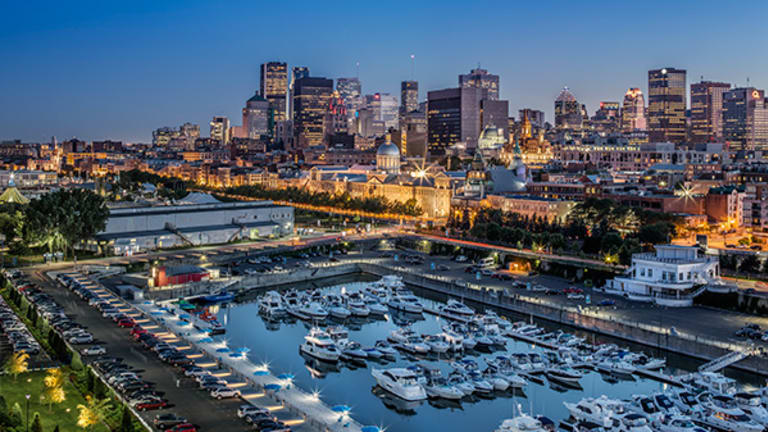 Publish date:
Weekend Road Trip: NYC to Montreal
Montreal is an ideal destination for a weekend road trip from New York City, with many interesting places to see along the way.
Montreal is an ideal destination for a weekend road trip from New York City, with many interesting places to see along the way.
NEW YORK (TheStreet) -- Looking to get away from the U.S. for a few days, but want to avoid paying thousands of dollars in airfare? Or maybe you'd just rather avoid the hassle of airport security? Load up the family car and drive to Montreal for a nice long weekend.
Montreal is an ideal destination for a weekend road trip from New York City. You get on interstate 87, the New York State Thruway, and it's almost a straight shot up to Montreal. The whole trip takes about six to seven hours, with many interesting places to see along the way (see last page for suggestions on where to stop).
On weekends, traffic could get heavy near the Port of Entry at Champlain, N.Y., so expect to sit in the car for at least half an hour. Remember that every passenger should carry a passport for inspection.
From the border crossing, it will take another 40 minutes to reach downtown Montreal.
Where to Stay in Montreal
Hotel Le Crystal, an all-suite property, is an ideal place to stay if you're taking the entire family. All guest rooms have a butler kitchenette with espresso machine and microwave oven, and a separate living area with a sofa bed and office desk.
In addition to a luxurious bathroom, executive suites have either a powder room or an additional full bath by the living area.
Amenities include a high-rise pool, spa and fitness facilities that overlook the city skyline. Shops along Sainte-Catherine Street, fine dining, bars and lively cafes are all within walking distance.
After a long day of driving, you can stroll down to the nearby supermarket and make your own meal using the hotel's in-room kitchen. Too tired to do any cooking? Just head down to La Coupole -- on the ground floor of Hotel Le Crystal -- for some Parisian-inspired cuisine.
Where to Shop in Montreal
Atwater Market is a great place to start your morning in Montreal. Check out the diverse range of merchants selling meat, fish, cheese, baked goods, chocolates and other gourmet foods. If maple syrup is what you're looking to take home, you're sure to find someone selling it here by the bottle or can, in many different varieties.
Not too far from Atwater Market is Harricana par Mariouche, the place to visit if you're looking for unique products made in Quebec. The internationally recognized Harricana label from designer Mariouche Gagne is comprised exclusively of clothes and accessories made from recycled fur and silk.
For a mix of imported and Quebec fashion designs, head to Laurier Avenue West. Here you'll find Henriette L, a boutique that offers high-end clothing from the likes of Jean Paul Gaultier and Sonia Rykiel; Michel Brisson's shop for ready-to-wear men's clothing; and the flagship stores of shoemaker La Canadienne and knitwear label Ca Va de Soi.
Sherbrooke Street West is another area of the city lined with designer boutiques, antique stores and art galleries. Make sure to check out the collections and temporary exhibition at the Montreal Museum of Fine Artsand stop by MMFA's Boutique and Bookstore for some gift ideas.
If you're in the Old Montreal area visiting Notre Dame church and admiring the buildings around it, stop by jeweler Roland Dubuc's studio-shop along Saint-Paul Street West. This unique shop is the only place where Dubuc sells his miniature sculptures -- an exclusive collection of pendants, bracelets and earrings made entirely from a single sheet of gold or silver. This technique can be likened to origami and demands great technical precision.
Where to Wine and Dine in Montreal
For a unique dining experience in Montreal, book a table at Restaurant Europea along de la Montagne Street. The restaurant is famous for inventive dishes that are not only tasty but also surprisingly entertaining. No matter what you order, you'll be treated to some interesting amuse-bouche such as beef jerky hanging on a mini clothesline, and an array of desserts such as a cotton candy tree.
On the mezzanine floor of the Maison Birksjewelry store, you can enjoy brunch or afternoon tea at the cozy and chic Birks Cafe. Montreal's answer to Breakfast at Tiffany's, Birks Cafe also offers a wide selection of pastries and sweets.
If you find yourself in the Old Montreal area, visit Helena at McGill Street. The restaurant offers unique Portuguese cuisine and a wide variety of tapas. Inspired by the colorful hues of the Mediterranean, the venue is warm and inviting, with a wine list of more than 100 vintages from different regions of Portugal.
Need a cocktail or two? Try the mysterious elixir known as absinthe at the Sarah B. Absinthe Bar. Watch as the bartender pours pure absinthe into a glass, on top of which is a special absinthe spoon. A sugar cube is placed on the spoon, and iced water is slowly dripped over it.
From the absinthe bar, walk over to the dining room at Osco! for lobster bouillabaisse, creamy risotto dishes and grilled steaks. At Osco! local Quebec products are enhanced with the flavors of Provence. The restaurant's wine cellar consists of around 700 hand-picked bottles, including a large assortment of private imports.
Montreal Road Trip: Where to Stop
To break up the long drive to and from Montreal, consider stopping at some of these places for a quick meal, a stroll or even an overnight stay.
Lake Placid, N.Y. is about a two-hour drive from Montreal. The town's main attraction is the Olympic Center, where sports enthusiasts will find a collection of memorabilia from the Winter Olympics hosted by Lake Placid in 1932 and 1980.
Spend the night at Mirror Lake Inn or dine at one of its restaurants. Admire the gorgeous lake in the background, with views of the Great Range of the Adirondack High Peaks.
Halfway between Montreal and New York are Saratoga Springs and Lake George. With many charming shops, restaurants and local markets, both destinations are ideal for stretching your legs and re-energizing.
Max London'sin downtown Saratoga Springs serves a breakfast pizza loaded with bacon and baked egg -- more than enough to keep you going for the next half of your trip.
-- Written by Marilen Cawad in New York