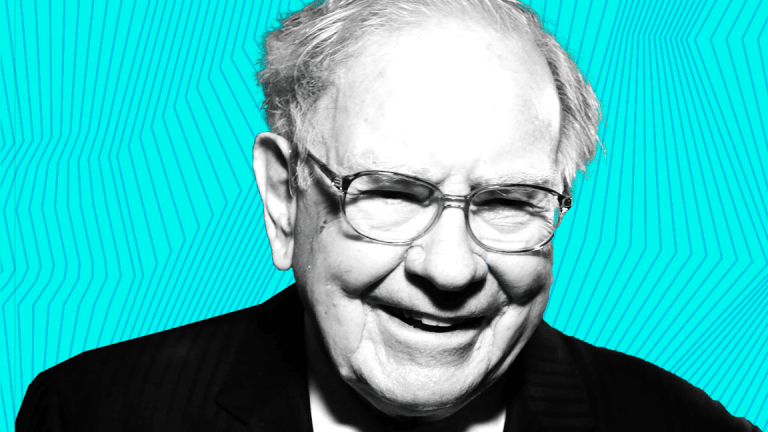 What Is Warren Buffett's Net Worth?
The legendary investor currently has a net worth of nearly $86 billion. Here's the story of how the savvy businessman was able to get there, and what he has done with his money.
Warren Buffett has famously talked about how he doesn't believe money can buy you happiness. That is easy to say when you have the money he does.
Buffett's success is astounding considering his life's work has been almost entirely investing. His keen ability to find enough of the right investments at the right time has made him a titan in the worlds of stocks and business. He is a revered figure; people pay millions of dollars just to have lunch with him and get a peek inside his mind. And with all the soda he drinks, he surely has energy to spare.
So how much is Warren Buffett worth? How did he get it and how much is wrapped in his Berkshire Hathaway shares?
Warren Buffett Net Worth
As of this writing, Forbes puts Warren Buffett's net worth at $86 billion. That would place him at number three on the list of the richest people in the world, behind Jeff Bezos, and Buffett's good friend Bill Gates.
Because Buffett's business life is investing, the overwhelming majority of his worth is in Berkshire Hathaway (BRK.B) - Get Berkshire Hathaway Inc. Report and its shares. That means his worth is known to fluctuate quite a bit over a given day -- though it continues to remain astronomically high.
Warren Buffett Early Life
Buffett was born in 1930 in Omaha, Nebraska to mother Leila Stahl Buffett and father Howard Buffett, who worked in investing himself before winning a congressional seat in 1942.
Buffett, growing up with an investor father, took a shine to that world even as a young child. He decided to purchase his first stock at just 11 years of age -- three shares of Cities Service Preferred at $38 a share. When he moved to Washington D.C. as a teenager after his father was elected into office, he began delivering copies of The Washington Post and made $175 per month.
In addition, at 14 years of age, he used $1,200 in savings to purchase a stake in a 40-acre farm just outside of Omaha. An interest in investing and business was instilled into young Warren Buffett at a young age, before he even entered high school.
By the time he was finishing high school, Buffett already fashioned himself a businessman. He and his friend purchased a pinball machine for $25, and placed it in a barbershop. In no time at all, they had three different machines in three different locations, eventually selling this "business" for $1,200.
Warren Buffett Education
Warren Buffett had saved up an impressive amount of money by the time he was to attend university. He would have been content to continue his investing and business interests, but pressure from his father led to him briefly attending the Wharton School of Business at the University of Pennsylvania. Eventually, he would transfer to the University of Nebraska, graduating early.
Buffett reportedly had hoped to follow this up by attending the prestigious Harvard Business School, but ultimately was turned down after an interview. He instead went to Columbia University's business school and finished with a Master's degree in economics. Buffett was hardly settling: His hero, economist and author of The Intelligent Investor, Benjamin Graham, taught at the school.
In another attempt to get closer to Graham, once the young investor found out that Benjamin Graham sat on the board of GEICO, Buffett took a trip back to D.C., demanding to be let into the GEICO building. He would end up talking for hours to a different higher-up at the company about business.
Warren Buffett Investments: Early Career
After business school, Buffett dreamed of working on Wall Street with Graham, but Benjamin Graham would not hire him -- even after Buffett offered to work for free. Instead, he returned to Nebraska. In the daytime, he worked as a stockbroker. In the evening, he taught night classes at the University of Nebraska -- despite being just 21 years old.
His knack for investing was undeniable and his ascension seemingly inevitable. In 1954 Ben Graham finally came calling to offer him a job at his partnership. The dream only lasted for two years, as Graham retired and closed up shop in 1956. But Buffett returned to Omaha with far more in savings -- between $140,000 and $174,000 (between $1.3 million-1.6 million today, when accounting for inflation).
In Omaha, Buffett started Buffett Partnership, Ltd., his own partnership. Over the next several years, he would create more and more partnerships, eventually consolidating them into the original.
Buffett continually turned a profit in these investment firms, and routinely outperformed the Dow. What sort of savvy investments could enable this? The biggest one at that time was Sanborn Maps, which Buffett purchased when it was $45 a share. What caught his attention was the map company's investment portfolio, which came out to about $65 a share and could easily be liquidated.
As his investments continued to make money hand over fist, Buffett began taking more risks. In the mid-1960s, he purchased shares of American Express at $35, in the midst of a company crisis.
Berkshire Hathaway
Buffett's lasting legacy as an investor, however, will be his work with Berkshire Hathaway. The company was the result of a merger of two textile manufacturing mills, Berkshire Fine Spinning Associates and Hathaway Manufacturing Company. Each had been formed in the previous century, but years of struggling led to the two merging in 1955.
In 1962, Warren Buffett made his first investment in the textile company. The merger had done little to help the combined company's woes, but Buffett believed the value of the company was greater than its meager stock price of $7.60. By 1965, he had purchased enough of the company's shares to assume ownership and install Ken Chace as president.
The textile industry remained in decline, so Buffett began purchasing other companies' stock (as well as whole companies) to diversify Berkshire Hathaway by number of industries -- and ultimately improve the firm's ability to make a profit. It paid off handsomely. Textiles may not have been a big moneymaker, but insurance certainly was. The Buffett-led company purchased both Indemnity Company and National Fire & Marine Insurance Company in 1967. Both insurance companies were based out of Omaha.
One of Buffett's main tenets of investing in business was to pick companies in stable industries. The other one was to simply pick companies whose products he enjoyed. That's what led Berkshire Hathaway to buy See's Candy in 1972 for $25 million, and subsequently turn it into an extremely profitable company.
The 1970s saw some fantastic investments/purchases from the company, including the insurance company Benjamin Graham used to work at, GEICO. The company grew exponentially, and the shares rose with it. Textiles became less and less of the focus of Berkshire Hathaway, and by 1985, the company had closed its last textile mill and was out of the industry entirely.
The acquired businesses allowed Berkshire to thrive, and Buffett began to make some of the moves that would turn Berkshire Hathaway into what it is today. The biggest move? Buying stock in Buffett's favorite beverage, Coca-Cola (KO) - Get Coca-Cola Company (The) Report . He started investing in Coke in 1988 and soon owned 7% of the company, worth over $1 billion.
Buffett's tenure has hardly been free of downturns. Berkshire Hathaway was hit hard by the 2008 recession -- the third quarter of that year saw profits fall a disastrous 77%. It was quick able to stabilize from there, however.
Warren Buffett Salary
Buffett has been, at times, the richest man in the world. Even when he's not, he is never far from the top 3. But a paltry amount of that comes from his actual salary as Berkshire Hathaway CEO.
His net worth comes from his various shares and his portfolio. His yearly salary is $100,000. It's far from a salary to scoff at, but the six figures he made last year at his job accounts for just 0.00001% of his current valuation.
When Did Warren Buffett Become a Billionaire?
Warren Buffett rarely struggled for money throughout his entire life, but his march toward billionaire status was a slow burn. It wasn't until 1985, 20 years after his takeover of Berkshire Hathaway, that his various investments and businesses gave him a net worth of $1 billion. He was 55 years old.
Warren Buffett House
If you're looking for the type of billionaire mansion that Bill Gates has, with 20+ rooms and its own nickname, look elsewhere. Buffett still has the house he purchased in Omaha back in 1958.
The house, with 5 bedrooms and 2.5 bathrooms, was purchased for $31,500. In today's dollars, that is the equivalent of over $274,000.
The house is part of Buffett's mystique as the billionaire who doesn't live like one. But that mystique didn't stop him from having a beach house in Laguna Beach that is still on the market for the asking price of $11 million.
Warren Buffett Philanthropy
Buffett lives frugally, living in his old Omaha house and frequenting McDonald's (MCD) - Get McDonald's Corporation Report . So what good are those billions doing if they are just sitting around?
Warren Buffett seems to agree with that sentiment, as he has given billions of dollars away to various charitable causes over the past several decades, and shows no sign of slowing down. In 2006, he made a pledge to eventually give all of his Berkshire Hathaway shares to philanthropic causes and foundations.
Much of Buffett's charitable contributions have gone toward the foundation of his friends -- the Bill & Melinda Gates Foundation. He has also donated extensively to the philanthropic organizations run by his family members. One of his more-recent donations came in 2017, when he converted some of his Class B shares of Berkshire Hathaway into $3.4 billion. That money was divided into 5 sums that went to the Bill & Melinda Gates Foundation, his own foundation (the Susan Thomas Buffett foundation, named after his late first wife) and 3 charities each run by his children.