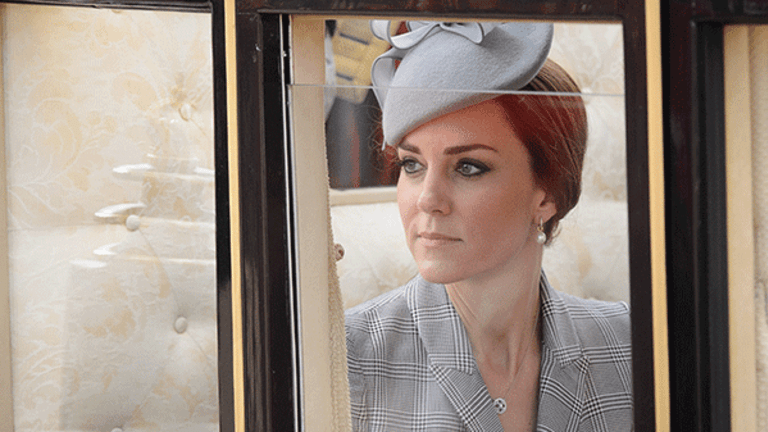 Want to Work for Kate Middleton? Here's Your Insider's Guide
Here's a little known tidbit: openings with the British royal family are posted online and are open to anyone interested in applying.
Here's a little known tidbit: openings with the British royal family are posted online and are open to anyone interested in applying.
Here's one of the most interesting job tips you're ever going to get, and it didn't come from LinkedIn or Monster.com.
The British Royal family is hiring.
And the gigs up for grabs aren't half bad.
Among the current openings are Windsor Castle gardener (read: a chance to spend days on the stunning palace grounds), exhibitions projects coordinator (i.e. working with one of the world's most historic art collections) and collection online project assistant (sharing stories online about said historic art collection).
Many Americans, a euphemism in this context for royalty novices, may not be aware that the royal family posts job openings online in the same way a business would.
But have a look at The Royal Household website, and there it is, a "careers" section.
To be clear, one will not find postings here for a career as a lady in waiting for Queen Elizabeth or a listing to be Kate Middleton's personal secretary.
But for those who daydream about a royal life, you've got to start somewhere.
And who wouldn't want to work, in some small way, for a fabulous individual like Kate Middleton? Well, perhaps the truer statement is who wouldn't want to be Kate Middleton, (the stunning clothes, the beautiful homes, the exotic trips, the adorable kids), but we digress.
Earlier this year, the site included an opening for an "innovative, social media savvy expert" to lead the digital engagement team at Buckingham Palace. Sounds fun, right? Pretty sure there are countless among us who feel qualified enough to Tweet and post pictures of royal life on Facebook all day long.
And if you play your cards right, maybe somewhere along the way you'll get to snap a few quick selfies with your favorite members of the royal fam, you know, as part of your professional duties.
The reality of that happening is actually slim, but the job would still look great on your resume, trumping nearly all other social media coordinator jobs on the planet.
"The chances of seeing the queen are zero to none," says Marc van der Linden, publisher of Royalty Magazine, and the leading royalty expert in Europe. "Buckingham Palace is a working palace; none of the royal family members live there."
Van der Linden, who lives in the Netherlands, began covering royals about 28 years ago, has written nine books about them and has met nearly every recent royal including Queen Elizabeth and Princess Diana.
So his royalty credentials are pretty solid.
His advice for Americans truly interested in breaking into a royal job is move to Canada, or some other country where the queen is head of state, and become a citizen. That will help improve your odds of being selected.
At the very least, you'll need a visa to work in the U.K., and should you line that up, consider securing an apartment or address in London.
If you manage to get such pesky legalities and logistics worked out, being American may not necessarily rule you out; it just depends on how you work it.
"An American accent would be considered exotic at the palace," continues van der Linden. "The queen always says it's fun when things aren't going the way she is used to, and they are always surrounded by people who speak the Queen's English. An American accent would be something amusing."
Still, doesn't one need to come from a long line of palace workers in order to get a foot in the giant door at Buckingham or Windsor?
Not in 2016.
"Back in the day, during previous reigns, it really helped to be the son of the gardener if you wanted to be a gardener at the palace," says Daniel Willis, an expert on royal families, particularly the British, who has written 11 books to date on the topic. "That's not so much required anymore. There's much less of that nowadays. The more distant the position is from the family, the more likely it is they will hire someone who has not been at the palace before."
So, there's hope, right?
And think of the possibilities after such an intriguing job. Writing a book about life as a palace gardener, a publicity tour...or at the very least a wildly popular blog entitled "My Life with Kate and William."
The short term perks, meanwhile, are also worth noting. While the pay for the currently posted jobs is nothing to write home about, there are various other highlights.  
"It helps further your career if Buckingham Palace is one of your former employers," says van der Linden. "It brings you into greater esteem with friends and family and while the money isn't that great, what is good is that for Christmas you get a present personally given to you by the queen, which is a collector's item."
Another perk - some of the jobs include housing at the palace, such as the gardener position, van der Linden points out.
"Most of these people not only work for the royal family but also live on the royal grounds," he says. "If you work at Buckingham Palace, you have some small beautiful rooms. If you work at Windsor Castle, you get a very nice cottage on the grounds. And those people who work for the royal family for decades get to stay on and live there even after they retire."
Bottom-line: it may be time to brush up your resume, practice your curtsy and aim for a giant career leap across the Pond. But keep your expectations low; lunching with Prince Harry will not happen on day one, or even day 365 or even at your goodbye party.
"It's just going to be a job; it's not going to be glamorous," says Willis.
Really? Let's have one last look at that current opening for a collection online project assistant
Located at at St. James's Palace (so not your average office cubicle), the position is part of the Royal Collection Trust department.
The job description says day-to-day requirements include sharing stories online behind amazing works of art and helping to maintain and care for one of the world's largest collections. Sounds taxing right?
Other duties include enhancing online content pertaining to the collection and coordinating filming and photography for website features.
The perks meanwhile include 33 days of vacation time, which is practically unheard of here in the U.S., a 15% employer contribution to a pension scheme and free lunch.
Working with incredible art, free lunch, a month of vacation and a slim chance of bumping into, having lunch or becoming best friends with Kate?....If only we had studied art.