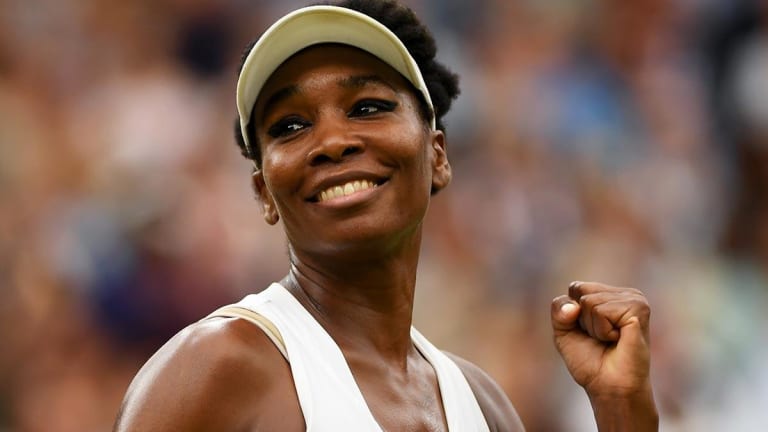 The Williams sisters changed tennis, bringing it a new audience and forcing fans to rethink their perceptions of what a tennis player could be. Both sisters have carved out their own unique legacies through their decades of play, but as the eldest of the two, their story began with Venus.
Venus Williams has graced the tennis world with her presence for nearly two and a half decades now. In that time she has overcome injuries and diseases en route to becoming an all-time great. She has won 7 Grand Slam singles tournaments and made 9 additional Grand Slam finals. Her and Serena's run as a doubles team is legendary. Even after an upset defeat at the 2018 Wimbledon tournament, she is a towering figure in the sport.
How much has she made from her storied career, and how much is she worth?
What is Venus Williams' Net Worth?
Celebrity Net Worth estimates Venus Williams' net is around $95 million. That's massive, yet a far cry from its estimate for sister Serena Williams' $180 million.
Still, Venus's fortune is enviable, to say the least. It pays to be a tennis legend - and not just from actually playing the game.
Venus Williams' Tennis Career
Born in 1980, Venus Williams' tennis abilities were apparent from a young age. After years in tennis academies and junior tournaments, she played her first ever professional in Oakland in October of 1994 - at just 14 years of age. She won her first match before losing a tough match in the second round against eventual tournament champion Arantxa Sanchez Vicario, but her abilities and her potential were evident from day one.
A few years later in 1997, after several quarterfinal appearances in other tournaments, she broke out in a major way by making the finals of the US Open. She lost to Martina Hingis. The next year, she won her first ever Women's Tennis Association (WTA) singles tournament with a finals victory at the IGA Tennis Classic, a tournament she has since won three times. She broke through to the top 10 of the WTA's worldwide rankings that year, establishing herself as a star.
In 2000 she finally won her first ever Grand Slam singles tournament, defeating Lindsay Davenport at Wimbledon. Later that year was her second Grand Slam victory to beat Davenport at the US Open, and then took home the gold at the Sydney Olympics. By 2002 she had 4 Grand Slam singles titles to her name and the WTA had her ranked as the number 1 tennis player in the world, the first African American woman to achieve that honor. Not long after, Serena would also hold the honor.
The mid-2000s saw some struggles for Venus, including a nagging wrist injury, but also saw a 2005 Wimbledon title. She then rebounded from those injuries to win the Wimbledon finals in 2007 and 2008.
In 2011, Williams suffered a setback when she was diagnosed with Sjögren's syndrome, an autoimmune disorder. Amazingly, she returned to professional tennis a year later and steadily returned to form, and by 2015 she was in the Australian Open final, her first Grand Slam final since 2010. Like Serena, she has had her share of complications she has had to come back from and has overcome each of them.
2018 and 2019, though, have seen Williams struggle - particularly in Grand Slam tournaments. In the four in 2018 and the two so far in 2019, Williams has yet to advance past the third round. As of this writing, she is ranked 44th among singles.
According to the WTA, Venus Williams has made over $41.4 million in prize money throughout her career.
Venus & Serena Doubles
Venus' singles career is one of the greats in the history of tennis, but her doubles career playing alongside Serena is even better. Together, the pair have won three Olympic gold medals in women's doubles - 2000 in Sydney (when Venus also won the gold in singles), 2008 in Beijing, and 2012 in London.
In Grand Slam tournaments, the Williams sisters have made 14 finals. They have won all 14 of them. Not only is that 14 of 14 finals won, but 14 of 33 Grand Slam doubles tournaments they have participated in. When Venus and Serena play doubles in a Grand Slam tournament, they have won the finals 42% of the time. Venus also won two Grand Slam mixed doubles finals in 1998 with partner Justin Gimelstob.
As two of the all-time greats of the sport, Venus and Serena have also faced each other in a number of exciting singles matches. Serena has held a clear advantage in them; the two have faced each other in 9 Grand Slam finals, and Venus has lost 7 of them.
Venus Williams' Investments
Like Serena, Venus is something of an entrepreneur and investor. She has entered the business world like so many other athletes and founded multiple companies. This includes EleVen, a women's athleticwear line, and V Starr Interiors, an interior design company.
She has several investments as well, perhaps most notably as one of the dozens of celebrities who owns a percentage of the Ultimate Fighting Championship, or UFC. She is also a prominent backer of Ellevest, a digital investing platform aimed at women. Ellevest was made to help women interested in investing and to help achieve the goal of financial equality between women and men.
Venus Williams' Endorsements
Venus doesn't have some of the massive endorsement deals Serena has, but also doesn't necessarily need them; who needs Nike when you created your own clothing line?
Williams still has plenty of endorsement deals with impressive companies, though. She was named a brand ambassador for
Electronic Arts
(EA) - Get Electronic Arts Inc. Report
in 2010, has a deal with Wilson Sporting Goods, and has appeared in commercials for Tide.
Is Venus Williams Married?
Some of the biggest stars in the world of sports are married to other multi-millionaires, creating dynasties. Think of Serena marrying Reddit co-founder Alexis Ohanian, or Tom Brady marrying supermodel Gisele Bündchen.
Venus is not currently married, but she is currently dating someone in wealthy social circles. Her boyfriend at the moment is 25-year-old Nicholas Hammond, heir to the fortune of Walter Annenberg, who published publications that include TV Guide.
Not that his fortune matters much to Williams, who made her own astonishing fortune through her combination of athletic prowess and business acumen.