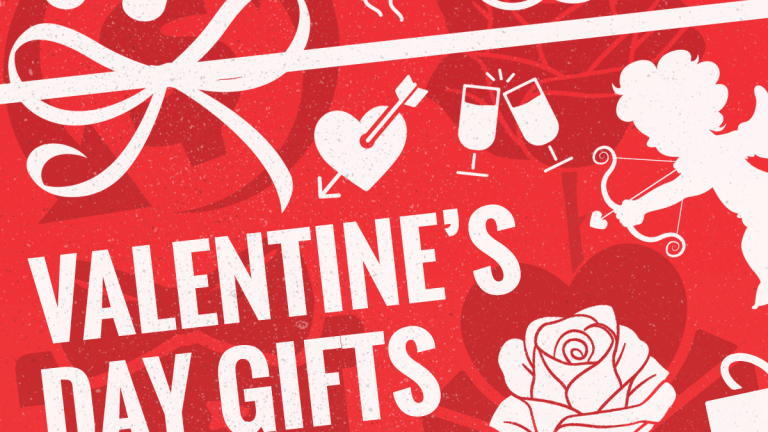 20 Valentine's Day Gifts for Anyone in 2019
In need of a last-minute gift for Valentine's Day? Here are a few ideas for you.
In need of a last-minute gift for Valentine's Day? Here are a few ideas for you.
There can be a lot of pressure to really nail your gift for Valentine's Day. It's the holiday of romance, so you want your gift to feel special.
But as the big day fast approaches, you need a gift and you need it quickly. It can be overwhelming to try and figure out where to even start at this point.
With that in mind, here are a few ideas for Valentine's day gifts for the loved ones in your life.
Valentine's Day Gifts for Him
Whether a partner, son or father, you may be looking for a gift for an important man in your life. Understandably, you want to get him something special and personal, not necessarily a generic whiskey/tie/bacon product advertised as what to buy for men.
So here are some other ideas for what to get him this Valentine's Day.
1. Armani Exchange A|X Cayde Black Stainless Steel Bracelet Watch
$160.00 on Macy's (M) - Get Report
A classic gift not just in terms of concept but design, this men's watch is sleek, beautiful and versatile. It's all-black, no frills design goes well with outfits casual and professional alike, making it an excellent choice for the man in your life who admires a good timepiece.
2. Caribou Blend Caribou Coffee
A practical gift can still be romantic - and what's more practical than having a good coffee in the house to jump-start your day? One of the most popular coffee brands on Amazon (AMZN) - Get Report , Caribou Coffee advertises itself as a more environmentally friendly and responsible coffee company, and their Caribou Blend is described as having "sweet, spicy and berry notes," and made from high-quality coffee beans.
3. L.L. Bean Wicked Warm Long Sleeve Slightly-Fitted Plaid Shirt
If he needs an article of clothing that looks good on him and keeps him ready for the freezing cold weather, this shirt - one of the heaviest in the L.L. Bean catalog - should do the trick. This long-sleeve shirt is available in four different plaid color patterns, with a lightly-brushed interior. Designed to keep him toasty while being slightly fitted at the waist, the Wicked Warm shirt is a combination of fashionable and cozy for the winter.
4. Godiva Valentine's Day Heart-Shaped Chocolate Gift Box
Did you forget to pick up some Valentine's Day candy? No Feb. 14 is complete without it, and Godiva, with its many varieties of chocolates and romantic heart-shaped box designs, is perfect for the occasion. A 14-piece gift box of chocolates means picking and choosing from dark chocolate to almond praline, caramel to coconut and much more. And there's enough in the box to share!
5. Versace Pour Homme Dylan Blue Eau de Toilette Spray for Men
Make sure your man smells nice before your big Valentine's Day evening plans. With notes of woodiness and citrus, this Versace fragrance offers a distinct and unique aroma, all contained in a sleek, eye-catching blue painted-glass bottle. A great gift he can use both on and after Valentine's Day.
6. Personalized "LOVE" Picture Frame
$24.95 on Amazon
Show him you care with your favorite photo of the two of you together - placed inside a special, personalized picture frame for the two of you. Have your names engraved into the frame for a unique gift that's all yours! The LOVE frame also allows for a date like your wedding anniversary; if you don't have that, there are other designs that don't need it, centered around designs like hearts, homes and love quotes.
7. Aeropostale Conversation Heart Boxers
Looking to get your partner Valentine's Day boxers but don't want to do that weird custom things where you put your face on them? Understandable. Luckily, there are still themed boxers for this specific holiday, like this pair from Aeropostale. Rather than just standard red hearts, these indigo boxers have drawings of classic conversation hearts on them, from "KISS ME" to "I'M YOURS."
8. USB Mixtape Cassette Flash Drive
The mixtape is a classic move for young couples in love, and the art doesn't have to die just because you don't have a cassette tape player anymore. This USB drive is shaped like a retro 80s cassette tape, complete with a cover you can personalize. It's available with 128 MB of storage if you are actually going to make a mixtape for your partner, or 16 GB if you plan on using it as an actual storage device.
9. Hideaways by L.B. Evans Roderic Suede Men's Slippers
$46.00 at Kohl's (KSS) - Get Report
With a faux fur lining and suede exterior, these slippers are a helpful and convenient gift as the rest of winter sets in. Simple men's slip-ons for the house aren't the flashiest gift, but the practicality and warmth is sure to be appreciated.
10. Timberland Squall Canyon Wingtip Chukka Boots
Another gift idea mixing convenience, warmth and style, these wingtip boots have a classic and rugged look in an outdoorsy color. Able to match with his best winter outfit, they complete the ensemble fantastically.
Valentine's Day Gifts for Her
What if you want to get the important women in your life something to show your appreciation on Valentine's Day, but you're not entirely sure where to start? Here are a few ideas that can make great gifts, or great jumping-off points to coming up with a particularly personal gift idea.
1. Gem & Diamond Accent Sterling Silver 18" Pendant Necklace and Stud Earrings
A bargain considering the set of several beautiful pieces of jewelry you'll be getting, this necklace and earrings set is available in sapphire, blue topaz and amethyst. These are set in sterling silver to create beautiful, sparkling jewelry, with an 18-inch necklace and two stud earrings. Show her you care with her favorite gemstone.
2. Brach's Tiny Conversation Hearts Candy Assorted 2-Pack
Maybe you've heard that Sweethearts, the famous conversation candy hearts, won't be available this year due to the lengthy time period between NECCO declaring for bankruptcy and Spangler Candy Company buying the rights to them. But if you or your partner are insistent on conversation candy hearts, Brach's continues to sell their own assortment of hearts with lovey-dovey phrases like "LOVE YOU," "TRUE LOVE" and "LET'S KISS" for a great replacement.
3. Way Out West 2-Pack Soy Wax Blend Valentine's Day Scented Candles
Just in time for the holiday, this 2-pack of jar candles in red and white offer fitting "Romantic Rose" and "Lava Lovin'" scents. These long-lasting mason jar candles are a great romantic gift and claim to offer a very convenient smoke-free candle extinguishing.
4. Tom Ford Black Orchid Women's Fragrance
A fragrance for your Valentine's Day and beyond, this Tom Ford perfume is true to its name, with an incredibly distinct scent of black orchids along with various spices blended together to create a truly original aroma for your partner. This is a sleek, glamorous choice for the woman in your life.
5. Plush Stuffed Animal with Milk Chocolate Hearts
$19.99 on Amazon
It's not the most practical gift, but the adorable Valentine's Day stuffed animal is a holiday staple. This stuffed animal, in lieu of the classic teddy bear, is available as a llama, otter or sloth - and each of them has a heart-shaped box of chocolates with an animal pun on the front. A fun twist on an old classic, and a cute one too.
6. Personalized "Hers" Fleece Blanket
It cannot be stressed enough how cold it gets in February, even in the house. If she gets cold easily, a warm, comfy blanket is a great and thoughtful gift idea. This one, from Bed Bath & Beyond (BBBY) - Get Report , is available as a Him or Hers that can be customized to have both her name and "Hers" stitched on it, so everyone is perfectly clear whose blanket this is.
7. Personalized 'You're All I Need' Lumbar Throw Pillow
Continuing the trend of personalized Valentine's Day bedding, Bed Bath & Beyond also offers a customizable throw pillow for the house. You can personalize it with your two initials inside two different hearts, as well as a romantic one-line message. It's comfortable, it's romantic, and it goes well with the rest of your home decor.
8. Jenni Soft Printed Knit Pajama Set
Sometimes what you really want as a gift is just something deeply comfortable, like some soft pajamas. This PJs set, a Macy's exclusive, is a soft, comfy matching long-sleeve shirt and pants combo, available in four different designs. A cute, simple, and convenient gift.
9. Michael Kors Pebble Leather Crossbody Wallet
Compact and convenient, this Michael Kors (CPRI) - Get Report wallet has enough room for your wallet essentials and even has a slot meant for your phone. Essentially, it can be as much clutch as wallet. Its sleek exterior is available in six different colors.
10. Amia 10-inch Hand-Painted Glass Vase
You at least remembered to get her flowers, right? Why not also get a lovely vase as a gift - to place not just those flowers, but flowers for future holidays and anniversaries too. This particular vase is intricately painted and has a floral design with large peacocks to provide memorable color.