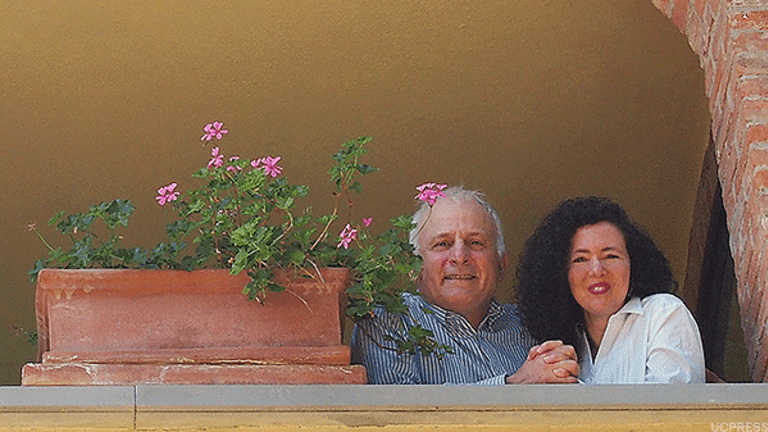 Publish date:
Unpacking the Story Behind the Chianti Fiasco
Chianti and the straw-covered bottle in which it comes are a classic part of Italian-American culture. A new book tells the story of their history in Italy
Chianti and the straw-covered bottle in which it comes are a classic part of Italian-American culture. A new book tells the story of their history in Italy
For millions of Italian immigrants, the straw-covered fiasco of Chianti on the dinner table was a piece of home. Bill Nesto remembers that his father, who was born in Boston in 1914, grew up in Apulia and returned to his native city shortly before World War II, pulled a large flask from under the kitchen sink and poured himself a glass of red every night. The bulbous bottle is an important character in Chianti Classico: The Search for Tuscany's Noblest Wine, the book that Nesto and his wife Frances Di Savino recently published. But instead of being a symbol of mid-20th century nostalgia, the fiasco represents the difficulty Chianti Classico had in preserving its reputation for quality and the extraordinary change the region has undergone in the last half-century.
Wine has been made for centuries in Chianti, and vintners in the hills between Florence and Siena have called their wine by that regional name - and often packaged it in flasks - since the 14th century. Cosimo III de' Medici, the grand duke of Tuscany from 1670 to 1723, sent fiaschi to other European nobility, including Charles Calvert, Lord Baltimore, who got a chest of the wine every year. In an effort to reduce the sale of fraudulent Chianti, Cosimo issued two decrees in 1716 that established the world's first legally defined appellation of origins for wine, regulations that probably weren't enforced, Di Savino and Nesto write.
By the late 19th century, Chianti producers were selling wine all over the world. Marchesi L. and P. Antinori, scions of an old Tuscan noble family, exported to New York, London, Paris, Buenos Aires and Sao Paolo, for example. But Chianti was not linked to Italy's rail network, and many of its winemakers sold their product to outside merchants, so "Chianti" became almost a generic term. Wine sold as Chianti was made in Naples, Genoa, Sicily and everywhere else in Italy. The Italian Swiss Colony winery in California even sold a "Tipo Chianti." As a result, the wine's reputation had significantly declined by 1932, when the Italian government established the region of Chianti, which included Chianti Classico as a sub-region - essentially the area that Cosimo III designated as Chianti.
The region's problems worsened in middle of the 20th century. Since the middle ages, Tuscan farms had operated under a system of sharecropping known as mezzadria, but after World War II farmers and their families left estates by the thousands to move to cities and towns elsewhere in Tuscany, creating a labor crisis in Chianti. Many large landholders sold off their estates, often to upper-middle-class Italians who wanted vacation homes or to foreigners, especially the British, who had long harbored a fascination with Tuscany.
Outsiders were critical to the survival of Chianti as a wine region, but it was the far-sighted Antinori family who figured out how to revive its reputation among consumers. In the late 1940s, Mario Incisa della Rochetta, who was related to the Antinoris by marriage, made a wine that he named Sassicaia after the vineyard from which the grapes came. Niccolo and Piero Antinori, sons of a noble family involved in the local wine industry since the 14th century, commercialized the wine in the early 1970s, and Sassicaia became the first of the so-called Super Tuscans, wines that in some respects emulated those of Bordeaux and sold for correspondingly high prices. The Super Tuscans in turn helped create a market for ambitious Chianti Classico.
The Antinoris relied heavily on the technical expertise of Giacomo Tachis, who as a young student of winemaking in the 1950s got in touch with Emile Peynaud, the legendary Bordeaux oenologist. Tachis pushed the producers he advised to use barrels made of French oak, harvest their grapes later, and generally made more robust wines. Tachis thought Cabernet Sauvignon, the base of many great Bordeaux wines, was far superior to Sangiovese, the Tuscan standard-bearer, and Super Tuscans were often based on the former grape. Even as many Chianti producers have moved on from their infatuation with Bordeaux, Tachis's structured, scientific approach to viticulture and oenology has led to broad improvement in Chianti wines and helped producers, many of them relative newcomers, preserve the region's beauty and heritage.