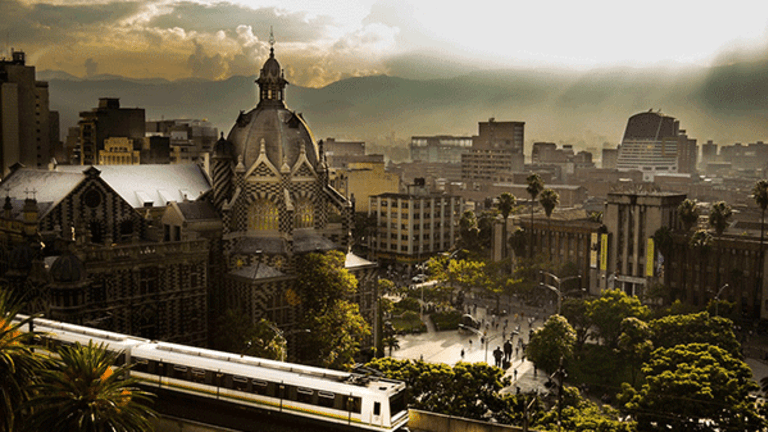 Publish date:
15 Killer Fall Travel Deals
From Cincinnati to Colombia, travelers can get a whole lot for their money.
From Cincinnati to Colombia, travelers can get a whole lot for their money.
We're still a month or so removed from fall, but this is definitely fall travel season.
Travels who are well-seasoned in searching for off-peak travel dates and deals know that the early weeks of December, much of January and even early summer. However, pricing takes a turn for the better during August and the September weeks following Labor Day. Rick Seaney, chief executive of travel site FareCompare.com, notes fall bargain travel season kicks off on August 30 and sent prices plummeting. With kids headed back to school, college freshmen weeks into their first semester and parents finally finished with back-to-school shopping, Seaney notes that demand for hotel rooms and flights dives on that first day, recovers somewhat for Labor Day and slides into deep autumn discounts.
"As for airfare prices, they can drop as much as a third or more over summer airfare," Seaney says. "For my money, autumn is the best time of the year for a vacation: it packs the one-two punch of great weather and great airfare prices."
In June, travel site Hopper noted that projected airfare peaked at an average of $259 in June, but steadily slides to $218 by October. It might be tough to book anything earlier than mid- to late-September now, but much of October foliage season and pre-Thanksgiving November falls within FareCompare's recommended booking window of 30 days to three months before departure. If you book online on a Tuesday at about 3 p.m. Eastern, you stand the best chance of hitting an airline sale and getting the best price on tickets. Meanwhile, if you fly on a Tuesday, Wednesday or Saturday, you stand to get a better deal than at any other time of the week.
Hopper notes that the price of jet fuel is still cheaper than it's been since 2009, giving airlines some room for discounts. Overall, prices are up about 5.2% compared to the same time last year, but down 4.3% compared to two years ago. But where do you go? Well, Hopper suggests that Asian destinations are about to see a steep decrease in prices, with airfare to Osaka, Japan dropping 34% from this summer to $558 in the fall. If you're heading to Seoul, the $584 it'll cost you on average to get to South Korea is down 28% from this summer. However, destinations the Caribbean see the best deals, with airfare to Trinidad and Tobago ($519, down 36%), Turks and Caicos ($413, 27%) and the Dominican Republic ($410, 21%) all getting deep discounts.
With help from Hopper, we've found 15 destinations that you can visit at cut-rate costs this fall. While it isn't comprehensive (and leaves a lot of the globe out of the equation), it's filled with a fair amount of options for the frugal fall traveler.
More of What's Trending on TheStreet: