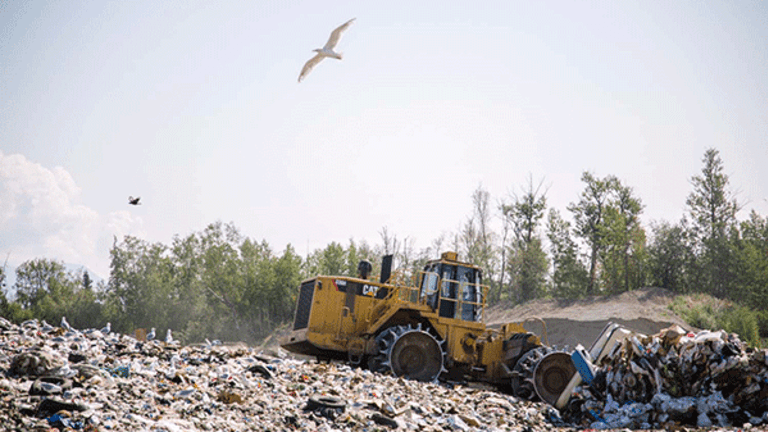 Trash in Our National Parks - Why It's Your Problem, Too
More than 100 million pounds of garbage are generated by national park visitors each year. Here's what you can do to help.
Editors' pick: Originally published Oct. 3.
The next time you're standing on the edge of the Grand Canyon sipping a bottle of water, or munching on a bag of chips while hiking through Yosemite, ponder this: each year national park visitors generate 100 million pounds of garbage.
That's enough trash to fill the Statue of Liberty more than 1,800 times.
Or looked at another way, that amount of trash would normally require 20 million household trash bags, which if laid end-to-end, would stretch from New York to Los Angeles and back again...twice.

A recent survey conducted by Subaru of America and the National Parks Conservation Association found that a majority of Americans (59%) are unaware of the monumental waste challenges facing the country's national parks.
What's more, a second study found that the bulk of that waste is coming from outside the parks and that the lion's share of the garbage is food waste and plastic water bottles.
"Attendance is going up quite a bit at national parks, they're estimating an increase of as much as 20%, which is good because people are taking advantage of these national treasures and they're getting their kids out," says Denise Coogan, environmental partnerships manager for car manufacturer Subaru, which is working with the parks to address the trash challenges. "It's wonderful that people are coming out and learning about the parks, but when they do, they bring that waste with them, which eventually becomes a problem for the parks."
As the parks celebrate their centennial anniversary this year, plans to preserve these national treasures for decades to come, are taking front and center.

One of the most extensive efforts now underway is Subaru's Zero Landfill Initiative, a program that traces its roots to a car manufacturing plant in Lafayette, Indiana.
The facility, Subaru of Indiana (SIA), is home to the car maker's North America manufacturing operations (the production site for the Subaru Legacy and Outback). And since 2004, SIA has been a zero landfill operation.
Achieving that status is no small feat. It's a top to bottom effort that involves such things as separating all the plant's food waste for composting and even sending dust, (yes, dust), to a recycling facility, where copper and other metals are reclaimed.
"About 400,000 cars a year are produced in Lafayette," says Subaru's director of corporate communications, Michael McHale. "That's lots of parts going into those cars and lots of people who are there,"  "And gradually, over time, we've reduced waste down to zero. It's been a decade now. Nothing goes to waste."
Over the years, SIA has also shared its zero landfill techniques with businesses, schools and other organizations - more than 800 in all.
Now some of those innovative approaches to dealing with trash are being pilot tested in three iconic national parks - Yosemite, Grand Teton and Denali.
In 2013, more than seven million people visited the three pilot parks, which collectively generated 16.6 million pounds of visitor waste.
Of that amount, 6.9 million pounds was already being diverted from landfills through such efforts as source reduction, reuse, recycling or composting. But 9.7 million pounds still ended up in a garbage dump.
Each of the three pilot parks are now testing various approaches to the problem based on the location's unique challenges.
"Some parks have more logistical challenges then others," says McHale. "For example, in Alaska (at Denali), the market for composted food is nil. You can compost all the food you like, there is no market. If you're near Vale, or the Tetons, land is expensive and when you compost you attract bears, so there are many challenges."

Some of the initial programs taking shape at the three parks include a Zero Landfill Youth Ambassador Program in Denali, to support employee and visitor education and the installation of dozens of new recycling and trash containers at Yosemite, in high-traffic locations.
Now Yosemite visitors don't have to look around for a recycling container, according to Coogan. Whereas before, when they couldn't find one, they would simply throw everything in trash.
At Grand Teton, meanwhile, the waste containers being deployed have GPS tags, which will provide a wealth of information that can be used to more effectively target trash, while also allowing for more accurately directing park resources and staff efforts.
"The GPS containers tell park officials where all the containers are and which ones fill up first," says Coogan. "They provide information about where the most trash is being generated, how much, and if there are areas that are outlying, where very few visitors go, (and thus the trash containers are not filling up) then the parks won't have to send someone out there every day."
Bottomline, however, according to nearly anyone you talk to about the program, is that much of its success comes down to increasing public awareness about waste.
Denali recently held a trash fashion show for the surrounding community, to highlight the problem.
Yosemite hosted a week-long event focused on litter pick-up and environmental engagement at the park, which included a booth focused on the zero landfill initiatives. And Grand Teton took part in a community EcoFair with a zero landfill booth, says Julie Klein, a project administrator for National Parks Conservation Association.
All three parks have ambitious goals for reducing the amount of waste they send to landfills, according to Klein.
Denali wants to double its diversion rate from 15% to 30% by the end of 2017. Grand Teton wants to go from 20% to 50% during that same time frame and Yosemite, now in the 65% range, would like to achieve 80% diversion.
There's also talk of expanding the efforts to other national parks, but how that will look and when that might happen remains unclear.
"We want to figure out where we can take these three pilot parks, identifying best practices and case studies that can be shared with additional national parks," says Klein. "It's unlikely we can get to this level of engagement with all the parks, but have to figure out what the scalabilty is."

The good news from that Subaru National Park Survey, conducted at the start of this process, is that the public is ready and willing to help the parks with this monumental effort.
The survey found that more than four in five people or 84% of park goers, would be willing to make a significant amount of effort to reduce the trash left in parks.
What can the public do exactly?
Here's your guide:
Opt for Online: 
Yes, paper maps are a national parks staple. But in our world of modern technology and ubiquitous smartphones, op for an app, that provides the same information - they're out there. And even without cell service, some national park apps will give helpful information about where you can spot wildlife or catch a beautiful sunset.
Mug for the Parks: 
Bring a reusable coffee mug from home or buy one from the souvenir shop to help reduce the 58 billion paper cups are sent to America's landfills every year.
BYOB (Bring Your Own Bottle): 
Americans throw away 2.5 million plastic bottles every hour. Keep a refillable water bottle on hand or buy one at gift shop, while taking advantage of refilling stations around the park.
Ditch the Plastic Bag: 
Help reduce waste by not taking a plastic bag when buying souvenirs or groceries that you bring into the parks. Instead, bring your own reusable bag or tote for your items to help eliminate plastic bag waste.
Take Out What You Bring In: 
Think about what you bring in. Check to see if it can be recycled or composted in the park you are visiting. If it cannot, try to take it home. It is often far easier to recycle near your home than in rural park areas.
"If visitors to national parks took steps to lessen their environmental footprint, it would make a significant difference in addressing these waste challenges," says Theresa Pierno, president and CEO of National Parks Conservation Association. "The actions we take now, whether it's drinking from reusable water bottles instead of buying plastic ones or taking out what you take into the park, will make an impact for generations to come."