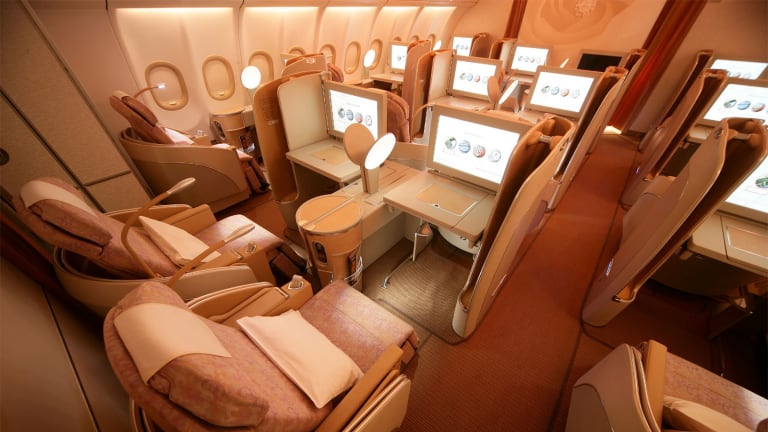 The New Rules to Getting Upgraded on Your Next Flight
Forget the old rules for upgrades. They don't work. Experts tell what's effective today.
You need to know new techniques to score airline seat upgrades today.
It used to be the case that the path to a business or first class upgrade was straightforward for air travelers: unsold front of the cabin seats were doled out, gratis, to members of the airline's frequent flier program, with seats parceled out by rank of the fliers. Platinum level members scored first, gold next, silver last.
That was then, and today frequent fliers kvetch that they just about never see free upgrades. Even top elites complain.
And that just may open up a big opportunity for you to score if you know how the game now is played. Even if you don't have elite status.
What's going on? And - more importantly - what strategies land a flier upfront now?
That second question is key. Anybody who tells you there isn't much difference between coach flights and business or first class has never sat upfront. You appreciate the difference even on an hour flight, but you love the difference on a 5+ hour flight.
As for what's going on, simple. It really has gotten close to impossible to score a free upgrade from coach to the front. Occasionally, yes, super elites - such as United 1K members who log 100,000+ miles per year - get upgraded. But even they no longer can depend on it. That's because airlines - just about all of the domestic carriers - came to the same conclusion a few years ago. It's a lot better for the bottomline to sell front of the plane seats, even at deep discounts, than it is to give them away.
Read that again, because for now that is the death knell for free upgrades for elites.
But smart frequent fliers are regrouping and deploying new strategies to get upfront.
For starters, said Joe Brancatelli, who blogs about business travel at JoeSentMe.com, stop worrying about attaining lower levels of elite status - it's not worth the bother anymore. Instead, said Brancatelli, "look for a cheap upgrade to buy." He elaborated: "They'll pitch you a price when you buy a ticket. They'll pitch you an upgrade at check-in. And some airlines (notably BA and LOT Polish) actually sell upgrades in flight."
Brancatelli's right. Pay attention and you'll see many offers of upgraded seats before you fly. Always when you are actually buying the tickets. Always, too, a day or three before departure. Usually, too, when you check into the flight. Airlines really want to sell those seats.
How cheap is cheap? Rocky Horan, who blogs at The Booking Guru, said he has seen even prime upgrades - such as United business class seats on the Honolulu - Los Angeles route - go for as little as $100.
Frequent fliers said they routinely see business class going for maybe $250 above coach on Los Angeles to New York cross-country flights.
At Hawaiian Airlines, you may be able to name your own price with its Bid Up tool which solicits passengers to make an offer - and the carrier just may accept it. El Al does something similar. A couple dozen more carriers - mainly international - do likewise in auctions usually 24 to 72 hours before takeoff.
You still want free? Paradoxically you just may have better luck on international flights where, often, there remain empty seats upfront. How can one be yours? Matt Arney, CEO of TranslateNow, said that in a prior job he often flew - on coach tickets - to China and he made it a point to befriend the flight crew, most of whom he saw time and again. He continued: "I took the time to introduce myself and chat with them in the galley during the flight. In return for just being friendly, I was treated like royalty and upgraded to business or first class many times. I still make it a point to text several prior to my flight to see if they know anyone that may be working my flight - this has also helped with upgrades here in the U.S."
But there is one other way to possibly score a free upgrade, said multiple experts. That's because airlines have gotten so good at selling seats, often they sell more than they have in coach. But a flight may be oversold in coach - yet have empty seats upfront. That means the gate agent sometimes can solve his problem of too many bodies in coach by shifting a passenger to business class - freeing up a coach seat. Just ask the gate agent, "Is the flight oversold?" If he says yes - flat out ask if it's possible to get upgraded to business class. The answer just may be sure, said Kyle Stewart, travel editor at UPGRD.com. He added: "I have secured many upgrades this way."
That's right. Sometimes just asking politely still works when it comes to upgrades.