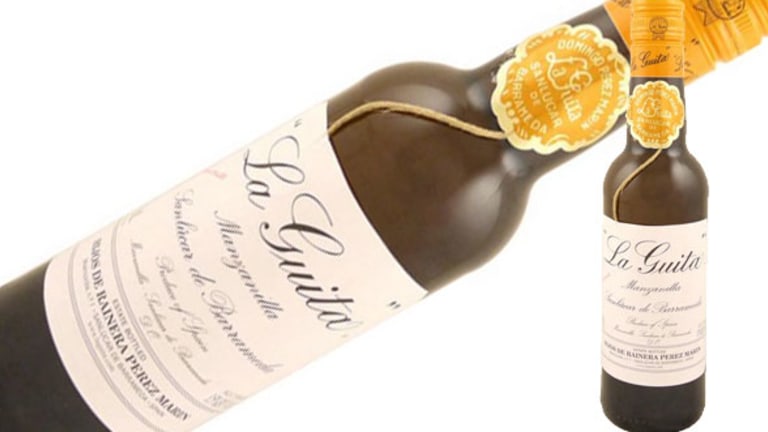 The Magical Mystery of the Sherry Bodega
The Andalusian cellars where sherry is made offer a fascinating array of wines in different stages of development. Even among veteran sherry producers, the aging process inspires joy and awe.
After Manuel "Chano" Aragon, his son, his niece and I have finished washing down a lunch of langoustines, cured ham, fried pork and sauteed beef with fino and the occasional sip of water, the old wines come out. One of the waiters at the family's bar and headquarters of its winery in Chiclana, Spain, places ten glasses across one end of the table, each containing a few ounces of dark liquid.
I sniff each in turn, sometimes lingering at a glass to savor the aromas. The first has maraschino cherry, nuts, dried orange. Then fruitcake. One with dried orange peel, earth and mushroom on the nose but beautiful fresh citrus on the palate. Medium-roast coffee with brown sugar and roasted almond. The last smells of coffee, brandy, smoke and intense black pepper.
"There are people who are not prepared to taste this wine because it's like a punch in the mouth," Chano's niece says, translating for her uncle, who's pictured below showing the flor, or yeast, on one of his barrels of young sherry.
Having survived the punch in the mouth, I go back to the beginning to experience the wines again, compare their textures and nuances, savor their complexities. Each was drawn from a barrel in the family's sacristy, or reserve cellar. The wines are older than Chano; they, or some younger version of them, were here when he was born, though even then they may have been an average of 20 years old. Sherries in all but name, since Chiclana lies outside the region where producers may call their wines by that name, each of the olorosos and palo cortados is distinct, the former more intense, the latter subtler. Describing the wines is difficult, because they change in the glass, but figuring out how they developed over time is impossible. It's like asking what the sex of the angels is, Chano says.
This is the magic of the bodega, where even the youngest sherries are aged for several years before they are bottled. A typical bodega is dark, with a sandy floor that's watered in the summer to cool down the space and high ceilings so that barrels can be piled on top of one another, though now most producers stack them only three high.
Fino sherry matures for five to eight years under a veil of flor. Olorosos are fortified with enough alcohol that flor can't grow, and the wine, exposed to oxygen, develops stronger flavors like the ones on the last of the ten wines I tasted at Aragon. Palo cortado and amontillado start out under flor but then age like oloroso. Each barrel, or bota, develops differently depending on where it is in the bodega. Since heat rises, barrels that are higher are more likely to smell like coffee or roasted nuts. Flor grows differently in, say, Jerez, 15 miles inland, than it does in Sanlúcar de Barrameda, which is on the Atlantic coast and thus cooler and more humid. If drinking good sherry is like looking into a kaleidoscope, visiting a bodega with a winemaker is stepping into the kaleidoscope.
César Florido offers a lesson in how oloroso develops when I visit him the next day in Chipiona at his eponymous bodega, which has been in the family since 1887. Florido, dapper in a blue shirt and white pants, yields an implement called a venecia to pull samples from five successive barrels of oloroso, proceeding from youngest to oldest, each a few years older than the last.
The first, perhaps two years old, is intense and sharp, with a strong taste of walnut that distinguishes it from fino sherry, which tastes similar on the palate. Many producers make their oloroso with the second pressing of the Palomino grapes, the variety from which all dry sherry is made. The juice from the second pressing is a little harsher and can better withstand exposure to oxygen, while the first pressing produces a more subtle must better suited for fino.
The wine from the second barrel is a more rounded and woody, reminiscent of scotch, while the third yields a wine with more pronounced alcohol and notes of marmalade and honey, smells that have burned off in the fourth wine. The last wine Florido offers is recognizably oloroso; it has depth and body and smells of red pepper and spices, a classic pairing for game or strong cured meats. When Florido bottles wine from the final group of barrels - a criadera, it's called - he pumps wine from a barrel in the next-oldest criadera to one in the oldest group, and so on down the line. He also has a few barrels of much older Oloroso in his bodega that age in the same barrel for years or even decades.
The effects of the bodega aren't limited to older wines. When aged in Sanlúcar, fino sherry is called manzanilla - chamomile, in Spanish - a name that suggests its delicate aromas. La Cigarrera has its bodega less than a mile from the Atlantic in Sanlúcar, and the proximity to the ocean helps produce a softer, lighter, less saline wine than ones made further inland. Ignacio Hidalgo, Cigarrera's owner (pictured below with venecia), says that many locals visit the bodega to buy their manzanilla straight from the barrel without being filtered - a style called en rama in Spanish. The bottles they take home contains dead yeast cells that impart a bready taste to the wine. They style has become popular with sherry consumers who don't live within walking distance of a bodega, and many producers now bottle an en rama manzanilla or fino. The delicacy of La Cigarrera's manzanilla is apparent in the producer's amontillado, which is softer than a version aged in Jerez.
Walk ten minutes up a hill from La Cigarerra to Calle Misericordia and you come to a large white stucco building with no eye-level windows and only one set of doors. There is no office to call, no doorbell to ring. Instead, Eduardo Ojeda, the oenologist and technical director at Valdespino in Jerez, shows up with a key. Grupo Estévez, which owns Valdespino, bought the bodega in 2007 and renovated it extensively; it now holds about 2,000 of La Guita's 16,000 barrels, the rest of which are at another bodega. It's a little hotter here than it is at La Cigarrera and the breeze a touch less refreshing, a difference reflected in the two Manzanillas; La Guita is slightly more intense, with a bit more salinity than La Cigarerra.
Valdespino is one of the region's largest producers - it makes 2.1 million bottles of La Guita a year, not to mention the rest of its sherries - but Ojeda knows every barrel of Calle Misericordia. Ojeda first traces the path from the light, fresh wine that just went into barrel after being vinified last fall to a barrel that's ready to be blended into La Guita or the en rama version, which comes exclusively from barrels in Calle Misericordia.
There are other journeys to make through the bodega, since flor develops differently in every barrel. One may taste especially lean and mineral, like a Chablis; another, because of a an abundance of flor, has the yeastiness of Champagne. He even stops at a barrel with a sherry that's unpleasant but adds something to the La Guita blend.
And then there is one of Ojeda's favorite barrels, number 13, marked "Yes." Peter Liem, author of the definitive Sherry, Manzanilla & Montilla: A Guide to the Traditional Wines of Andalucia, liked it so much that he signed the barrel on his May 30, 2014 visit to Calle Misericordia. The wine within is a Manzanilla Pasada, one with enough age that the flor has started to fade and the wine takes on some of the richness of amontillado.
In addition to his work with Valdespino, Ojeda works with Equipo Navazos, which produces bottlings of exceptional sherry barrels from around the region. Four years ago, Navazos released bottles that came from number 13 and from another barrel a few yards away; the former, Ojeda says, was more "expressive and extroverted" than the "serious style of the latter." As a group, he adds, "The wine from this solera shows the purest Sanlúcar terroir character I know: sea breeze, iodine, salt, with a great finesse, complexity and length."