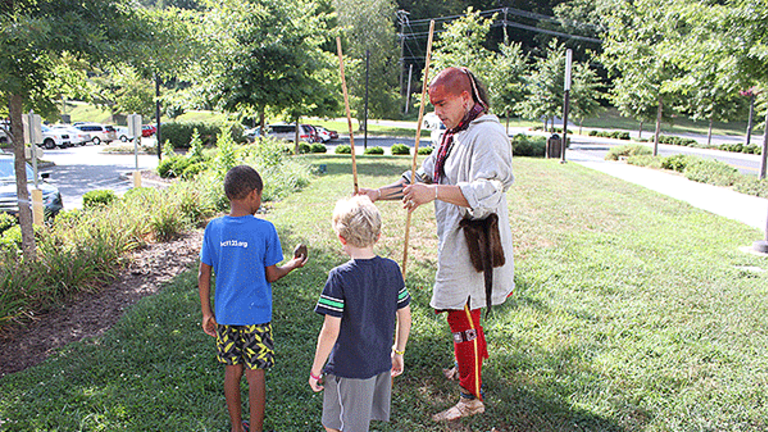 The Latest in Native American Tourism: Cultural Experiences and Educational Opportunities
With record numbers of visitors to Indian Country, Native American tribes are branching out far beyond casinos, offering increasingly diverse cultural experiences.
The casinos of Indian Country in the Southwestern United States rise up out of the desert like sparkling metropolises along what's often an otherwise barren or sleepy stretch of landscape.
Their slot machines, buffets and spas draw busloads of tourists, many of whom will have this one-and-only exposure to a tribe and its people.
Over the past few decades, such casinos have come to dominate the public consciousness surrounding Native American tourism offerings. And for good reason.
There are 470 Indian gaming operations in the United States, according the 500 Nations website. Those casinos, owned by 242 of the nation's 565 federally recognized tribes, operate in 28 states, bringing in an estimate $30 billion in annual revenue.
But there is a new narrative emerging when it comes to Native America tourism, one that extends far beyond the ubiquitous casinos to include a richer cultural experience and exchange for visitors via opportunities to learn such things as Native American cooking, crafts, games, hunting, music and more.
And perhaps now, as Native Americans are making headlines with protests about the Dakota Access Pipeline, which would destroy sacred and historic Native American sites and damage local water supplies--it is more important then ever that we have these sorts of interactions.
To be fair, such experiences have always available on some level, you just had to dig deeper, travel further, look harder because it wasn't always cohesively organized, marketed, packaged or presented.
Within the past year or more, however, there's been a variety of intriguing developments in the Native American tourism industry, not the least of which is the launch of a slick new website, NativeAmerica.Travel, a place where tribes from across the country share their travel-related offerings and visitors from around the world can create an Indian Country vacation bucket list.
The site, still a work in progress, already includes information from more than 100 Native American-owned businesses and more than 15 tribes.  
Among the travel experiences it showcases are tours of the Hopi Arts Trail in Arizona, which allows visitors to learn firsthand from Hopi artists at their galleries and workshops about basket weaving, Kachina Doll carving, pottery and silversmithing. There's also Ojibwe Cultural Workshops at the Mille Lacs Indian Museum and Trading Post in Onamia, Minn., where topics include making moccasins, sweetgrass baskets, and birch bark ornaments.
The website, operated by the New Mexico-based American Indian Alaska Native Tourism Association (AIANTA), is designed to allow every single tribe in the country to claim its own page and fill it with content.
Since its launch last year, there's been more than 15,200 users and 80,000 page views, and NativeAmerica.Travel is just one example of the increasingly sophisticated Native American tourism and travel industry.
"This is such an exciting time for Native America," says AIANTA executive director Camille Ferguson. "For Indian Country, cultural tourism and Native American tourism is an opportunity to perpetuate our culture, share our history, and tell our untold story, which hasn't been told--our part of the great American story."
The website gives every tribe a chance to show the world who they are, using their own words an images. And in the process, NativeAmerica.Travel provides economic opportunity for many rural tribes that previously did not have a platform to participate in the international travel industry.
Funded by the Bureau of Indian Affairs Division of Transportation, the website is still in its earliest phases. The goal is for many more of the nation's tribes to create pages. In addition, there's talk of creating the ability for travelers to purchase tours or to book experiences on the site once it's more fully developed. In its present form, the website simply lists contact information.
Still its existence is a substantial accomplishment and one that's apparently not a moment too soon.
According to the U.S. Department of Commerce, International Trade Administration, National Travel & Tourism Office, visitation to what it calls Indian Country has been skyrocketing. Between 2007 and 2015 the number of visitors increased from 693,000 to more than 1.9 million--a 180% spike, Ferguson notes.
Between just 2014 and 2015, the number of overseas visitors to Indian Country increased by 19%.
With those numbers in mind, AIANTA has begun talking about hosting its first press tour of Indian Country, to expose the world to its wealth of opportunities and experiences. AIANTA is also busy providing tribes with the technical assistance and training that will be essential to accommodate the growing wave of tourism.
Those sorts of numbers are also fueling the need for far more than just casino related tourism venues.
"Casinos have their place and will continue to do so," Ferguson says. "But international visitors that come to the U.S. and to Indian Country spend more time then the average visitor. Most are renting cars, and getting out of major hubs and seeking more adventure. And because they're spending more time, we have to have more options for them then just going to a casino. There has to be other activities."

Another example of the growing cultural offerings among Indian Country tourism can be found on the other side of the United States, in North Carolina.
About 45 minutes outside of Asheville is Cherokee, a place that is home to the Eastern Band of the Cherokee Nation.
For decades the community has offered a variety of tourist-related activities. But in 2015, a group named the Cherokee Friends was established with the mission of enhancing the visitor experience, specifically through more education-oriented opportunities focused on traditional aspects of Cherokee culture.
The group offers free programs at the Museum of the Cherokee Indian, including demonstrations of firemaking, the atlatl (spear throwing), and traditional games such as chunkey and marbles.
"We are very concerned with the preservation of these things in our own community, that's probably one of our ultimate goals," explains 34-year-old Mike Crowe, who grew up in Cherokee and is manager of the Cherokee Friends. "But we also want to educate the public at large about our culture and enlighten them about the fact that we are still practicing our culture and help them understand our people."
Crowe says the Cherokee people have been going through a kind of renaissance, which began 10 to 15 years ago and has involved researching who they really are, including their language and culture.
"As a result of that, there are more of our people who know about these things and we as a people are in a much better place now. I think tourists realize that and are looking to experience something more authentic," Crowe continues.
The Museum of the Cherokee Indian also offers "Cherokee Experiences" that involve making arrowheads, weaving baskets, making pottery or even enjoying a traditional Cherokee meal of chicken, bean bread, greens, potatoes and cobbler.

The workshops attract people of all ages who are interested in the one of a kind living museum experience, Crowe says. "The tourism trade really started in the 1920s and 1930s with our people standing on street selling baskets and we lost who we were," Crowe adds. "We've come a long way."
In the Finger Lakes region of central New York, the Seneca Art & Culture Center at Ganondagan provides yet another version the diversifying and culturally rich offerings in Indian Country.
The largest Native American museum of its kind, the center is built on the site of a historic Seneca settlement that pre-dates U.S. history.  
The facility features exhibits of rare artifacts and rotating galleries showcasing five centuries of the Seneca and Haudenosaunee (Iroquois) contributions to art, culture and society.
In addition, there's onsite interpreters from the Seneca, Mohawk and Washoe Paiute nations providing insight about everyday life in a traditional Native American community. Visitors can also choose to learn about historical crops and take Iroquois White Corn cooking classes.
And in one last variation on the multiplying Indian Country offerings, the Hopi tribe in Arizona opted to pursue revenue from business travelers rather then casino fans when building The Moenkopi Legacy Inn & Suites.

The first hotel to be built on Hopi tribal land in more than 50 years, Moenkopi Legacy Inn is a rare example of a hotel in Indian Country that does not include a casino. Instead it has more than 3,000 square feet of meeting space, breakout rooms, a business center and lecture space.
Because the Hopi reservation is landlocked by the sprawling Navajo Nation (and the Navajo have established a significant gaming presence), building a casino was not a logical choice for the smaller tribe.
"A casino didn't really make a whole lot of sense for us, from a business or investment standpoint," operations manager James Surveyor says. "It was brought forth on a referendum three times, and each time it was voted down."
While meeting space rentals have yet to reach full capacity, it's a business decision that has proved more reliable on a year round basis then the ebbing and flowing of seasonal tourism.
More recently, in July, the hotel, which has been recognized by Fodor's Travel as one of the finest lodging establishments in Arizona, also launched its own full-day "Experience Hopi Tours" designed to expose visitors to the artists, landscape and history of the Hopi reservation.
The Hopi people live among 12 villages spread across four regions referred to as First Mesa, Second Mesa and Third Mesa. The villages are among the longest continuously inhabited places in North America
Like the meeting space, the fledgling cultural tours will likely take some time before they hit their stride in terms of attracting a consistent audience. But Surveyor says that's all part of the process.
"I think a lot is changing. Ten years ago, gaming was the push. Now that we have gaming people want something else, some are wanting a little bit more," says Surveyor. "It's a natural growth of Native American tourism."