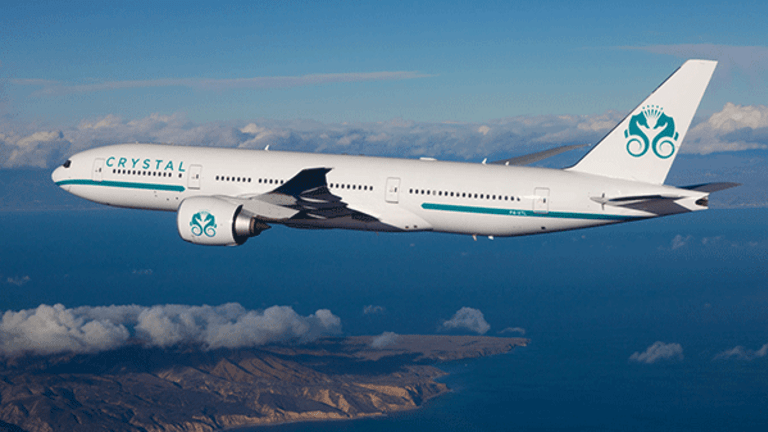 The High-Flying World of Luxury Air Tours
Crystal Cruises recently unveiled the latest designs for its opulent Crystal AirCruises, joining a small but growing number of luxury air cruise providers.
Editors' pick: Originally published Oct. 27.
For some, it's the ultimate expression of luxury and exclusivity. For others, it's a glorified bus tour in the sky (albeit for the 1%). That debate aside, the fact is that the market for round-the-world, multi-stop, VIP flights is becoming increasingly busy.
In late September, Crystal Cruises unveiled the latest designs for its new Boeing 777-200LR, an opulent plane being reconfigured to seat just 84 guests as part of the company's new Crystal AirCruises.
Expected to begin in late 2017, Crystal's luxury air cruises will offer 14-, 21- and 28-day itineraries that highlight some of the planet's most exotic and remote locales.
Crystal is joining a field that already includes some heavy hitters such as Four Seasons, which launched its own private Boeing 757 customized with only 52 seats in 2015, and Abercrombie & Kent, which recently announced the "Around the World by Private Jet: Cultures in Transformation" tour that's being conducted in partnership with the  New York Times. The 26-day journey is just the latest such private jet offering from the legendarily luxurious Abercrombie & Kent.
"These trips are intended for a very specific audience, it's a very niche group," says Robb Report's Editorial Director Bruce Wallin. "The least expensive of these are around $80,000 and they go up to about $150,000. And then there's the time involved, anywhere from three weeks to 26 days. So not only are these trips for people who are in certain income bracket, but we're also talking about people who have the time to take off for three or more weeks."
All of which translates into a fairly niche market, one that Crystal has been successfully tapping into for quite some time with its high-priced, uber luxurious cruises.