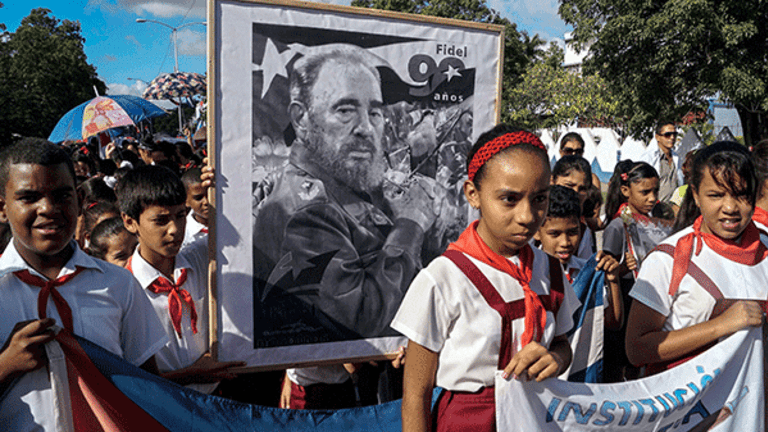 The Future of Travel to Cuba in the Wake of Trump's Election and Post-Fidel Castro
The Cuban people and those in the U.S. travel industry share thoughts and concerns about the future of travel to Cuba
The Cuban people and those in the U.S. travel industry share thoughts and concerns about the future of travel to Cuba
Editors' pick: Originally published Dec. 5.
For two hours, Tamar Lowell stood amid the crowd of thousands gathered at Revolution Square in Havana, listening to world leaders eulogize Fidel Castro.
Dignitaries from Bolivia, Venezuela, Nicaragua, El Salvador, Zimbabwe and more were in attendance to offer their condolences and express their thoughts about the passing of a man they described as the hero for the downtrodden.
Then, after all that time, the Cuban woman who had been standing silently beside Lowell turned and in broken English, politely ventured to ask a question.
Which U.S. presidential candidate had Lowell voted for, the woman wanted to know. Had she voted for Donald Trump? The woman wore a worried expression on her face.
"It seemed like more than curiosity, but rather a desire to better understand what's going on in the U.S.," says Lowell, owner of Access Trips, which offers culinary tours in Cuba. "I asked her what she thought about Trump and she said she was scared - that she didn't know what his election meant for Cuba."
The scene perfectly illustrates the crossroads at which Cuba and the United States now stand thanks to the death of Fidel Castro and the election in the United States of Donald Trump.
Lowell spoke with a variety of Cubans during her recent visit to the island and many were well aware of President-elect Trump's fiery rhetoric, which has included threats of potentially rolling back the detente achieved with the island nation under President Obama.
"They're aware of President-elect Trump's threat to terminate 'the deal' with Cuba," Lowell said. "They are worried primarily about the economic implications, as many people, in Havana especially, have seen personal benefit from the relaxed restrictions." 
Cubans are not the only ones watching and wondering what the future now holds given the convergence of recent events. Many in the travel industry are also concerned. Between Fidel Castro's death and Trump's election, ongoing travel to the island for Americans, as well as the continued warming of relations between the two countries, seems threatened.

Granted, these same people say, Castro has not been in power for a decade, but his passing still marks the end of an era and could impact U.S.-Cuban relations. There are some who believe that the passing of the man often referred to as "El Comandante" might accelerate the normalization of ties between the two countries. While others see the death as an opportunity to halt such progress.
"The passing of Fidel for some people who are anti-engagement kind of represents a milestone...because Fidel was the person who was responsible for what happened to Cuba," insightCuba President Tom Popper said during a conference call last week scheduled to discuss the impact of Trump's election and Castro's death. "Our hope is that there will be a softening of those (anti-engagement) feelings due to the passing of Fidel."
Trump's election meanwhile, adds its own uncertainty to the future of such engagement. His top advisers have said he may reverse the historic diplomatic opening created by Obama, unless some sort of concessions are made, in the form of lifting repression, freeing political prisoners and opening markets.

Under Obama, many U.S. businesses made significant progress with regard to Cuba and travel to the country - among them airlines, tour operators and tour companies.
Earlier this year, several U.S. airlines began offering commercial flights to the country including JetBlue, Delta, Alaska Airlines, American Airlines, Frontier, Southwest, Spirit and United.
In addition, cruise lines such as Carnival's Fathom brand are now regularly sailing to Cuba, and U.S. hotel companies such as Starwood Hotels & Resorts are operating properties on the island.
All of this progress and financial investment stands to be impacted by any reversal of course on Trump's part. Some in the travel industry, however, remain cautiously optimistic about Trump's position.
"It's important to reflect on the fact that we will have the first president of the United States whose family has made a career in the hospitality industry," says Popper. "It's important to make note of that. Historically President-elect Trump has had great interest in developing golf courses and hotels in Cuba."
Popper also noted that while on the campaign trail, Trump had initially described the U.S. embargo against Cuba as outdated. However, as the campaign wore on, that position hardened.
"The question is which President Trump we will see when he takes office," Popper says. "Our belief at this point...based on information we've received, is that it is probably not the first thing he will do - roll back travel in Cuba."
Travis Katz, Co-founder and CEO of Trip.com echoed Popper's sentiments, pointing out that it's hard to know exactly what the president-elect will do once in office.
"I think his rhetoric has created an air of uncertainty," says Katz. "If anything I think what people have learned with President-elect Trump is that we don't really know what he's going to do. He has said a lot of things and taken different stances over time, so it's hard to know what his final policy will be."
However, as Popper stated during the conference call, the changes Obama made with regard to Cuban-American diplomatic relations and travel, were primarily done through executive order - which means Trump could reverse all progress with without the approval of Congress.
All of which leaves many with cause for concern.
"For the first time since we started operating in Cuba, people are afraid of booking a tour to Cuba or of making their final payments on travel for 2017 tours they have already booked because they don't know if their trip will suddenly become illegal and they will be unable to go," says Lowell.
With every previous change in U.S. policy toward Cuba, Lowell's company saw a subsequent surge in bookings, even when the Obama administration put forth new policies that made it easier for people to travel on their own - without a tour operator.
Access Trips bookings for the first quarter of 2017 are 135% higher then the first quarter of 2016, she says.
To address the current wave of concern, Lowell's company will roll out a new refund policy.
"The policy will address the new perception of risk," says Lowell, adding that she personally believes the risk of many changes in Cuba policy are quite low. "For my business what matters is not as much what the Trump administration does or does not do, but rather the change in behavior that creates a fear of the unknown."
Popper meanwhile notes that if Trump does follow through with his rhetoric and significantly reverses course in Cuba, it could have a devastating effect.
"Considerable amount of damage will be done," says Popper. "There's been significant investments from airlines, tour operators, travel agencies ...It would represent a loss of jobs. Cuba is the hottest destination and will continue to be for years to come, there is so much pent up demand."
While companies in the U.S. try to read the tea leaves and develop plans to address potential changes in policy, the Cubans wait and watch, uncertain of what the future now holds for them.
For the time being, they are disappointed and worried, says Lowell.

The Cuban people are disappointed, because they understand that continued progress in the relationship between the two countries (with the end goal being fully normalized relations and a lifting of the embargo) is now unlikely to happen any time soon.
And they are worried because they fear some, or all, of the progress made under the Obama administration, might actually be undone.
"I have seen so much heady optimism over the past two years," Lowell says. "People getting ready, investing in their homes to make rooms to rent to foreigners, opening new restaurants, eagerly talking about when the embargo might be lifted, closely watching and analyzing every new move by the Obama administration. It felt completely different during this recent visit - somber, concerned, and resigned."