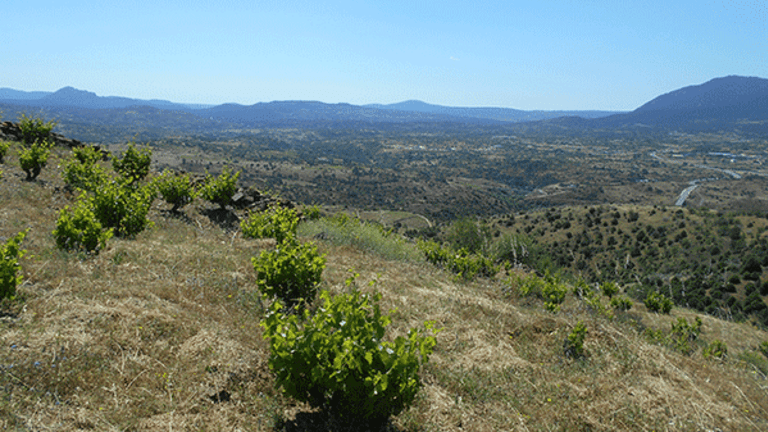 Publish date:
Making Wines in the Mountains Near Madrid
A small group of winemakers is crafting beautiful wines from Grenache in the Gredos Mountains. These producers take advantage of abandoned vineyards in the dry, hot terrain.
A small group of winemakers is crafting beautiful wines from Grenache in the Gredos Mountains. These producers take advantage of abandoned vineyards in the dry, hot terrain.
The view is commanding. From an elevation of 3,100 feet, miles and miles of land stretch out below in greens and browns, dry but not parched, with a few small towns visible and the Gredos Mountains in the distance. It's 80℉ on a June morning, but a breeze offers relief from the heat as Carlos Arenas and I look over the sturdy Grenache vines that he and his business partner, Guillermo Fernandez Santos, tend and from which they make a wine they call Dobla Punta.
In France's southern Rhône valley or in Priorat, a region two hours south of Barcelona, this would be prime real estate, but the Gredos is full of vineyards that ambitious winemakers can buy or rent, as Arenas and Santos do. (They pay the landowner in wine.) Planted in the 1940s, the plants are stingy yielders, because they're old vines growing in seven inches of soil that rest on schist, and they have to be worked by hand because they're bush-trained and the site is steep.
The vineyard shows both the promise and the challenge of the Gredos, which lie about 70 miles west of Madrid. The local agricultural cooperatives in the region once produced massive quantities of bulk wine for Spain's capital, but the labor force needed for that activity has steadily declined as young adults started leaving the area in the 1970s and other parts of Spain were able to make bulk wine more cheaply. Some local coops have gone out of business; others are producing only a small fraction of the wine they once made. But ambitious winemakers can access extraordinary grapes at modest prices in the Gredos, and a cadre of producers is trying to build a reputation for the region. Some live in the area and are able to make a living from wine; others, like Arenas, commute from Madrid on weekends and during the harvest.
Telmo Rodriguez, one of Spain's most prominent winemakers, was one of the first to see the potential in the Gredos and began working in Cerbreros in 1999 with a focus on Grenache (Garnacha in Spanish). Rodriguez says he was "impressed by those amazing bush vines of Garnacha, memory of a medieval viticulture untouched," though many of the vines in the region had been harmed by excessive use of herbicides. Today Rodriguez's Compañía de Vinos owns 11 hectacres of old vineyards that are farmed organically and from which he produces two Grenaches, the Pegaso Pizarra and Pegaso Granito.
Daniel Ramos helped Rodriguez start Bodega Pegaso in Cebreros before setting out on his own. Ramos, who spent his early years in Australia but moved back to Spain with his parents when he was 10, now makes his own wine in a building that once housed the cooperative of the small town of El Tiemblo, which stopped making wine in 2010. The coop still has the 16,000-liter concrete bins that were used when it produced 1,000,000 liters of wine a year in the 1950s and 1960s, and Ramos also employs oak barrels, stainless steel containers and amphorae, or clay pots, to make his wine.
Ramos has a total of 14 acres of Grenache in seven plots and manages another seven plots of Grenache, Sauvignon Blanc and Albillo Real, a local grape, with a total of more than 50 acres. "Choosing sites for me is like love at first site," he says. "When I look at a site there is something that just tells me it is worth making a memorable wine. There are factors that you see, feel, smell and taste that make that place and the vineyard in it unique."
His single-vineyard Grenache wines show considerable variation reflecting the differences in his sites, and he makes an entry-level Grenache with grapes from several sites that tastes of cherry, earth and mint. He's also willing to experiment. He barrel-ages a Sauvignon Blanc whose notes of fennel, apple, and ripe fruit recall older white Bordeaux and produces a funky, full-bodied rosé and a lush white wine made from Albillo Real. Like producers all over Spain, Ramos has a fondness for American oak; one of his barrels is pictured below.
As Ramos did, Fernando Garcia and Fernando Cornejo worked with Rodriguez before teaming up to start Bodegas Marañones, which has four vineyard sites in the Gredos and a crush facility in a small industrial park just outside the small town of Pelayos de la Presa. Like Ramos, they work with Albillo Real - though their version is more restrained than his - but focus on Grenache. The Marañones is a blend of grapes from their three Grenache vineyards and an excellent introduction to Gredos Grenache, which is less fruit-forward and more savory than many Grenaches from elsewhere. The 2014 combines black currant, lavender and bay leaf.
Fernando Garcia's brother Javier, pictured below, also makes wine in the Gredos, though he works with his wife, Laura Robles, and his friends David Moreno and David Velasco in a project called Cuatro Monos, "Four Monkeys." The group owns some of its own vineyards; others are farmed under their direction. Javier, who is also the winemaker at Bodegas Jiménez Landi in Méntrida in the province of Toledo and leads a project at the Viña Somoza winery in Valdeorras, vinifies the wine in an old winery in Cadalso de los Vidrios and still uses four of the 60-year-old concrete tanks in the winery; the other nine he removed to make room for wooden barrels. Cuatro Monos produces about 8,000 bottles a year (a level it plans to increase) with a focus on Grenache. The wines are hard to find in the U.S. but worth seeking out. Like many Grenaches from the Gredos, they have more restrained fruit and complexity than many drinkers are used to finding in wines made from the grape.
Arenas and Santos are childhood friends who began making wine a decade ago with grapes from two vineyards. Neither was trained as a winemaker, and it took them four years to produce something drinkable, Arenas says. Their 2013 Dobla Punta shows how far they've progressed. It smells of dried cherries and flowers and finishes on the palate with a savory quality and a note of dried rosemary. It's an appealing wine that justifies the work that went into it and suggests the possibility of the old vines in the region.