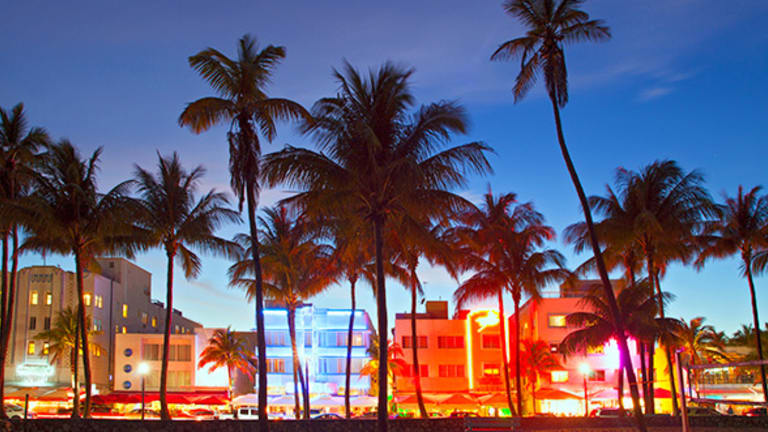 Last-Minute Memorial Day Travel Plans Don't Require a Miracle
It isn't wise to wait this long to book Memorial Day travel, but it isn't impossible if you target the right locations.
Didn't plan on taking a Memorial Day vacation, but suddenly have the time free? You're not alone, but you're also not in bad shape for a last-minute excursion.
Smug travelers who set Memorial Day plans in stone months ago will scoff at you, but pay those normies no mind. A recent survey of TripAdvisor Rentals travelers revealed that while most travelers book their stay in a vacation rental 6 to 12 months in advance (40%), a combined 54% of travelers book 3 to 5 months out (34%) or 1 to 3 months out (20%). A survey from AAA indicates that, in all, 42% of Americans are planning to take a vacation in 2017 - with most planning trips to warm-weather destinations in the U.S. and abroad. Approximately one-third (30%) of U.S. adults say they are more likely to take a vacation this year compared to 2016.
"There is a lot of pent-up demand for travel," says Bill Sutherland, AAA senior vice president of travel and publishing. "Whether they're taking a road trip to a well-known domestic destination or visiting an exotic international locale, today's travelers are seeking experiences that are unique and immersive."
However, a whole lot of those folks are dragging the whole brood along with them. More than one-third of Americans (35%) are planning to take a vacation of 50 miles or more away from home involving two or more immediate family members this year. While most family travelers (70%) are planning to take one or two vacations, there is a significant increase this year in the number of Americans who say they are planning to take three or more vacations. The 28% of family travelers who will take three or more trips this year is 13 percentage points higher than in 2016.
"Families continue to see the value of traveling as a way to bond and reconnect in today's busy world," Sutherland says. "The best way to wrap up a family vacation is to start planning the next one, as more and more Americans are starting to do."
That puts families on a whole lot of road trips (79%), visits to national parks (51%) and theme-park excursions (40%) this year, far outpacing the number of families spending on international travel (33%), guided tours (22%) and ocean cruises (20%). Compared to 2016, 10% more families are expected to take road trips this year, despite average gas prices that are more than 50 cents higher than they were this time last year. Rick Seaney, chief executive of travel site FareCompare.com, notes that the last week in August is about the only time you'll find summer travel bargains. Children go back to school, older leave for college and parents spend their time back-to-school shopping and shuttling, leaving the travel calendar open for the unencumbered. During that time, demand for hotel rooms and flights plummets, recovers briefly for Labor Day and then slides into autumn.
"As for airfare prices, they can drop as much as a third or more over summer airfare," Seaney says. "For my money, autumn is the best time of the year for a vacation: it packs the one-two punch of great weather and great airfare prices."
As travel site Hopper figured out last year, booking a late-August trip cuts summer travel costs costs significantly. Domestic airfares that hover around $375 for July and August weekend dates drop closer to $300 during the last two weeks of August, with the best fares available on Tuesdays and Wednesdays. With international flights, you can save as much as 17% as airfare drops from an average of $1,100 in July to $850 in late August.
The folks at TripAdvisor Vacation Rentals note the cost of rental homes are sliced nearly in half between the start of August and mid-September. During peak season, however, you're lucky just to find accommodations.
"Summer is peak travel season, and while last minute bookings aren't uncommon, travelers who book in May will have many more homes to choose from than those who wait until July," says TripAdvisor Rentals spokesperson Laurel Greatrix. "If you're traveling with a group, look for a home with spacious living rooms and plenty of outdoor space so you can spend time together comfortably. Couples or families heading to theme parks can find affordable condos near the parks to make the most of their trip."
However, with Memorial Day weekend this close, the folks at Expedia-owned hotel site Hotwire note that folks were trying to cram in some last-minute holiday travel plans at the beginning of may and just kept doing so. Starting May 3, visitors to the site from the East Coast were eyeballing destinations in Florida. West Coasters, meanwhile, set their sights on California for the long weekend, while Alaskans were making plans to hop flights to Hawaii.
The highest percentage of last-minute vacation shoppers came from Nebraska, Oregon, Georgia, Washington and Ohio, but their destinations of choice seemed remarkably disparate. Here are the most popular last-minute destinations of Memorial Day weekend:
Florida: Those on the East Coast aren't that creative around this time of year. They will drive or fly past miles of lovely coastline just to get to swampy theme parks and beaches their still seasonally adjusting bodies just aren't ready for. That's made Florida the most-searched place in the country, but the fact that Memorial Day is just the beginning of the state's oppressive summer weather means that three-and-a-half-star rooms in Miami can still be had for $72 a night.
California: It isn't as if those on West Coast steer out of its comfort zone all that often, either. Travelers from Nevada and Arizona may hit the beaches, lakes or mountains, but you just have to follow the mouse to see where everyone's really going. If there's Disney, there'll be crowds on Memorial Day weekend. However, if you're willing to leave Orange County and stay in a city where actual things are happening, a four-star room in Los Angeles starts at $70 a night.
New York: Why New York on Memorial Day? Because while a certain subset of residents takes the Hamptons jitney, the vans out to Rockaway or the opportunity to get anywhere closer to a coastline, smarter New Yorkers and savvy tourists stay in town and enjoy the extra elbow room. Jump on a shorter-than-usual TKTS line, enjoy spots like Rockefeller Center that are fairly desolate around this time of year, stroll through Central Park and stay at a 3.5-star hotel near the Empire State Building (and try to make the best of Herald Square) for $78 a night.
Nevada: As it turns out, folks from Nevada don't leave for California, because they're jonesing to go: they, do so because there's a 980% bump in people entering the state vs. people leaving. With that many tourists around, you wouldn't think there'd still be 3.5-star hotel rooms in Las Vegas for just $56, but it's a sprawling town with a lot of ways to separate tourists from their money. If you can get them in cheap, it frees up their expendable income for far more costly pursuits.
Texas:
The Gulf Coast loves it some Memorial Day, with tourist attractions in Galveston and elsewhere just waiting for folks to come kick off the season. That said, it's the second largest state in the country and nearly double the land mass of Germany. So when Hotwire tells you that you can stay in a 3.5-star hotel in Texas for $84 a night, just make sure that hotel isn't 11 hours from where you want to be.
Editors' pick: Originally published May 11.