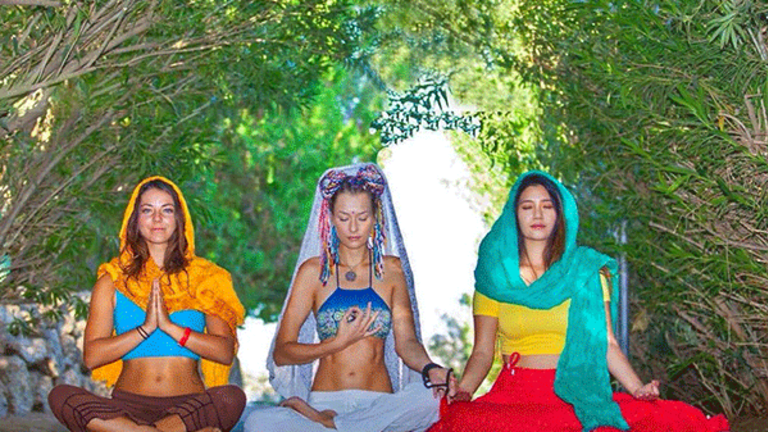 Inside One of the Year's Biggest Trends: Wellness Festivals via the Bhakti Fest
Started in 2009, the Bhakti Fest, held in Joshua Tree, Calif., has grown to a six-day event that attracts thousands of people from around the world.
Started in 2009, the Bhakti Fest, held in Joshua Tree, Calif., has grown to a six-day event that attracts thousands of people from around the world.
I spent my first few hours at Bhakti Fest trying to reconcile the incongruous.
There was the bare-chested man with the unicorn horn strapped to his head and golden snake earrings, the individual in the food court wearing a sign that said "free hugs" and the woman who sat writing on a piece of cardboard in black marker, "I need a ride to San Francisco," all of which appeared straight from a peace, love and rock and roll festival circa late 1960s.
In addition to these lovely folks were the many people strolling the sweltering Joshua Tree festival grounds looking as if they'd been perfectly styled by a top Los Angeles fashion industry professional to attend a desert yoga event. These same people sat over meals at the festival discussing their latest acting or modeling gig and how they broke into "the business."
The girl hacking the tops off coconuts to serve drinks to attendees was a fine example. She looked as if she'd come to work straight from the set of a Tommy Hilfiger ad - barefoot, wearing barely-there shorts, a shirt that appeared to have no buttons, (there must have been some double sided tape in play to keep her blouse held just so), and a cascade of blond curls framing a face reminiscent of a young Ashley Judd. The ideal central casting look for someone serving coconut drinks.
She was just one example of the many beautiful (barely dressed) men and women who did not let a remote, dusty, desert festival with limited running water and a goal of spiritual wellness, interrupt their on-point fashion game.
Held each year in Joshua Tree, Calif. on the grounds of the Joshua Tree Retreat Center, Bhakti Fest has grown to be one of the country's premier yoga, sacred music, and personal growth festivals.
For six days in September, the world's best yoga teachers, Kirtan musicians and workshop leaders descend on the desert compound just off of 29 Palms Highway.
At first glance, as you drive by, the site looks like nothing more then a bunch of tents amid the scrub brush.
But beneath the series of canopies thousands of people (nearly 5,000 people this year) from around the country and the world are camped out for endless days and nights of yoga, chanting, dancing and workshops.
According to a report issued earlier this year, wellness festivals are a growing trend.
Such events,  states the Spafinder Wellness 365 report, embrace the massive, celebratory nature of more well-known festivals like Coachella or Burning Man, but unlike their counterparts, the overall mission of wellness festivals is health-centered activities (in addition to, or in lieu of, the music, art and debauchery.)
Among the growing, or already well-established, U.S. wellness festivals are such names as Wanderlust, Further Future, Telluride Yoga Festival and Bhakti's sister festival - Shakti Fest.
The diversity and sheer number of wellness events popping up seem to offer something for everyone. There's single-day wellness gatherings, luxury wellness festivals, and new age spiritual wellness events, to name a few.
Bhakti Fest was founded by Sridhar Silberfein, a legendary figure in this country's wellness and yoga scene.
It was Silberfein who was charged with developing the spiritual elements for the iconic Woodstock festival in 1969. And as is portrayed in the director's cut of the 1970 documentary about Woodstock, Silberfein brought the famous Swami Satchitananda to the party.
Silberfein's place in history and reputation, attracted me to Bhakti Fest.
He began the festival in 2009. For the first year or so, it was just three days and included one or two workshop halls. Since then however, the Bhakti Fest schedule and footprint has expanded significantly.
Today it's six days long and includes three yoga halls, three workshop halls, a new women's lodge, men's lodge, two music stages, a sound temple, a meditation dome and the Bhakti kids land.
The schedule of activities and offerings is so voluminous, it can be overwhelming at first glance; there are countless intriguing speakers, teachers and musicians.
Upon check-in at the festival you're handed a book that outlines all of the performers, teachers and activities to map out your time.
The booklet is a detailed compendium and who's who of leaders in the wellness world: Krishna Das, who has been called yoga's rock star, Radhanath Swami, a spiritual teacher and New York Times bestselling author, Saul David Raye, an internationally acclaimed healer and teacher, the list of featured speakers and teachers went on and on.
The yoga teachers have their own dedicated, four-page section in the guide book - and it's filled with names such as Mark Whitwell, Sean Johnson, Mas Vidal, Janet Stone and Shiva Rea, people who yoga devotees probably know far better then me.
Meanwhile the kids' offerings include yoga for little ones, and chant your heart open.
Activities at Bhakti Fest begin between 7 a.m. and 8 a.m. and last until long after sundown (which, given the sweltering Joshua Tree heat, is probably the best part of the day.)
After a quick glance at the festival guide, I realized the two days I'd set aside to immerse myself in all things wellness related, would not be enough.
I spent much of my first day wandering - listening to music, getting the lay of the land, browsing through the many booths selling the hippest yoga clothing I've ever seen, and indulging in the mind-boggling variety of healthy eats.
As the sun set, I strolled through the festival's healing sanctuary and was stopped in my tracks by a cluster of dancers, drummers, and chanters, men and women, who were gathered in a small circle clapping and singing so joyfully it was infectious. Slowly more and more people gathered around this impromptu performance of what I later learned was Kirtan music.

Out of the corner of my eye, I noticed a man, with a scarf wrapped around his head, sitting cross legged slightly apart from the group, but still singing and chanting with them.
When the music paused for a moment we exchanged smiles and began talking.
A 40-year-old former monk, Arya Siddhanta is now a singer and dancer who told me he "currently exists" in San Diego. However, working the festival circuit is his primary focus.
"This is my lifestyle," Siddhanta explained to me. "I just came from Burning Man." That made him seem like as good a person as any to provide some insight about the festival scene at Bhakti.
Focusing on the perfect yoga outfits or the superficial appearances, would be to sell Bhakti short, he explained. Bhakti, Siddhanta reminded me, is a festival that prohibits drugs and alcohol and focuses on the principles of love, worship, prayer and friendship.
"This festival places the concept of transcending the body at the root of practice," he added. "Everyone puts on an act or a show. But what really matters is what you do it for."
On day two, I studied the schedule more deliberately and developed a game plan to take better advantage of all the offerings, including attending a workshop about transcending ego, participating in a yoga class, and listening to more music.
 "Ego is the parasite and you are the host," began Swami Premodaya, (founder of the International Centers of Divine Awakening) speaking to a crowd of people sitting on the floor at his feet. "It convinces you that it is you. It is not you. You don't need to get rid of ego. You need to get rid of the tyranny of ego."
During his hour-and-half-long talk, Premodaya explained that ego is natural to the human form. We can't do anything without it. That trying to live without it would be like living without a skeleton. Rather then get rid of it, one must get to a point where ego is not running your life.
Why? Because as Premodaya explained - the ego is mean-spirited, it's not your friend. It's petty, childish and in no way mature.
With my ego at least temporarily on the back burner after Premodaya's enlightening talk, I headed to an outdoor yoga class led by Gina Caputo. Founder and director of the Colorado School of Yoga, in Boulder, Colo., Caputo is known for Vinyasa classes infused with playfulness.
As I rolled out my yoga mat, I looked to my left to see a little boy of no more than 3 years old practicing his downward dog quite earnestly. They start them young here, I thought to myself. And there goes my ego again...a child doing yoga as good, (or better) than me.
The setting for the yoga class was stellar. Practicing under the shade of a light canopy, the desert spread out to our left, bordered in the hazy distance by mountains.
The class meanwhile was a rejuvenating break from all the other festival activity and stimulation. But once again, I felt like I needed at least another few days to truly experience the variety of yoga teachers and offerings and improve my practice.
Famished, I headed for the food court and sat next a man holding what looked like a Hindu version of rosary beads in his hands, quietly running them through his fingers. The beads, 108 of them, are made from Rudraksha seeds and used to recite mantras.
The 59-year-old Palm Springs resident holding them, Doug Reid, has been attending Bhakti Festival since it first began in 2009. And during that time, has seen it evolve significantly.
"I came initially to study yoga postures," he said. "There were so many yoga teachers here. Now it is also about spirituality and music. I used to do two to three classes a day. Now I do one, and go to more workshops and listen to music."
"This festival is my source for many things," he added before we parted ways. "Top names come here, so many different teachers. You get exposed to so much more here."
A few days after the festival ended, I had a long conversation with its founder.
Silberfien told me he began Bhakti Fest, because he felt there was a tremendous need for a festival that offered a safe environment where people, including families with children in tow, could spend time and not be worried about drugs and alcohol. And over the years the festival has begun attracting that target audience in increasing numbers.
"More and more families are coming, older couples, a lot of women are coming, all people who want to get deeper into their individual practices," he said, pointing out that there were attendees from about 38 countries this year.
More than 30% of the attendees are between 40 to 49 years old, while 24% are between 50 and 59. The minority of attendees, just 9%, are 21 to 29. There's also a hefty segment of 30 to 39 year olds - 26%.
In addition, Bhakti Fest revelers are 70% female and the average income is more than $75,000 annually.

And then there's the illustrious list of speakers and teachers, attracted by Bhakti Fest's reputation.
"People in the yoga community all over the world know that if they are a yoga teacher or music group they need to come perform there," continued Silberfien. "This is the preeminent festival in the country."
Yogrishi, one of the top yoga teachers in India, flew to Joshua Tree to teach two classes at Bhakti Fest, and didn't ask for any compensation, Silberfein pointed out.  And that's just one example of the type of talent the festival attracts.
 "We have 15 teachers a day," he said. "One of every kind of modality. So if you're questioning, 'I'm into yoga, but I don't know what path to pursue,' we give you that palette. "
For 76-year-old Silberfein, who now orchestrates multiple festivals around the country and is considered a spiritual elder by many, the festivals are a tremendous amount of work. The Bhakti Fest alone requires three weeks to just set up the facilities for festival goers. But his hope, 40 years after Woodstock and at a time when he sees the human race deteriorating in many ways, is that people will take whatever they can from the festivals and return to their lives with renewed and more ready and willing to help others.
"When you stand onstage and look at thousands of people gathering under one roof for one purpose, to dive in deeper to their heart, that's when I know I'm doing a good job," he says.
"You have to set up the stage and get out of the way and let the grace flow."
There definitely is an element of Los Angeles transplanted amid the desert Joshua trees, even Silberfein acknowledged that, pointing out that yoga, with all its bells and whistles, has grown to be a multi-million dollar industry. But Bhakti at its heart is a mecca for yogis perfecting their practice and for those on a spiritual journey.
Not that listening to some great music, shopping and eating great food, with a bit of yoga sprinkled in the mix, is a bad way to spend a few hours in Joshua Tree.
Namaste, beautiful people.