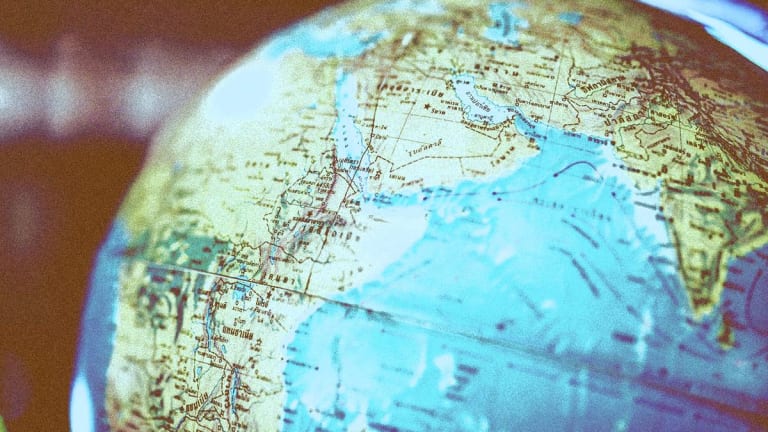 How to Make Money Traveling in 2020
Just like the song about leaving your lover, there must be 50 ways to leave home and make money traveling
Ever wanted to just ditch your life to visit all the exotic places where celebrities take selfies and post them on Instagram? Paul Simon famously wrote a song, '50 Ways to Leave Your Lover.' Well, there are about 50 ways for you to make money while traveling as a lifestyle.
50 Ways To Make Money Traveling:
1. Cut Your Cable Bill, Cancel Your Gym Membership, Stop Subscriptions
Here's a tip about traveling: if you can't take it with you, or it'll weigh you down, why hang on to something? Do they even have cable where you want to go? And are you likely to have or want to spend any time in a foreign country binge-watching, say, "Game of Thrones" on HBO?
2. Sell Some Possessions Online
Just what, exactly, are you planning to bring with you? Common wisdom suggests the best way to travel is light, for a host of reasons: you can take advantage of opportunities that spring up to go explore, and can immerse yourself better in a foreign culture by emulating everything from clothing to food to art and music. If you're thinking of putting some things in storage while you're gone, here's a better idea: instead of costing you money to keep things you don't need, why not get some more money for your adventures by selling it? Look into Ebay  (EBAY) , Craigslist and LetGo.
3. Sell Possessions for Cash or Travel or Lodging Overseas
Another way to downsize and get money for traveling or make money while traveling is similar to lightening your load at home, but instead, do it on the road. You can usually get rid of things weighing down either your suitcase or backpack or just your lifestyle by finding someone who actually doesn't have it and would like to. The classic during the Cold War was selling brand name blue jeans in countries where they didn't have them.
4. Rent Out Your Living Space
You're not going to be in and using your home, apartment or RV while you're away. Why not, again, instead of having to pay to have someone keep the burglars at bay, get paid by people to occupy it, make it look occupied, and keep your mortgage or lease? Try AirBnb.
5. Rent Out Your Transportation
What are you doing when you go on a trip and need transportation when you arrive? You're willing to pay someone to let you rent a vehicle in their possession through a service like Turo.com, right? So, there are likely people who just want transportation where they're visiting, just like you. But they happen to be visiting the place where you live.
6. Publish an E-Book
One of the easiest ways to self-publish is with Amazon.com itself: You can set the price, you can decide on distribution, and Amazon (AMZN) will put it up for sale for you. Every time someone buys a copy, a bell rings - on a tiny cash register in your head.
7. Photos and Videos Are in Demand
If you are a social media fan, you know that photos and videos are in demand, and not only by friends or followers on Instagram or Facebook (FB) or even Snapchat (SNAP) and Twitter (TWTR) . Where do news organizations frequently get their graphic elements for searches? From stock image websites online, like Getty Images, Shutterstock  (SSTK) , Foap, and Adobe Stock  (ADBE) .
8. Become an Influencer
Speaking of ways celebrities and others make passive income, here's a way that at least wasn't as prevalent until social media: become an influencer.
The more people who pay attention to your posts, the greater chance you have at being paid for posting and promoting brands. Some sites that might help include YouTube's FameBit, OpenInfluence, and Izea.
9. At Your Destination, Deliver Packages
Believe it or not, there are websites for that, like Grabr. The main process is, through the website, someone looking for a product from your country and you get in touch. You bid for a delivery fee, buy the product and bring it to the buyer when you go to their country. Your money is reimbursed by the website when the delivery is completed, and you're paid your shipping fee.
In the U.S., if you prefer road trips to international traveling, there's Roadie. Similar to the international person-to-person delivery method, Roadie and similar apps help you get paid for bringing products to people, perhaps a specialty from your state or town.
10. Get Compensation by Airlines for Flight Cancellations/Delays
As a U.S. airline passenger, there is essentially only one instance in which you are entitled to compensation related to a flight issue: when you are "bumped" from an overbooked flight. Airlines are required to first seek volunteers, and offer some compensation. If there are no volunteers, and you are denied boarding because the seats are oversold, you are entitled to compensation under Department of Transportation rules.
11. Get Paid for Working While on Your Trip
Just like travelers of the past, if you're willing to work your way either to your destination, or once there, you can make money on your trip. The best way is to obtain a Working Holiday Visa, that allows you to stay in a country for up to one year and in some cases apply for work in any position you want. So, what kind of jobs can you get?
12. Work as a Picker on a Fruit Farm
As harvesting fruits is seasonal, it has become a popular means of both involving yourself in a foreign country and earning some compensation for it. Farmers now in some places, like Australia, count on visitors with a working holiday visa to participate in a harvest. Just as with migrant farm labor in the U.S., while money is the main form of compensation, occasionally a farmer requiring a reliable crew also offers a place to stay.
You can search online for "seasonal" or "fruit," and your destination, to see if there are any jobs you can apply for before you go or you could wait to see if you learn of any opportunities once you get to your destination
13. Bartending, Waiting Tables and Other Restaurant Jobs
If you're heading to a popular destination, odds are even local establishments could use more staff for the season. You'll need a working holiday visa if you need to prove you'll be staying at your destination long enough for it to be worthwhile for someone to hire you. If you find an owner who, for reasons of their own, wants to pay you cash and not bother with formal employment paperwork, you may not need to prove anything other than that you can do the job.
14. Resort or Summer Camp Work
Resorts and even summer camps are no less in demand during peaks seasons than any other "service" jobs. They will need people at the front desk, in the kitchen, cleaning the property, or even with special skills, like lifeguarding or even activity directors.
15. Work on a Cruise Ship
Similarly, even cruise ships need extra staff during peak season.
16. Work as a Sales Person
If you're outgoing, you might consider trying to find work in sales. Depending on the season, and the location, you shouldn't hesitate to inquire in everything from ski and snowboard stores to scuba-diving or surf rental shops.
17. Look for Work in Construction
Go to a building site and offer to help for the day or a short period, and likely you'll be paid in cash. You don't need skills, though it helps. You just need to be willing to help by carrying things, cleaning up the site, or doing whatever you're asked to do.
18. Once You Get to Know Your Destination, Consider Being a Tour Guide
Most tourist destinations have a local tourism office. That would be the place to both ask about helping, and find opportunities. Let any potential tourism employer know you can show tourists places you know that tourists often don't visit. Other tourists, also, may find it easier to relate to a foreigner who knows the place like a local...
19. Become a House-Sitter
Not everyone wants money for someone to stay in their home. In fact, often, people who are gone for a short period of time or a season would like to have their home occupied, and are willing to not only provide the lodging but also pay using sites like TrustedHousesitters.com and MindMyHouse.com.
20. Consider Becoming an Au Pair 
Have you ever been a baby sitter for neighbors or friends? If so, you might be able to find work as an au pair. An au pair is a domestic assistant from a foreign country that lives with and works for a host family. You may have to do a share of housework as well as keep watch on kids, but you will also usually be paid an allowance for personal expenses.
21. Work at the Hostel Where You Stay
If you're trying to not spend a lot of money while you travel, chances are you're staying at a hostel instead of a fancy hotel. If you're there for any length of time more than a couple days, consider offering to help out for a few hours a day for free lodging. You can set it up ahead of time here, or just inquire at the front desk.
22. Offer Services Such as Barber, Manicurist, Even Massage Therapist
If you're staying at a hostel, again, ask the management if you can have permission to put up a flyer. You could also offer services such as makeup or facepainting for kids. And if the hostel wants a commission, again, negotiate at least free lodging.
23. Become a Model
If you stand out wherever you are visiting, consider inquiring at a local modeling agency on the off-chance they could use a "foreign" or "exotic" model. You could be spotted in the street by someone offering to start your modeling career, but remember that tourists are as often targets as they are attractive.
24. Guest Disc Jockey
Talk to bar and club owners about letting you DJ for an evening. Expect to be asked to give a demo.
25. Become an Expat
An 'expat,' shortened from 'expatriate,' has nothing to do with patriotism and everything to do with where you find yourself living for a time. It simply means someone residing in a foreign country from their country of origin temporarily or permanently. The best way to become an expat is to be assigned to a foreign country by an international company, or in a country with a high demand for English teachers.
26. Be a Volunteer
A number of places offer volunteer opportunities for travelers and people interested in living and working in foreign countries.
27. Participate in a Work Exchange Program
Like volunteering, but possibly with some pay.
28. You Can Work Freelance Assignments Anywhere
Among the skills sought for freelance assignments you can find and complete online as long as you have internet access is consulting, legal and accounting ability, social media and marketing manager, computer programming, illustration and web design, and as a writer, translator or transcriptionist.
Got Wi-Fi? These Are the Best Places in the World to Live, Work and Play
29. Consider Taking on Small Jobs
You won't get rich, or maybe even have enough for more than a meal, but, combined with other income, you might make enough for some treat or extra when you need it. Here are some small jobs that might be searched for even before you leave:
Take online surveys, or become an application or website tester. You can search such jobs online. Upwork and Indeed both are helpful sites to search.
30. Join a Dispersed Team or Flexible Job with a Social Media Platform
Some companies like Buffer want help from team members all over the world.
31. Become a Travel or any Other Kind of Blogger
All you need is a platform, linked to social media, and you can start blogging. If you blog enough, or have already built up a following, people will come to your site enough to interest digital advertisers.
32. If You Can Serve Drinks and Food, Consider Becoming a Flight Attendant
Again, job search sites like Indeed, Glassdoor and Monster are the most likely to help you.
33. Become a Tour Escort
You can find tour escort companies online or in person. You will have to have experience in customer service, and be proficient in English.
34. Crew on a Yacht or Sailboat
Always dreamed of "going to sea," to try your luck, have adventures and see the world? Well, guess what? Like any business, occasionally, yachts and sailboats need crews. Try searching for jobs online, at places like Findacrew.net.
35. Join a Traveling Show
Believe it or not, you can search for this type of job on Indeed.
36. Become a Language Teacher
Search on job search engines like Upwork.
37. Take Pictures of and Post Local Job Flyers
It's actually a job. And guess who has an app for it? Indeed.
38. Are You Good at Editing?
If you can edit English, believe it or not, your skill and proficiency could get you work editing menus and signs in foreign countries that are not quite right.
39. If You Are a Diver, You Could Teach Diving
You don't have to be a certified dive instructor to teach someone the basics. And if you're curious, start at Dive Zone Jobs.
40. Teach Surfing
You don't have to be an expert, and most people are happy just learning how to get a board under their feet even for a few brief moments.
41. Teach Yoga
If you are an avid yoga practitioner, you can teach yoga. You don't have to be a Yogi or Yogina. India, which originated the practice, even has teacher openings.
42. Teach Singing and Dancing
If singing and dancing have been your passion since childhood, you could teach it to others at your destination.
43. Teach a Musical Instrument
If you are a proficient musician, you can teach just about any musical instrument. You could offer private instruction, or to a larger group.
44. Become a Guest Lecturer or Public Speaker
If you've traveled extensively, lived interestingly, or just acquired some form of specialized knowledge along the way, you could lecture or speak to an audience about it.
45. Become a Movie Extra
You might be able to find local casting agencies, if you don't look unusual enough to be approached by one while you're in a crowd. Just like movie and television producers in the U.S., often the same in other countries are looking for the right "American."
46. Just Like in New York City, You Could be a Street Performer
Some countries are more tolerant of spontaneous or street performances by musicians and other groups than others. It's a good idea to double-check the laws before you try to start in a foreign country.
47. Recycle Bottles or Cans for a Deposit
You can actually get money in some countries for returning bottles you find on the street. And you can be paid cash for aluminum cans.
48. Learn How to Book Your Travel Cheaply
You can save money by learning the least expensive way to get to where you're going, and how many days in advance to book it.
49. Online Games like Poker
If you're a passionate game-of-chance player, and you aren't afraid of risk, you could make some money for a trip or even while at your destination if you have a bank account and internet access.
50. You Could Trade in Stock Markets
It's kind of like online gambling in that you can do it from anywhere you have internet access, but instead of playing with chips, you're moving around ownership in a company.