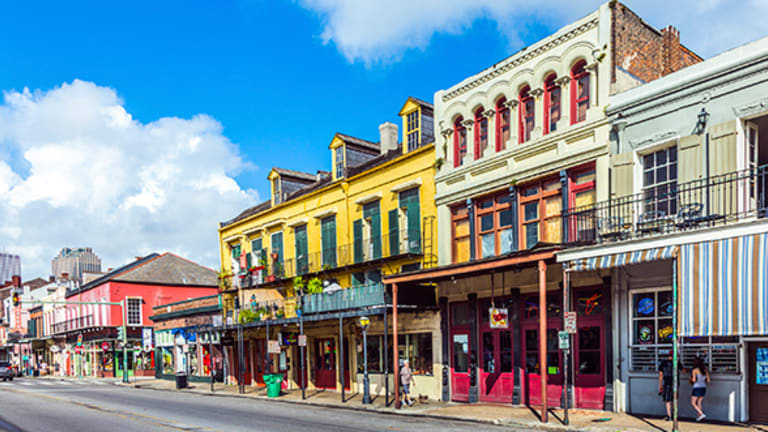 Publish date:
How to Go Vegetarian in New Orleans--Sort Of
Our reporter tries to avoid fat overdose in the Big Easy by eating mostly vegetarian.
Our reporter tries to avoid fat overdose in the Big Easy by eating mostly vegetarian.
New Orleans can mess you up. The food. The booze. The late nights. The gambling. The more extreme forms of dissipation. Even if you avoid the last three, the first two can leave you reeling after only a few days in the city. Last month, I made my twentieth trip down to the city for the Tulane Corporate Law Institute, the country's leading M&A conference, with a firm resolution to get on the plane back to New York feeling energized instead of exhausted, a vow I had made many times in the past. I'd taken the easy steps in prior years: eating fruit instead of sausage biscuits for breakfast, avoiding indifferent wine and canapes at receptions, getting to bed early. This time, I took a more radical approach: I would go (mostly) vegetarian and try to avoid dishes doused in butter and cream. Meat could be an accent to a dish but could not occupy the center of the plate.
I arrived in the Big Easy early on a Wednesday evening and headed to Shaya, an Israeli restaurant uptown that's one of the toughest tables in town. The field peas with feta cheese, harissa, and a walnut vinaigrette were at once fresh, bright and complex, a perfect starter. Hummus is a specialty of the house and shows what the dish can be when it's made with freshly cooked chickpeas and good olive oil. The restaurant pairs its hummus with various garnishes; the curried cauliflower with caramelized onions works well with the subtle flavor of the hummus.
Those with carnivorous instincts can get lamb at Shaya, but the shakshouka is satisfying as well. The tomato-driven dish does come with eggs, but a dedicated vegetarian could omit them. An abstemious diner can consume all of this with mint tea, while the more adventurous should explore a creative wine list strong on bottles from the Balkans and the Middle East.
Even if you stick with iced tea and don't abuse the expense account, lunch is a dangerous meal in New Orleans; just consider the debris sandwich at Mother's, which is made with roast beef drippings. Those in search of a healthy sandwich should head to Cleo's, a Middle Eastern grocery store and deli across the street from the Roosevelt Hotel that serves very respectable hummus and baba ganoush.
Wanting something more substantial, I went to Maypop, a recently opened Asian-Cajun fusion joint in the Central Business District. The starter, roasted pumpkin served with roti, had a pleasing, modest heat accented with housemade merguez. The gluten-free carrot pasta was less successful; if I had it to do over again, I would go with the wok-fried tofu with cauliflower.
No conference in New Orleans would be complete without a group dinner at one of the city's temples of fine dining. If you're at an old Creole place like Antoine's or Galatoire's, order simply grilled fish with a baked potato and do your best to endure the scorn of the wait staff and the jokes from fellow diners. I went to August, John Besh's flagship restaurant, which does offer a vegetarian menu, though it is perhaps not the kitchen's preferred idiom. The night I went, the kitchen served roasted fennel with mushrooms as the main course, which was good but not a particularly memorable dish. I should have had the trout Pontchartrain with crab and held off on the Hollandaise.
By Friday morning, I felt good, but the lunch menu at Herbsaint - and a glass of Terroir al Limit 2014 Torroja, a very reasonably priced, beautifully mineral red from Priorat - weakened my resolve to eat light. I had a nicely executed beet salad with yogurt and pistachios to start, then dove into an entree of goat with lentils and a salad of cucumbers and tomatoes that cut the richness of the meat. The goat was crisp, with an intensity of flavor that was allowed to stand on its own. The plate's generous helping of lentils was a nod to the French roots of New Orleans cuisine. It was one to quit on, a hearty dish that left me full until I got back to New York and glad that I didn't have to face another large dinner that night.
Editors' pick: Originally published April 28.