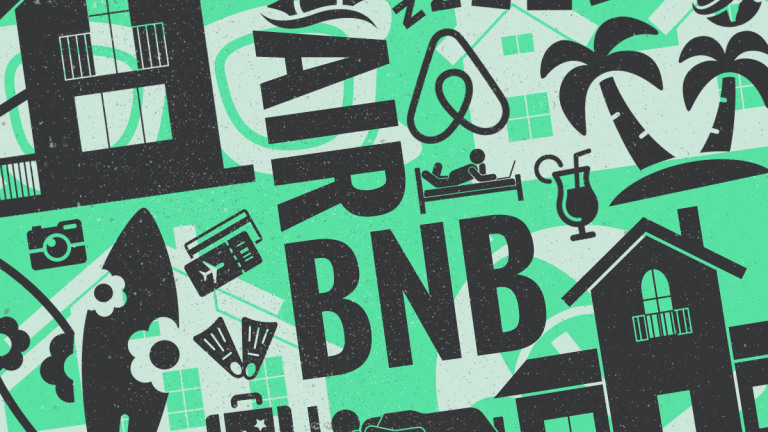 How Does Airbnb Work for Hosts and Travelers?
For the budget-savvy traveler, the advent of Airbnb - a service that allows homeowners to rent out their houses or rooms - is a godsend. But, how does Airbnb actually work?
Before 2008, if you had a trip coming up, you would probably be researching hotel prices or maybe even a hostel to find a good price. But when Airbnb came onto the scene, the rules of the game suddenly changed. Now, with the opportunity to save big on lodgings or even make an extra buck yourself, Airbnb provides something for the traveler and the local alike. 
As an estimated $38 billion company, according to Forbes in 2018, Airbnb has shocked the hospitality world with a simple idea that has taken off - making it comparable even to the likes of Hyatt Hotels Corp (H) - Get Hyatt Hotels Corporation Class A Report . With the conventional set up of a bed-and-breakfast inn (B&B) Airbnb's founders Joe Gebbia, Brian Chesky and Nathan Blecharczyk created a way for average locals to make extra money while renting out the space they already had. Ten years later, with an annual revenue of around $2.6 billion last year, the nomadic idea seems to have some fans. While we may still be waiting for an Airbnb IPO, the company's undeniable success indicates it's here for the long haul. 
But, how does Airbnb actually work? And is it safe? 
What Is Airbnb?
Airbnb, an abbreviation for "air mattress B&B," has a fairly simple structure on the outside. 
Hosts can use the site to rent out extra spaces in their house or apartment to travelers - typically for much cheaper than hotel lodgings. And, with Airbnb's presence in over 81,000 cities and 192 worldwide countries, if you have internet access, you can pretty much use the service anywhere.
Airbnb claims their service is "a trusted community marketplace for people to list, discover and book unique accommodations around the world," with a simple business model that allows hosts to lease or rent out spaces to travelers seeking short-term lodging. And, although it still remains a small feature of the business, Airbnb also offers users the ability to book certain tourism events or local reservations through the site. 
Because Airbnb doesn't own any real estate themselves, the company has been able to make extraordinary profits and continues growing. Much like the automobile equivalents Uber and Lyft, Airbnb has taken advantage of the "share economy" - which uses peer-to-peer transactions to make the most of existing resources.  
But, how does Airbnb practically work for the host and traveler (or "guest")? 
How Does Airbnb Work?
Airbnb is an online platform that connects hosts renting out space in their homes with guests seeking lodging for generally cheaper prices than a hotel. Airbnb offers a variety of filters that help guests find the right listing, a chat system that connects hosts to guests directly, and handles secure payments through the site. Airbnb takes a 3% commission from bookings as well as a 6%-12% servicing fee from guests. 
How Does Airbnb Work for Hosts?
If you have a room to rent (or an entire house), you will have to register your listing on Airbnb and outline certain specifications like area, size, number of rooms, and other details on your listing. You will create a profile, add a profile picture, and go through a series of verification and scanning processes (including verifying your phone number and verifying your ID). 
However, before you proceed to listing your place, you will need to check out the legality of listing a rental in your city or neighborhood. Some areas have various laws on renting out spaces in a home for extended periods of time, so it is vital to check and ensure your listing on Airbnb is perfectly legal. The site provides a "Your City's Regulations" page that can help you determine if listing your place is appropriate. Additionally, you may need to alert your HOA or other such boards about your Airbnb listing. 
Once your profile is set, you can then go to the "List Your Space" section, which will prompt you to describe what kind of lodging you are listing - whether it's an apartment, house, room, or other. Additionally, you will be prompted to specify your location, how many guests your listing can accommodate, and availability. You will be able to set your own listing price per night, week, or month.
And, if you need photos of your space but aren't especially photographically inclined, Airbnb provides free photography (if your area qualifies) to help you make your place look its best (and get you the best price). 
Still, guest approval is always up to the host - and once you get a request to book your listing, you will be able to deal directly with the guest. To make the transaction as easy as possible, it is often helpful to include expectations or specifications about your listing that might be helpful for guests to know - like any quiet hours you might have, cleanliness standards, or even how many flights of stairs you have. You are also able to chat with potential guests and even write 500-word reviews (as both host and guest). 
Once you have your listing set up, Airbnb provides a variety of services including 24/7 support, "rebooking assistance, refunds, reimbursements, [a] $1 million Host Guarantee, and insurance programs for both homes and experiences," as well as safety services like carbon monoxide and smoke detectors, fire extinguishers, and first aid kits.
When you've approved a guest, Airbnb handles the payments but holds onto the host's payment until 24 hours after check in. Additionally, hosts should thoroughly read Airbnb's community standards. 
Payment options vary depending on country, but you can typically be paid through PayPal, wire transfer, or direct deposit (with a 3% servicing fee). 
How Does Airbnb Work for Guests?
Airbnb makes it easy and inexpensive to find the best deal for your destination. 
As a guest, you can go on the Airbnb website and search through dozens of filters like area (city, country), space (if you need a room or house), and number of guests to accommodate.
To get started browsing listings, you need to create a profile on Airbnb and provide information and go through verification like a profile picture and ID. Once you've completed and filled in basic information, you can browse over 800,000 listings worldwide. Make sure you put the correct dates and number of guests to ensure you are getting the best price and that your trip will go smoothly. Additionally, take advantage of Airbnb's contact program to speak directly with the host and work out details or get any questions answered before booking. 
When you've found a listing you want to book, depending on the host's preferences, you will either instantly book the listing or can request to book it. With Instant Book, you will be able to reserve the listing right away with no additional steps. If the host has chosen to approve bookings beforehand, you can choose Request to Book, which will prompt you to put in your payment details and wait for the host to approve your request - within 24 hours of submitting it.
Once you've been approved for the listing, you will provide payment details and can coordinate with the host about specifics like getting keys or pass codes to your accommodation. 
How Do Airbnb Payments Work? 
To streamline the process, Airbnb handles payments and accepts most major credit cards including MasterCard (MA) - Get Mastercard Incorporated Report , Visa (V) - Get Visa Inc. Report , AMEX (AXP) - Get American Express Company Report , and Discover (DFS) - Get Discover Financial Services Report , as well as PayPal (PYPL) - Get PayPal Holdings Inc. Report and Google Wallet (GOOG) - Get Alphabet Inc. Report for the U.S. only. Additionally, hosts may be paid a variety of ways including direct deposit, PayPal, automated clearing house (ACH), bank transfer or international wire, Western Union, and traditional paper checks (only for U.S. and Canada), among others.
Once the guest has chosen the listing, they will enter their payment details and Airbnb will handle the secure payment to the host through the aforementioned methods after the guest has checked in. 
Airbnb Fees
Airbnb takes 6-12% of guest servicing fees on top of your payment. Additionally, the site takes a 3% commission as well. 
For some countries, a value added tax (VAT) may be applied as well. Japan has a Japanese Consumption Tax (JCT), and Australia and New Zealand have a Goods and Services Tax (GST). Airbnb provides information on whether your country qualifies or not.
Additionally, according to the company's site, "guest service fee for homes ranges between 0% and 20% of the booking subtotal (the nightly rate plus cleaning fee and additional guest fee, if applicable, but excluding Airbnb fees and taxes)," and hosts may also charge a cleaning fee or additional guest fee. 
Any extra fees may include exchange fees (if booking an Airbnb in a different country with different currency) or local taxes. 
What is Airbnb Pricing? 
All list pricing is determined by the host. 
The host will set pricing per night, as well as additional fees like a cleaning fee, extra guest fee, and so on. The only price determined by Airbnb is the 24/7 servicing fee, which provides service for both the guest and host. 
And, it turns out, Airbnb may be cheaper than hotels across the world.
According to surveys done by travel booking site Busbud in 2016, which analyzed 220,000 Airbnb listings, Airbnb generally had lower prices than hotels worldwide. And while prices may vary depending on the season or  other factors, Airbnb generally reported lower rates than traditional hotels across 22 cities in the North America, Europe and Australia. 
And, in 2018, Airbnb is still beating hotel prices in major worldwide cities, according to Forbes. 
Choosing Airbnb or a Hotel? 
While there is still the debate of choosing a hotel or Airbnb, there are several advantages that Airbnb provides compared to the traditional hotel model.
Benefits of choosing an Airbnb over a hotel include generally cheaper costs (especially for larger groups), having your own space (such as a kitchen and other living spaces), and often a more personal experience of the area you are staying in. 
Still, hotels offer many benefits including turn-down service, around-the-clock service, and a centralized location for tourism. Because hotels are more regulated, some guests may prefer paying a higher price for the additional services. 
Regardless of which you choose, checking prices and options in your desired location can help you decide which kind of experience you would like for your lodging. 
Is Airbnb Safe?
Questions and concerns over safety are not unique to Airbnb - Uber and Lyft, to name a few, have faced similar issues. With the option to hire out more and more services, a rising concern for safety is normal, and Airbnb is no exception.
A recent study and survey by third-party researcher InsideAirbnb.com found that "80% of homes reported having a smoke detector. But only 58% reported having a carbon monoxide detector, 42% reported having a fire extinguisher and 36% reported having a first aid kit," reported Time in 2018. The data spans from 2015 to 2016, although actual numbers are expected to be lower.
Still, Nick Shapiro, Airbnb Global Head of Trust and Risk Management, reaffirmed Airbnb's safety policies. 
"At Airbnb, safety is our priority," Shapiro told TIME in a statement in 2018. "All hosts must certify that they follow all local laws and regulations. We run home safety workshops with local fire and EMS services all over the world, making sure our hosts have access to the best information in order to keep their guests, their homes and themselves safe." Listings on Airbnb state the specific safety amenities, such as smoke detectors, fire extinguishers, and first aid kits.
Airbnb is proactive about safety precautions, including verification and background checks for users when possible, as well as providing some safety equipment to eligible hosts.