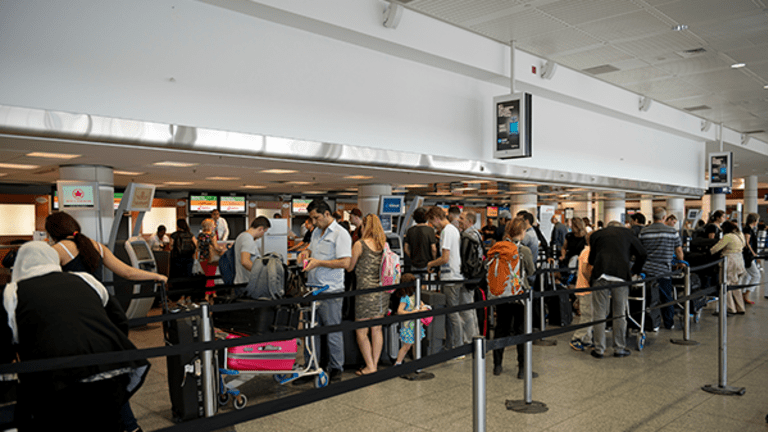 Here's Your Thanksgiving Travel Survival Guide
Three recently released travel reports provide invaluable insight for dealing with the Thanksgiving travel madness, including ranking the airlines for best social media responsiveness.
Editors' pick: Originally published Nov. 7.
Here's a little Thanksgiving travel tip for that moment when things start to go haywire with weather delays, flight cancellations and maddening crowds - the airline that responds to the largest percentage of direct mentions on social media is Southwest.
And the airline with the quickest social media trigger finger (i.e. response time) is Alaska Airlines, taking an average two minutes and 34 seconds to get back to you. Good to know, right?
Spirit Airlines, on the other hand, has the worst social media performance. The company only replies to 11% of direct mentions and takes an average of five hours and 48 minutes to do so. (With that kind of turnaround time Thanksgiving could be long over before you're helped out of a jam).
This information is courtesy of Conversocial, and its just released benchmark airline report focused on which travel industry giants are winning and losing the social media customer service game.
"If you're a traveler, the fastest way to get a question answered, to get a flight changed or to get information about delays, is to direct message the company on Facebook messenger or on Twitter," says Conversocial founder and CEO Josh March, whose company was developed to help giants such as Hyatt, Hertz, Alaska Airlines and more, with their social customer service.  "All of these companies have big teams of people who are there aiming to respond, they can change flights, hotel rooms and more."
Just tuck that handy knowledge away for the next time you're planning a holiday trip and want to fly with an airline that's prepared to help you through a rough spot. You're welcome.
Another recently released report, this one from the RewardExpert, is aimed at letting travelers know which airlines and airports to avoid entirely.
The company's Thanksgiving 2016 Holiday Air Travel Forecast, says the worst airport in the nation, when it comes to on-time performance during the turkey day holiday, is San Francisco (SFO), where only three-quarters of flights have historically been on time.
The ranking is based on an analysis of five years' worth of Department of Transportation data for the country's 45 busiest airports, during 11 days of travel surrounding and including Thanksgiving.
And the cause for San Francisco's poor performance can be summed up in one word: fog.
Some of the other airports to avoid if on-time performance is a concern include William P. Hobby in Houston (HOU) and Oakland (OAK).
Chicago Midway (MDW) and Chicago O'Hare (ORD) round out the worst five, according to the report.
The airports with the best holiday performance meanwhile are Honolulu (HNL), Atlanta (ATL), Charlotte (CLT), Salt Lake City (SLC) and Reagan National (DCA).
So what is one to do with this information, being that you can't change where your family lives or the weather patterns for those cities.  Short of opting for driving, or taking a train, the information should be taken into consideration in conjunction with the airline you choose to fly, says RewardExpert's Rosemarie Clancy.
"Look for an airline that scores better for on-time performance in a particular market," says Clancy. "If you have a choice between an airline with a major on-time performance record versus a bottom feeder, go with the better performer."

To help you with this effort, the report also identifies the airlines that perform the best and worst during the holidays. Hawaiian Airlines was the winner in this category, with nearly 95% of its flights arriving and departing as scheduled. And just as fog was the culprit in SFO, sunshine is a key factor in the performance of Hawaiian Airlines.
"First of all, with Hawaiian Airlines, their hub is in Maui and we don't get a lot of inclement weather there," says Clancy. "Weather is just not a big issue for planes landing in Hawaii."
In addition, Hawaiian, a regional carrier, operates fewer flights then the big airlines, which typically translates into a better performance record, Clancy notes.
The downside of this knowledge is that not all of us have family in Hawaii that we're jetting off to visit for Thanksgiving, so the following information will be perhaps a bit more useful.
Of the three major carriers, Delta leads the pack for timeliness, with 89% of flights reporting on-time. Alaska and Virgin Airlines fall in the middle of the ranking, but are neck-to-neck with 86.3% and 85.7% of flights on-time. United follows closely behind with 83.3% of flights coming in as scheduled.

Delta is also the best choice at three of the five worst performing airports, according to the report. In other words, it's the top airline for on-time performance at the San Francisco, Chicago Midway and Oakland airports.
"If Delta serves your airport, and on-time performance is important to you, then Delta is a safe bet," says Clancy.
A few additional, useful takeaways from the RewardExpert report:
•    If you're hoping to get home early to help prep for the big feast, your best bet is to travel on the Monday before Thanksgiving to avoid delays.
•    There's a silver lining for last-minute flyers. Thanksgiving Day itself has the least reported delays, which means that flying home that morning will likely get you to the table in time for a late dinner.
•    The day after the holiday is the best day to fly home, and the chances of getting delayed increase as the weekend progresses.
And finally Orbitz recently released its own holiday travel data, which may be helpful for those who want to avoid the crowds altogether and are not tied to visiting a specific city. Or in lieu of that, at least you will be better informed about the crowds as you head to the airport.
According to Orbitz, the busiest airports over Thanksgiving are Chicago O'Hare (ORD), Atlanta Hartsfield-Jackson International (ATL), Los Angeles International (LAX), Denver International (DEN) and Dallas-Fort Worth International (DFW).
The most popular Thanksgiving destinations meanwhile are New York City, Las Vegas, Dallas, Chicago and Washington D.C.
"A lot of people look for places that are more off the beaten path and less busy, but frankly that's hard to find over Thanksgiving," says Orbitz Senior Editor Jeanenne Tornatore. "What I tell people a lot is that if you have the vacation days, look at traveling the week after Thanksgiving. It's a lot less expensive and a lot less crowded. I know it's not possible for a lot of people, but you will see a significant change in prices one week later."
So the moral of the story?
Perhaps that depends on which report you listen to.
Maybe start by encouraging your extended family to relocate to the sunny shores of Hawaii. Plan B, skip Thanksgiving travel altogether if you can.
And if you can't manage either, get your social media accounts fired up and ready to go, so that you can reach out to your favorite airlines in an emergency.