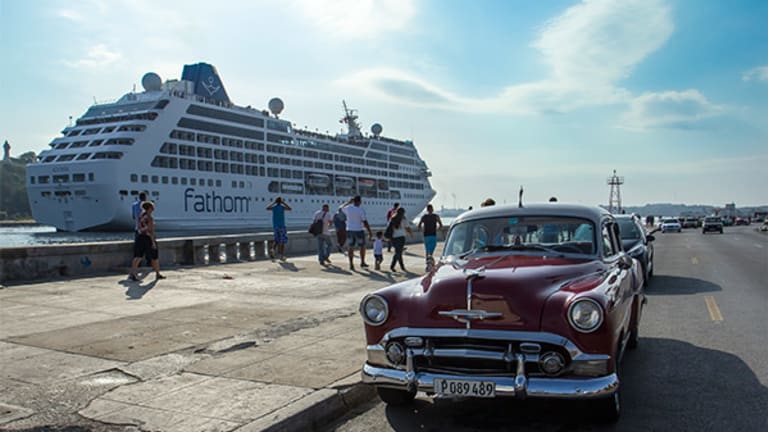 Fathom President Tara Russell Talks About the Future of Cuban Travel and the Positive Impacts
Russell shares reflections on leading the historic first cruise between the U.S. and Cuba in decades and talks of renewed hope and optimism.
Russell shares reflections on leading the historic first cruise between the U.S. and Cuba in decades and talks of renewed hope and optimism.
On a balmy spring day this past May, as the sun rose over Havana and the bustling, colorful city began its usual morning routine, the 710-passenger ship Adonia emerged on the horizon and sailed into port.
Carrying passengers representing 18 nationalities, and media from around the world, the ship's arrival marked the beginning of a new era.
After months of negotiations with Cuban officials and extensive reviews from U.S. government agencies, the Adonia, part of Carnival Corp.'s new Fathom brand, became the first ship to sail from America to the island nation in nearly five decades.
For two countries once on the brink of nuclear war, which had not had diplomatic relations since 1961, the moment was almost surreal, a crumbling of barriers that seemed impenetrable.
And for the Cuban Americans onboard Adonia, who had not been able to return to their homeland aboard a ship since Fidel Castro launched his revolution in 1959 - it was a previously unthinkable journey.
The woman who played a key role in making the moment a reality, who helped usher in a new chapter of travel, and renewed hope between two longtime adversaries, was Tara Russell, Fathom's president.
"It was a very special moment for the world," Russell said during a recent sit-down interview while visiting San Diego for a speaking engagement. "We believed it would be a powerful moment. But I don't think anyone had any idea how monumental it would be. The whole world was watching and we had the privilege to steward that journey, and be the careful ambassadors of that moment of reunion."
The reunion that unfolded that spring day involved hundreds of Cubans lining the street outside the port terminal, cheering, waving, snapping pictures, and crying while embracing arriving Americans. The ship's weeklong visit to various ports around the island saw the scene replayed, to a lesser degree, again and again.

More than four months have passed since that journey, and the travel landscape between Cuba and the U.S. continues to rapidly evolve.
Numerous U.S. airlines have since begun regular commercial passenger flights to Cuba, the first American hotel to set up shop in Cuba in nearly 60 years recently opened its doors and additional cruise lines are preparing for their own journeys to the island.
Adonia's headline-making voyage paved the way for what some estimate could be thousands of ships a year crossing the Florida Straits
Yet the intensifying competition doesn't seem to faze Russell. For the time being, Fathom remains the only U.S. cruise line sailing to Cuba, and that means Russell and the company maintain a unique vantage point.
"We've seen a beautiful love affair unfold between our travelers and the Cuban people," she continues. "Every week, we hear story after story of people heading to Cuba to visit family or meet friends of friends, or of people diving in and exploring the heart of Cuba and discovering artists and musicians, everybody comes back pregnant with stories."
For Russell, in many ways, reaching this moment has been a labor of love. She was hired by Carnival in 2014 to serve as the brand's global impact lead.
A 20-year veteran of the global private and public sectors, Russell's resume includes working for such industry titans as General Motors, Nike and Intel.
But somewhere along that corporate journey, Russell took a less-than-customary detour and founded Create Common Good, working for four years in Thailand offering pro bono small business development training to non-government organizations. During that time, she also co-founded NightLight, an international organization that addresses issues surrounding human trafficking and prostitution.
Having an impact, changing people's lives - whether through non-profit work or now in her current role heading up social impact travel at Carnival, is something she is passionate about.
The Cuba cruise is one of Fathom's two such offerings. Just a few weeks prior to the historic Cuba sailing, Fathom also successfully launched is popular Dominican Republic voluntourism cruises, which allow travelers to work alongside the island's community members on projects aimed at improving educational, environmental and economic conditions.
To say it's been a whirlwind for Fathom, and for Russell, is an understatement.
"It's been a very fast and dynamic adventure, all of it. Between April and May, we launched DR, and also two weeks later Cuba," says Russell, who on a more serious note speaks eloquently about the mission of travel as she sees it, and more specifically social impact travel or voluntourism, the altruistic type of travel Fathom is seeking to establish as its stock and trade.)
"It's interesting, we go from this moment as a child, living on your bike with your hair in the wind, to as adults, seeing that image of that little boy in the ambulance in Syria," she says. "What that has done to us as a culture, as a narrative...humanity has started to lean back with anxiety and fear and uncertainty. So I believe our role is to connect, inspire and bring hope and to remind people of their innate potential and of the beauty in the world. And we do that through playful, engaging, unique travel experiences that are unlike anything out there."

As part of that effort, the Fathom Adonia looks and feels somewhat different then the average cruise ship. It purposely does not have a casino or offer Broadway-style entertainment.
Rather then including such typical cruise fare, under Russell's lead Fathom is focused on immersing its guests in the culture and history of its destinations through a variety of educational onboard programming.
For that first, historic first cruise to Cuba in May, not all of the programming was in place. But the product has been fine-tuned in recent months and continues to evolve, with new shore excursions and onboard offerings announced this week.
For instance, Fathom just announced the addition of "In Hemingway's Footsteps" - a five-hour land tour for Ernest Hemingway fans that explores Havana through the eyes of the famed author, and also includes a visit to his Cuban home "Finca Vigia," as well as a stop at his favorite fishing spot (which was the inspiration for "The Old Man and The Sea.")
There's also an intriguing new nine-hour tour called "Beyond Havana: Exploring the Cuban Countryside" that gives travelers the opportunity to experience rural life in Cuba as they crisscross the countryside and are exposed to coffee and sugar plantations, and a UNESCO biosphere reserve that was developed in the 1960s as part of Cuba's Green Revolution.
Onboard meanwhile, a range of Cuban related entertainment and educational workshops have been added.
"We led the world to Cuba, but we had only received approval for that cruise a few weeks before," says Russell. "We have since taken the product to a different level. We have Cuban bands and musicians, we have a variety of different storytelling sessions about the rich history of Cuba and the Cuban people - about their heritage and religion, there's Cuban cocktail making and dance lessons, and we teach traditional Cuban games."
Russell says those who were aboard Adonia on that first historic journey in May would likely not recognize the cruise, were they to return now.
"It has grown, developed and changed so much," she continues. "It would be a much more realistic testament of our week to week product now. We were strong when we launched, and we are incredibly powerful now and steady at a whole new level."
Meanwhile, the world continues to watch with bated breath, wondering about the impact from the flood of American travelers in Cuba. Whether American travelers and American businesses will forever change the country and its time trapped charm, is a question no one but Cuba knows the answer to.
The numbers of travelers however that can now fly on commercial passenger flights from the U.S. to Cuba is staggering.
Officials from the website FareCompare recently estimated, based on all the airlines that received approval from the U.S. government to fly to Cuba, that there's about 29,000 seats available every week.
And that figure obviously does not include those arriving via cruise ship.
For her part, Russell says life is about change, but adds that it's not our place to determine Cuba's destiny, or what the island's future looks like. Instead, Russell hopes to facilitate the friendships and people-to-people connections that help Cubans embrace possibilities they may not have had before.
"Cuba is going to determine and drive what they want to see Cuba become. And they have a vision for their country," says Russell. "I believe the increased volume of travelers coming allows for a wide variety of things, mostly human connections and increased economic development opportunities. Cuba has and will continue to determine, from a financial investment and capability perspective, what industries come and when. And we will be a part of that story."