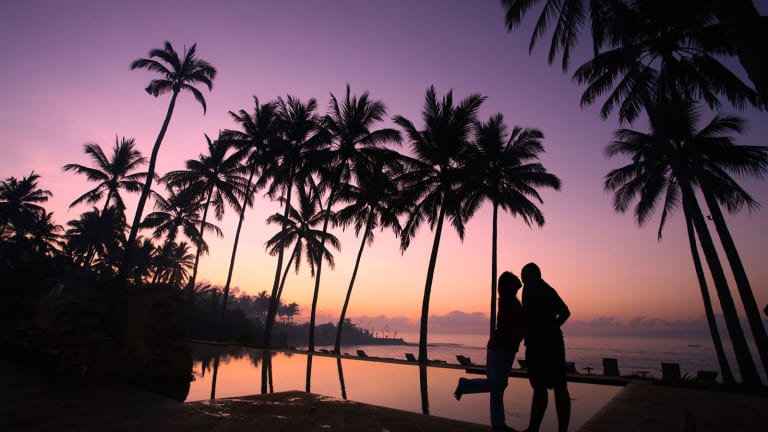 7 Best Honeymoon Destinations
For newlyweds, hit one of these landing spots for your dream honeymoon.
For newlyweds, hit one of these landing spots for your dream honeymoon.
No doubt, the Beach Boys had it right when they sang of Aruba, Jamaica, Bermuda and Bahama, and that near-mythical land off of Key West called Kokomo.
(Technically, Kokomo actually exists, as a resort area on the island of Islamorada about 25 miles south of Key Largo, but only came to being after the Beach Boys song of the same name.)
The fact is, any of the above tropical paradises would do nicely as a honeymoon resort - the kind where the trade winds softly ripple the palm trees, where the sugar-white sandy beaches meet the turquoise-colored waves, and where newlyweds clink glasses to their new lives together. 
Five Tips on Booking the Best Honeymoon
No matter where you go for your honeymoon, take these steps to optimize the experience, and get your marriage off to a memorable start:
Get going. You don't want to procrastinate when planning your honeymoon. The best flights and accommodations, price-wise, are there for the taking for early birds. But if you wait, expect to pay a premium price. That's especially true if you're planning a cruise, where the best deals are taken often a year in advance.
Partner up with a travel agent. Getting professional help from a travel expert is just good business for honeymoon world travelers. An agent who knows the ropes, has great contacts in far off bourses, and has the nose for great flight and hotel deals, is well worth the money.
Go ahead and leverage your wedding registry. Prior to your wedding, slice off the potential proceeds from your wedding registry for your honeymoon. Let your guests know you're doing so. That way, friends and family can make a de facto contribution to the honeymoon trip of your dreams, and it's not on your dime.
Watch for "surprise" costs. Any trip brings the risk of hidden costs, but a honeymoon, where the concept of fun at any price can reign supreme, is especially vulnerable to hidden costs that can dig a big hole in your pocketbook. Meals at high-end restaurants, package tours that include excursions you'll never go on, or pricey add-ons for things like local flights or rental cars aren't a priority when you're planning a honey moon trip, but they can be a reality when you're on that trip.
Plan with a calendar. It's highly recommended that honeymooners plan their trips with seasonality in mind. Like the Amalfi Coast scenario listed above, some venues aren't all that accommodating to visitors in off-season, and some, like Hawaii, can actually offer deep discounts when during off-season, September through November. It's up to you to check the calendar and make the right call.
Ranking the best honeymoon spots across the globe is no easy task - it would take years to cover the top 20 or so in a comprehensive fashion, but these seven honeymoon spots should be at the top of anyone newlywed's list.