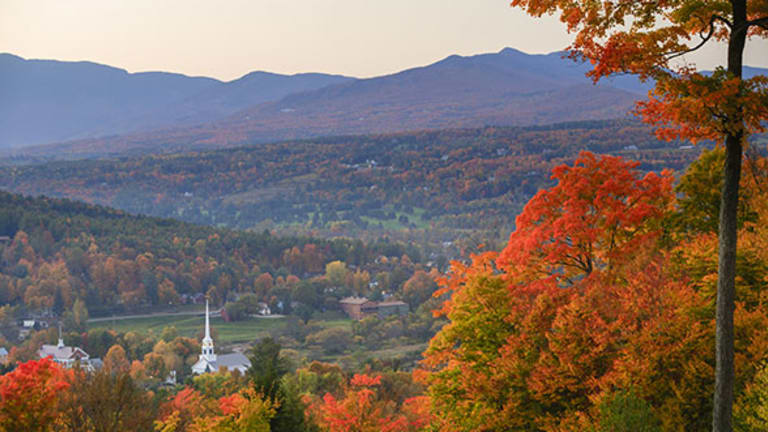 10 Best Last-Minute Columbus Day Getaway Deals
Columbus Day is great for fall travel if you get a three-day weekend out of it.
Columbus Day weekend is still a long weekend for many workers in the U.S., which makes it a great time for last-minute travel.
Columbus Day was instituted as a federal holiday in 1937 after the Knights of Columbus, a Roman Catholic organization, and Italian-born business owners in New York City lobbied president Franklin Delano Roosevelt for it. Catholics and Italian-Americans, who were considered "other" to the point that they were banned from certain jobs, lodgings and establishments and even lynched in Louisiana, latched onto Christopher Columbus as a means of assimilating themselves into white U.S. culture. Never mind that Columbus wasn't the first to set foot in this neck of the woods, wasn't the first to cross the Atlantic and wasn't even the first to set foot on territory that is now the United States: he was Italian (though employed by the Spanish), and that was good enough for Italian Americans at the time.
Today, roughly 30 of the 50 states observe Columbus Day -- but not all of them do so for Columbus's sake. In South Dakota, it is known as Native American Day in honor of the folks who just happened to be here when Columbus made his "discovery" and bore the brunt of the consequences of his actions. Numerous cities across the country -- including Seattle, Denver, Phoenix, Los Angeles and Minneapolis -- celebrate it as Indigenous People's Day. It means so little in Tennessee that the governor can just move it to the day after Thanksgiving instead.
Still, there are many places where state workers and others get it as a paid holiday on October 9 this year. That gives a bunch of folks a long weekend and ample opportunity to take a last-minute, off-peak trip. According to a new survey from AAA, more than one in four Americans (28%) expects to take a vacation this year between Labor Day and Thanksgiving. The majority cite smaller crowds and fewer children after school resumes (68%), milder weather (63%) and less costly trips (55%).
"We have seen strong demand for travel throughout the course of the year, and Americans are discovering that traveling during the fall season is a best kept secret," says Bill Sutherland, AAA's senior vice president of ravel and Publishing. "Travelers increasingly prioritize immersive travel experiences and autumn offers more opportunities for them to explore a destination's local culture."
Those fall excursions are more diverse than you'd image. AAA notes that road trips are the preferred activity for 62% of fall travelers, with fall festivals and visits to national and state parks are proving particularly popular. Some 26% of those who are planning a fall vacation will take a trip to view fall foliage in the northeast (New England in particular), to the mountains of North Carolina and Colorado.
Though the majority of fall travelers will stay within the United States, about one third are planning an international vacation. As experts point out, the combination of strong exchange rates and falling airfares and lodging rates makes fall particularly appealing to folks who squirreled away some days off. Rick Seaney, chief executive of travel site FareCompare.com, notes fall bargain travel season kicked off on August 30 and sent prices plummeting.
"As for airfare prices, they can drop as much as a third or more over summer airfare," Seaney says. "For my money, autumn is the best time of the year for a vacation: it packs the one-two punch of great weather and great airfare prices."
In June, travel site Hopper noted that projected airfare peaked at an average of $259 in June, but steadily slides to $218 by October. While you're no longer within FareCompare's recommended booking window of 30 days to three months before departure, there are still options for discounted flights. If you book online on a Tuesday at about 3 p.m. Eastern, you stand the best chance of hitting an airline sale and getting the best price on tickets. Meanwhile, if you fly on a Tuesday, Wednesday or Saturday, you stand to get a better deal than at any other time of the week.
With help from AAA we've found ten destinations that you can visit at cut-rate costs this Columbus Day weekend. While it isn't comprehensive (and leaves a lot of the globe out of the equation), it's filled with a fair amount of options for the frugal fall traveler.
Snag these Columbus Day deals!
More of What's Trending on TheStreet:
Editors' pick: Originally published Oct. 4.