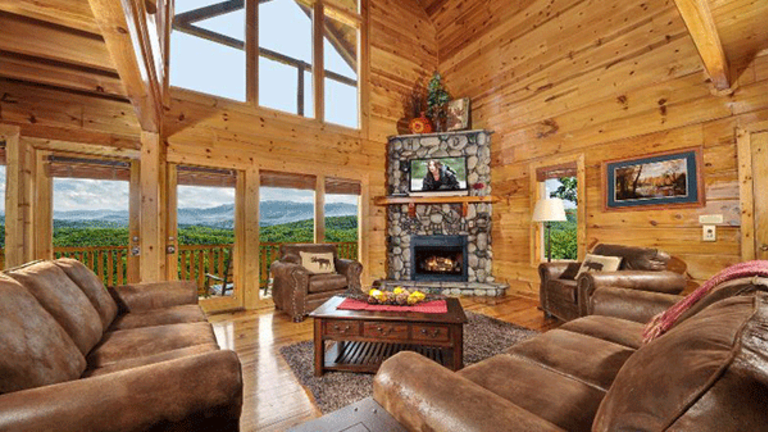 Publish date:
5 Swank Vacation Homes To Stay At During The National Parks Centennial
Just because the National Parks Service preserves our nation's pristine natural treasures doesn't mean you have to rough it to enjoy them.
Just because the National Parks Service preserves our nation's pristine natural treasures doesn't mean you have to rough it to enjoy them.
Editors' pick: Originally published August 17.
The National Parks Service turns 100 this year, but you don't have to sleep on the ground to celebrate that fact.
Though Yellowstone and other national parks and monuments were established earlier and President Theodore Roosevelt and Sierra Club founder John Muir championed conservation well before, the National Parks Service's establishment by President Woodrow Wilson on August 25, 1916, eventually preserved more than 450 sites for future generations. While the service is celebrating this year with commemorative coins, stamps and other detritus that grandparents will give to kids, the best way to take in the parks system is to visit on your own.
Unfortunately, the timing of this anniversary isn't great. By August 25, many college kids are back at school, already and many families have used up their vacation days visiting places that their tax dollars aren't paying for and handing over exorbitant sums to visit attractions nowhere near as impressive as the Sawtooth Mountains or the view from Hurricane Ridge in the Olympics. The nation is just about burned out on vacations and ready for fall, school and football season.
It's also a time when folks trying out camping for the first time have decided they either love it and want to spend more of their off hours sleeping beneath stars and canopies of trees, or absolutely hate it. They've been eaten alive by mosquitos, drenched in sweat after sleeping in tents-turned-greenhouses and have had just about enough of washing the scent of campfire out of their clothes each weekend. The latter group has decided that their favorite campsite is somewhere with air conditioning and their favorite tent is better known as a hotel.
These folks aren't left out of the national parks experience entirely: they just need to be gently introduced to it. Fortunately the National Park System and its surrounding communities are dotted with surprisingly plush accommodations for a service built on roughing it. With help from TripAdvisor Vacation Rentals, we found five properties that allow travelers to celebrate the gift the nation was given 100 years ago, but still show an appreciation for more modern amenities like private showers, hot tubs and entrances that don't open and close with a zipper...
This article is commentary by an independent contributor. At the time of publication, the author held no positions in the stocks mentioned.