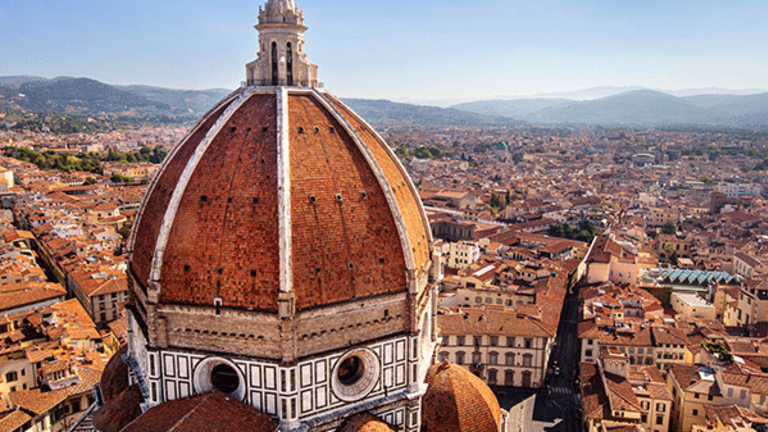 15 Affordable Last-Minute Labor Day Travel Deals to Book Now
With the kids back in school, the euro low and airfares dropping, one last summer vacation awaits.
With the kids back in school, the euro low and airfares dropping, one last summer vacation awaits.
If you haven't booked Labor Day travel yet, don't worry -- you still have a surprising amount of time left to do so.
Airfare pricing takes a turn for the better during August and keeps improving during September, even through Labor Day. Rick Seaney, chief executive of travel site FareCompare.com, notes that fall bargain travel season kicks off on August 30 and sends prices plummeting. With kids headed back to school, college freshmen weeks into their first semester and parents finally finished with back-to-school shopping, Seaney notes that demand for hotel rooms and flights dives on that first day.
"As for airfare prices, they can drop as much as a third or more over summer airfare," Seaney says. "For my money, autumn is the best time of the year for a vacation: it packs the one-two punch of great weather and great airfare prices."
In June, travel site Hopper noted that projected airfare peaked at an average of $259. However, that slides steadily to $218 by October. In early August, domestic round-trip flights were averaging about $318 for Labor Day. Prices have been rising, but don't spike until the final two weeks before the holiday -- when they jump $15 per day.
That makes it ideal to book immediately, since prices are adhering to last year's trends. In 2016, the cheapest prices were available until about 25 days before departure, with domestic round-trip flight prices averaging about $312. Between 15 to 24 days prior to departure, there were moderate increases of $4 per day. In the final two weeks, prices started spiking $15 per day.
If you can be flexible with your schedule, you'll save the most money by leaving Saturday, September 2 and returning Wednesday, September 6. If you don't want to eat into the weekend and have vacation days to blow, try leaving on Wednesday, August 30.
FareCompare notes that when you book online on a Tuesday at about 3 p.m. EST, you stand the best chance of hitting an airline sale and getting the best price on tickets. Meanwhile, if you fly on a Tuesday, Wednesday or Saturday, you stand to get a better deal than at any other time of the week. But what about accommodations, you ask? At this stage, you're likely better off going with a share or vacation rental than a hotel -- and vacation rental companies know it.
"Even on peak weekends like Labor Day, luxury homes can be affordable when you fill up the bedrooms share the cost across the group," said Laurel Greatrix, a TripAdvisor Rentals spokesperson who didn't exactly soft-pedal the sell here. "If you're trying to keep costs down, staying in a rental is the way to go - you'll have the freedom to cook at home, and oftentimes you'll get great perks like free parking, and amenities like bikes, barbecues, and beach accessories, at no additional cost."
If that sounds appealing, the folks at TripAdvisor rentals have presented 15 destinations where home prices are fairly inexpensive -- even abroad. If you're on the fence about taking a Labor Day vacation, now's the time to jump off it.
Don't miss these galleries on TheStreet:
10 of the Most Worthless And Expensive Olympic Venues of All Time
15 Killer Fall Travel Deals
10 Absolutely Worthless Pieces of Sports Memorabilia
The 30 Nastiest Storms in Recent U.S. History Have Caused Mind-Blowing Damage
15 Beers That Are Worth a Bundle on the Black Market
15. Chincoteague Island, Va.
Median nightly rate for a two-bedroom:$150
Cost per person per night (maximum occupancy): $38
Who wants to see some ponies?! With climate change already taking a toll on the landscape, there is no time like the present to get a glimpse of Chincoteague's feral ponies, explore its wildlife refuge, walk its beaches and take a tour of the active NASA space center and launch pad at Wallops Flight Facility. If you're a family with kids who don't go back to school until after Labor Day, this is a great last stop.
14. Salt Lake City
Median nightly rate for a two-bedroom:$149
Cost per person per night (maximum occupancy): $37
The Wasatch range greets you as touch down at the airport, but this is going to be a bit early for ski season. Instead, take some time to visit the Salt Lake Temple, the Family History Library, the parks, the arboretum, the shoreline trail. See where the Golden Spike was driven, trek out to the Great Salt Lake, hit Trolley Square or the Sugar House gardens or go to a Jazz game. If you can get in a bit early, the Utah Utes play North Dakota State on August 31, which not only serves as their college football season opener, but provides and opportunity to check out the Olympic Cauldron and sites from the 2002 Winter Games.
13. Myrtle Beach, S.C.
Median nightly rate for a two-bedroom: $142
Cost per person per night (maximum occupancy): $36
There's something bittersweet about spending Labor Day weekend in a boardwalk town. On one hand, you're doing it right: getting those last days in at the beach, eating that last batch of taffy and going on just one more ride before summer's unofficial end. However, it's also fairly sad: many of the stand and shop workers have gone back to college, the crowds are nowhere near their peak and the boardwalk T-shirt memes and prizes just don't seem quite as fresh as they did earlier in the summer. The Hard Rock Cafe, the bars, the boardwalk, the malls, the golf courses, the theme parks and beaches all seem quieter. In nearby Surfside, the lights along the Grand Strand seem just a bit dimmer as the fishing pier, movie theaters, batting cages, mini golf, zoo, bowling, Ripley's Aquarium and Wild Water and Wheels amusement park all have an air of finality to them. On Labor Day weekend at the boardwalk, every day feels like Sunday, with a Monday filled with school and work always looming.
12. Tuscany, Italy
Median nightly rate for a two-bedroom:$141
Cost per person per night (maximum occupancy): $35
Don't be that person. Don't read Eat, Pray, Love or Under the Tuscan Sun and think that a trip here is going to change your life. Don't come home and tell all of your Italian-American friends that they're cooking their food wrong. Just go, drink the wine, climb the Duomo, walk the Uffizi Gallery, see Michaelangelo's David, follow in the footsteps of the Medicis, listen to old Rita Pavone records and go home with a postcard of Pisa's leaning tower. Tuscany doesn't exist to rescue you from whatever pit of mediocrity you escaped to get there: sometimes, it's just there to be enjoyed.
11. Copenhagen, Denmark
Median nightly rate for a two-bedroom:$135
Cost per person per night (maximum occupancy): $34
You've missed the Roskilde Festival and Pride, but you're still in an incredible party town.The city is home to museums, jazz clubs, street performers along the Stroget and more than a dozen Michelin Guide restaurants, but what do the Europeans come here for? Beer, weed and amusement parks. Copenhagen's been home to the Carlsberg brewery since 1847, and visitors get a free beer with the price of a tour, though Mikkeller is the city's brewer of the moment. The hippie population has shown a preference for the open-air cannibis sales in the autonomous neighborhood of Freetown Christiana that was built by squatters in a former military barracks.
Whatever your poison, Copenhagen's antique amusement parks make fine chasers. The twinkling lights of Tivoli Gardens have lit Copenhagen since 1843 and include the world's oldest operating roller coaster and oldest ferris wheel among its treasures. The Deer Park Hill amusement park, however, has operated in one form or another since 1583.
10. Lisbon, Portugal
Median nightly rate for a two-bedroom:$135
Cost per person per night (maximum occupancy): $34
An ancient city teeming with castles, monasteries, museums and intricate architecture, Lisbon is a cultural hub in Southern Europe and one of its greatest gems. Hit the Fado bars in the Alfama and let the dulcet guitars wash over port wine, shop the Avenida de Liberdade and take in a city that often seems trapped in time. While recent Fed activity and uncertainty from the White House has knocked the dollar from near-parity with the euro, that 85 cents on the dollar is still better than what Americans were getting on the continent even three years ago.
9. Dubrovnik, Croatia
Median nightly rate for a two-bedroom:$130
Cost per person per night (maximum occupancy): $33
The subject of a seven-month siege in 1991 that killed more than 100 civilians, Dubrovnik spent much of the late '90s and early 2000s cleaning up the damage. As a result, the world remembered what a gorgeous seaside town city it is and how the walled city was like something out of a Middle Ages fantasy -- which could be why it seemed so natural as the King's Landing in Game of Thrones. The beaches, the Lapad peninsula, Saint Blaise's Church and the walls themselves are stunning, but taken as a whole, this UNESCO World Heritage site should make it onto any traveler's must-see list.
8. Pahoa, Hawaii
Median nightly rate for a two-bedroom:$129
Cost per person per night (maximum occupancy): $32
All of 945 people live in this town for one big reason: lava. This town, named after a knife, rests on soil freshly deposited by the Kilauea Volcano and has front-row seats to various eruptions and lava flows. A particularly destructive flow hit coursed over the town three years ago, but folks who want to be in striking distance of the water on the windward side of the island, without being overrun with tourists, have few better options.
7. Budapest, Hungary
Median nightly rate for a two-bedroom:$118
Cost per person per night (maximum occupancy): $30
Yet another UNESCO World Heritage site, Budapest has endured centuries of change from its spot along the Danube. Whether you pop into the Roman Baths, the 13th Century Royal Palace or the House of Terror museum of fascist and communist regimes, you get a sense of the burden of history attached to the streets, shops, bridges, hotels and cafes. Various external forces have attempted to remake the Hungarian capital in their own image, but each just left overlapping fingerprints. To take in Budapest as a visitor is to take an immersive lesson in European history.
6. Cornwall, England
Median nightly rate for a two-bedroom:$117
Cost per person per night (maximum occupancy): $29
Like your Labor Day bit chilly ? England's southwest peninsula averages high temperature is in the low 60s, and it averages about three inches of rainfall throughout the month. It's a good place to walk the moors or take in the fog on the Isle of Scilly, and its key attractions are mostly beaches, cliffs and prehistoric landscape. However, Cornish culture and language -- itself part of greater Celtic culture -- is a draw all its own. The artwork, the literature and the food (clotted cream, pasties, ice cream fudge and fish pie) make Cornwall a world of its own, and one worth exploring.
5. St. Petersburg, Fla.
Median nightly rate for a two-bedroom:$110
Cost per person per night (maximum occupancy): $28
It's 90 degrees, the beaches are still open, it's still great boating weather and, let's be honest, the Rays and Buccaneers aren't going to provide much of a distraction. If you're still looking for a bit of gulf-coast summer, or have a retired grandparent you haven't seen in a while, this is a highly affordable beach spot around this time of year. Just check the weather first: the hurricanes are a big reason why that's what you're paying per night.
4. Hilo, Hawaii
Median nightly rate for a two-bedroom:$109
Cost per person per night (maximum occupancy): $27
Now, if you wanted the big tourist experience on this side of the Big Island, Hilo provides. This 46,000-person city is the home of Mauna Loa macadamia nuts, it's at the base of two different volcanoes, it's home to numerous hotels and resorts, a tsunami museum and numerous gardens and cultural centers. While folks tend to flock here around Christmas and into January and February to escape the winter, September is the last month of the summer dry season and an ideal time to visit if you aren't encumbered by kids or a lack of vacation days.
3. Athens, Greece
Median nightly rate for a two-bedroom: $105
Cost per person per night (maximum occupancy): $26
It's had a rough couple of years as the Greek economy collapsed, Olympic facilities sat abandoned and general malaise took over. But the slow recovery provides tourists a reminder of some of Athens's greatest strengths. The ancient history and ruins surrounding you are unparalleled, while the ability to reach the islands during a time when both the sea and sky are still blue make September an ideal time to arrive.
2. Tucson, Ariz.
Median nightly rate for a two-bedroom:$100
Cost per person per night (maximum occupancy): $25
Oh, it's going to be hot. The average temperature still gets up around 94 this time of year and you're still in a city in the desert. That said, you're in a city that hippies love, which means a whole lot of outdoor markets, art museums, theater and Sonoran hot dogs. Yes, it's a military town with its own Air Force Base, but it's an even bigger college town with all of the vibrance and amenities that entails.
1. Canary Islands, Spain
Median nightly rate for a two-bedroom:$99
Cost per person per night (maximum occupancy): $25
Sure, it'll be you and a whole lot of British, Spanish and German tourists on islands that are technically Spain, but located off of Morocco. But the gorgeous dunes, volcanoes (Mount Teide), rock formations, forests and beaches make it worth wading through the seas of tourists to get a glimpse.
Don't miss these galleries on TheStreet:
10 of the Most Worthless And Expensive Olympic Venues of All Time
15 Killer Fall Travel Deals
10 Absolutely Worthless Pieces of Sports Memorabilia
The 30 Nastiest Storms in Recent U.S. History Have Caused Mind-Blowing Damage
15 Beers That Are Worth a Bundle on the Black Market