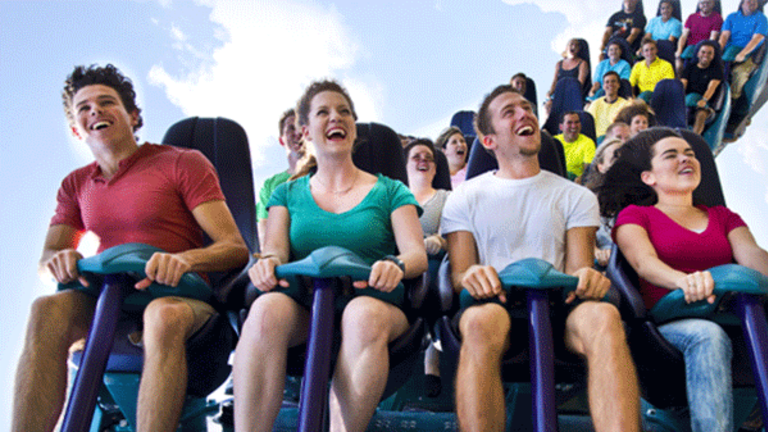 Need a Vacation? Visit One of These U.S. Destinations
It's definitely time to book summer travel, as anyone in a location by a beach or theme park is painfully aware.
No, it isn't too early to start planning your summer vacation. In fact, you really should've started by now.
A recent survey of TripAdvisor Rentals travelers revealed that while most travelers book their stay in a vacation rental 6 to 12 months in advance (40%), a combined 54% of travelers book three to five months out (34%), or one to three months out (20%). There's a reason for that: a survey from AAA indicates that 42% of Americans are planning to take a vacation in 2017 - with most planning trips to warm-weather destinations in the U.S. and abroad. Approximately one-third (30%) of U.S. adults say they are more likely to take a vacation this year compared to 2016.
Watch More:  These Are the 10 Best Beaches for Families in the U.S.
"There is a lot of pent-up demand for travel," says Bill Sutherland, AAA senior vice president of travel and publishing. "Whether they're taking a road trip to a well-known domestic destination or visiting an exotic international locale, today's travelers are seeking experiences that are unique and immersive."
They aren't going alone either. More than one-third of Americans (35%) are planning to take a vacation of 50 miles or more away from home involving two or more immediate family members this year. While most family travelers (70%) are planning to take one or two vacations, there is a significant increase this year in the number of Americans who say they are planning to take three or more vacations. The 28% of family travelers who will take three or more trips this year is 13 percentage points higher than in 2016.
"Families continue to see the value of traveling as a way to bond and reconnect in today's busy world," Sutherland says. "The best way to wrap up a family vacation is to start planning the next one, as more and more Americans are starting to do."
That's a whole lot of road trips (79%), visits to national parks (51%) and theme-park excursions (40%) this year, far outpacing the number of families spending on international travel (33%), guided tours (22%) and ocean cruises (20%). Compared to 2016, 10% more families are expected to take road trips this year, despite average gas prices that are more than 50 cents higher than they were this time last year. Even with early bookings, however, don't expect to find summer travel deals until late August. Rick Seaney, chief executive of travel site FareCompare.com, notes that the last week in August begins fall bargain travel season as children go back to school, older ones leave for college and parents spend their time back-to-school shopping and shuttling. During that time, demand for hotel rooms and flights plummets, recovers briefly for Labor Day and then slides into autumn.
"As for airfare prices, they can drop as much as a third or more over summer airfare," Seaney says. "For my money, autumn is the best time of the year for a vacation: it packs the one-two punch of great weather and great airfare prices."
Watch More:5 Things You Should Know Before Booking a Flight
As travel site Hopper figured out last year, booking a late-August trip cuts summer travel costs costs significantly. Domestic airfares that hover around $375 for July and August weekend dates drop closer to $300 during the last two weeks of August, with the best fares available on Tuesdays and Wednesdays. With international flights, you can save as much as 17% as airfare drops from an average of $1,100 in July to $850 in late August.
The folks at TripAdvisor Vacation Rentals note the cost of rental homes are sliced nearly in half between the start of August and mid-September. During peak season, however, you're lucky just to find accommodations.
"Summer is peak travel season, and while last minute bookings aren't uncommon, travelers who book in May will have many more homes to choose from than those who wait until July," says TripAdvisor Rentals spokesperson Laurel Greatrix. "If you're traveling with a group, look for a home with spacious living rooms and plenty of outdoor space so you can spend time together comfortably. Couples or families heading to theme parks can find affordable condos near the parks to make the most of their trip."
With help from TripAdvisor Vacation Rentals, we found the most popular U.S. travel destinations of the summer. As the peak per-week prices July of a two-bedroom rental indicate, deals vary by destination:
Editors' pick: Originally published May 1.
Read More Trending Articles:
Tesla Has Something 'Awesome' Coming That Could Send Its Stock to Even Higher Records
'I Am Positioned Aggressively for a Stock Market Correction,' Says Doug Kass
Why Amazon's New Service Should Scare Every Single Dollar Store Known to Man, and Walmart