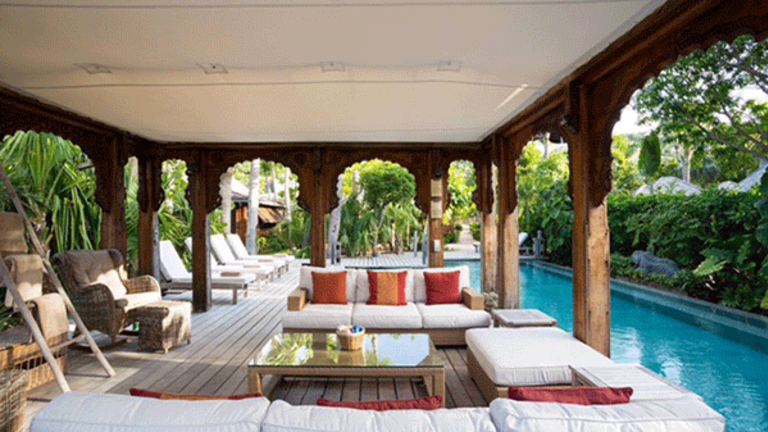 10 Holiday Caribbean Villas for the 1% That Will Leave You Drooling
Most of us daydream about warm tropical getaways come winter, but few of us dream this big. These homes are fit for royalty.
Editors' pick: Originally published Nov. 18.
For many of us, a vacation on a sun drenched beach during the harshest months of winter is a true slice of paradise. All that's required is a good book, an unobstructed view of turquoise water and perhaps a cool drink with a tiny umbrella in it.
Are you with me on this?
But for the planet's wealthiest citizens, that's the approach of peasants, commoners, the rank and file who don't truly know how to live.
For the one-percenters, Caribbean getaways are about far more then flip flops and sunshine. Instead, think lavish, sprawling villas with oodles of onsite amenities, enough rooms to accommodate one dozen or more of your closest friends and a bevy of staff to address every desire from sunup until sundown - and you're getting the picture.
The Caribbean is overflowing with exclusive multimillion dollar villas designed to accommodate corporate titans, celebrities, and the ultra wealthy. These are properties that rent for tens of thousands of dollars per night and offer the kind of over the top luxury and opulence most of us have only seen in the pages of Robb Report or when watching any one of the Real Housewives franchise programs.
Want a peek at the lifestyles of the rich and famous? Behold these ten Caribbean vacation villas that defy imagination.
Casa De Campo, Dominican Republic

A $13.5 million property that rents for $9,000 a night during high season, Casa De Campo includes six bedrooms with unobstructed ocean views, eight bathrooms, state-of-the-art electronics, two swimming pools (one of which is located on a third level rooftop solarium) and a private wine cellar.
Additional details at this luxe getaway, which offers sweeping views of the ocean and large airy rooms, include indoor dining for 20, a fully equipped chef's kitchen and an independent staff kitchen (in case mingling with the staff over meals is just more than one can bear.)

Falcon's Nest, Peter Island

With more than 21,000 square feet of interior space, six bedroom suites, an infinity pool, three-story waterfall with grotto and a grilling gazebo, Falcon's Nest was clearly designed to suit a celebrity and his or her entourage, or perhaps royalty.
The house is perched high atop one of the island's most picturesque bluffs, thus its Falcon's Nest name. The panoramic gated estate overlooks White Bay Beach and offers views of nearby Norman Island as well as St. John, in the distance. A Barcelona-style villa, the bedrooms are spread out among three separate residences.

The rental comes with staff, including a butler, chef, housekeeper and personal driver - all for a mere $12,500 per night to $18,500 - depending on when during the winter you choose to visit.

Villa Camp David, St Barths


Described as St. Barth's largest and most expensive villa, Camp David rents for a staggering $402,500 per week during the winter holidays, and there's a minimum two-week stay, to boot. So yes, a Christmas vacation at this property will set you back nearly $1 million.
What does one get for those kind of prices? A stunning private compound with 11 bedrooms spread out over more than two acres of tropically landscaped gardens, two pools, a tennis court, an air conditioned gym (with steam room) and a fully-equipped office. There's also daily housekeeping and turn down service, refrigerators stocked with water and soft drinks and a welcome basket upon arrival (which should be filled with caviar and diamonds at these prices).

The property, which accommodates up to 22 of your friends and family, also provides direct access to St. Jean beach.
If you don't have a cool $1 million to drop on a holiday getaway in the Caribbean, don't despair - prices for Villa Camp David drop in January to a mere $172,500 per week. Oh and the property is already booked for Christmas. Yes, someone has already snatched up this bargain retreat.

Exuma Villa, Musha Cay Resort

Words do not quite fully capture the stunning and exotic Musha Cay Resort and Exuma Villa. The Indonesian-style property listed on HomeAway, is a 12-bedroom retreat that costs an average of $52,500 per night in high season.
For those not familiar with Musha Cay, (and why would you be, since it's typically a private, by invitation only property) it is described as the most luxurious private resort island in the world. Guests at Exuma Villa have exclusive use of the 150-acre island.
The 10,000 square foot English colonial-style manor house on the island includes expansive handcrafted mahogany terraces that provide breathtaking panoramic views. Bedrooms meanwhile feature West Indies-style design, some with four-poster beds. There's also a thatched roof beach house, two guest villas and a five-bedroom beachside villa. Talk about a property fit for a rock star.

Kishti, Meads
Twelve bedrooms spread throughout two villas, overlooking the beautiful white sands and turquoise waters of Meads Bay. That's some of the most vital information for those interested in Kishti, a property that rents for about $38,990 per night.
This rental also includes a cook, butler, housekeeper and security service. In other words, there's always someone available to bring you a drink on the beach. Additional important highlights include an infinity swimming pool, a hot tub, al fresco dining areas, four fully equipped kitchens, fitness and media rooms, a home theater system and an al fresco shower.
Each of the two villas is laid out around a great room with a living area, dining area and kitchen that opens to the terrace via a folding glass wall.  Had enough yet?

Villa Cerulean, Anguilla
Just steps from the beach, Villa Cerulean includes all the luxury amenities you should expect by this point - such as an infinity edge pool, a tennis court and a fully equipped gym.
The striking Neoclassical home with white vaulted ceilings, French doors and stunning outdoor living areas, also includes nine bedrooms and ten bathrooms spread throughout two levels. All of this and a complimentary rental car, costs $30,623 per night.

Bella Beach Villa, Virgin Gorda

At $5,950 per night, this property is a relative bargain compared to some of the other homes already discussed. Bella Beach Villa is a 6,000 square foot home that includes six bedrooms, six bathrooms, a chef's kitchen and private fitness studio.
Staying here will put you just steps away from Virgin Gorda's pristine white beaches.  Each of the bedrooms meanwhile have private entrances, and indoor and outdoor showers.

Turtle Creek, Canouan

Ever wonder where the billionaires go to escape the millionaires? The answer is Canouan. A short sail away from other Grenadine Islands such as Mustique, Bequia and Palm Island, the under the radar Canouan is just three square miles. What it lacks in size, it makes up for with unspoiled lush green hills, white sand beaches and large, living coral reefs.
Now for where to stay on Canouan. First up Turtle Creek, a more than 10,000 square foot villa that includes five bedrooms spread among two wings in the main house and also a guest cottage. Tying the property together is a lush landscaped garden and private pool. There's also indoor-outdoor dining and seating areas, several media rooms, and a private gym. Turtle Creek will set you back as much as $20,000 per night during holidays and winter season.

Il Sogno, Canouan
Sitting high atop a hill, Il Sogno is a place where you can enjoy both stunning views and immense privacy. From this property the Caribbean Sea, Atlantic Ocean and Southern Grenadine Islands are all visible.
The estate itself, featuring indoor outdoor living, includes five cottage suites, each with bedroom, bathroom, sitting room and verandah.
The property's main gathering area revolves around a great room that features sliding walls, which open to reveal a verandah and infinity pool. There's also two dining areas - one in an outdoor gazebo that provides still more of those postcard Caribbean views and a formal inside dining room.
When not gazing at the ocean, you can also walk around the immaculately manicured grounds enjoying the banana, plantain, lime, orange, grapefruit, mango, papaya, avocado and fig trees. The cost for this little slice of paradise during the winter is about $20,000 per night.

Blue Diamond Villa, Anguilla

Located in Anguilla on Shoal Bay West, one of the world's best beaches, this oversized, geometric villa is 13,000 square feet of tropical getaway paradise. The rental includes 24-hour butler service and an onsite personal chef, so that you won't be troubled with cooking or cleaning.
The home's great room meanwhile includes a grand piano and 21-foot high ceilings, perfect if you're a famous celebrity who wants to offer an impromptu performance.
There's also meditation and massage rooms for private spa and wellness treatments, a hot tub that can fit 12 of your closest friends, family members or other assorted members of your entourage. The home's master suite meanwhile has a private terrace, to get away from it all.
Rates for Blue Diamond vary by season from $16,750 to as much as $90,000 per night.