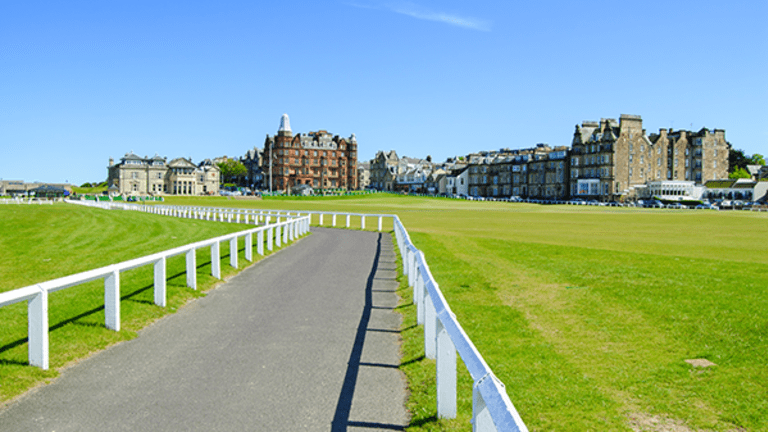 10 British Open Courses You Can Play for a Price
Every course that has hosted the British Open allows the public to play its holes. However, money and skill are both prerequisites.
You call it the British Open, the actual British call it the Open Championship, but you can play its courses no matter what you call it.
First played in 1860, the British Open is golf's oldest major tournament and its most welcoming. Consider that the Masters, U.S. Open and PGA Tournament have been held on hundreds of occasions, but seldom on courses you can actually play. The fact that the U.S. favors private, members-only courses limits the number of other publicly playable major-tournament sites to less than a dozen.
Meanwhile, the British Open has been held at only 14 locations in its 146 years. The last time it added a new course to the rotation was 1977. Those courses generally welcome foreign players, largely because they need the greens fees to survive, but also because they're a boon to tourism. In some cases, the courses are the cornerstones of resorts and are banking on players from overseas coming in and playing numerous rounds.
This year's installment at the Royal Birkdale Golf Club in Southport, England, took place at a club that's relatively new to the circuit. The Royal Birkdale hosted its first Open in 1954, making it the second-newest venue to do so. However, with the post-Brexit British pound sinking to a more favorable exchange rate with the dollar, greens fees that once topped $400 are now $266 on weekdays and $304 on weekends. If you can hold out for less-favorable weather in the fall, those prices drop to $201 and $246, respectively.
We won't feature the Royal Birkdale this year, as just about everyone remotely interested in the British Open has already booked tee times before and after the event. However, with every other course that's hosted the Open welcoming paying customers, we've come up with ten courses that are among the best of the bunch. At some of these clubs, golf is just a portion of the proceedings. Pack your clubs and a decent dinner jacket: the roots of golf history and culture await.