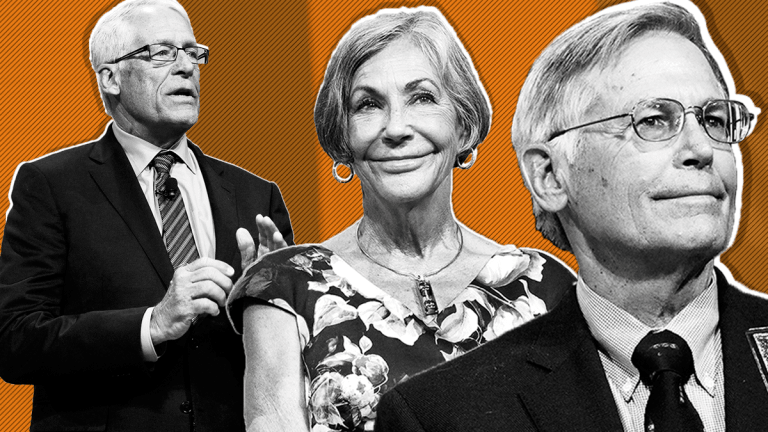 The Top 25 Wealthiest Families in the World
These families have built their wealth in everything from retail to fine chocolates.
Several billionaire families around the world have spread out their wealth among various industries, from tech to retail.
Here are the top 25 richest families, according to data compiled by Bloomberg based on their estimated net worth as of June 2018.
The Top 25 Wealthiest Families in the World
1. Walton Family
The Walton family is worth $151.5 billion. Their wealth came from the founding of Walmart  (WMT) - Get Free Report, the retail stores, in 1962 by Sam and Bud Walton.
2. Koch Family 
The Koch family is worth $98.7 billion and their empire's wealth is derived from Koch Industries, a conglomerate that started with an oil refinery.
3. Mars Family 
The Mars family is worth $89.7 billion and earned their riches from their stakes in the candy bar maker Mars Inc.
4. Van Damme, de Spoelberch, and de Mevius families
The Van Damme, de Spoelberch and de Mevius families are worth $54.5 billion and derived their wealth from beer conglomerate Anheuser-Busch InBev  (BUD) - Get Free Report.
5. Dumas Family 
The Dumas family is worth $49.2 billion and derives its wealth from the Hermès  (HESAY)  company, a luxury goods company.
6. Wertheimer Family 
The Wertheimer family is worth $45.6 billion and generates its wealth from Chanel, the fashion company founded by Coco Chanel.
7. Ambani Family
The Ambani family is worth $43.3 billion and its wealth comes from Reliance Industries, a conglomerate in India.
8. Quandt Family
The Quandt family is worth $42.7 billion and its fortune comes from its nearly 50% stake in BMW, the car manufacturer, and stakes in Gemalto, a security software company, as well as Logwin, a German logistics company.
9. Cargill-Macmillan Family
The Cargill-Macmillan family is worth $42.3 billion and their wealth is inherited from William W. Cargill, who founded Cargill, an agribusiness behemoth.
10. Boehringer and von Baumbach Family
The Boehringer and von Baumbach family is worth $42.2 billion and their money comes from operating Boehringer Ingelheim, a German pharmaceutical company.
11. Albrecht Family
The Albrecht family is worth $38.8 billion and owns Aldi, a German grocery company and a stake in U.S. grocer Trader Joe's.
12. Mulliez Family
The Mulliez family is worth $37.5 billion and owns Auchan, a massive European supermarket chain. The family also has controlling stakes in Leroy Merlin, a home improvement chain, and Decathlon, a sports equipment retailer.
13. Kwok Family
The Kwok family is worth $34 billion and runs the Hong Kong property developer, Sun Hung Kai Properties.
14. Cox Family
The Cox family is worth $33.6 billion and operates Cox Enterprises, which includes newspapers, radio stations, cable, broadband and automotive.
15. Pritzker Family
The Pritzker family is worth $33.5 billion and owns Hyatt  (H) - Get Free Report hotels.
16. Lee Family
The Lee family is worth $30.9 billion and operates Samsung  (SSNLF) , the electronics giant.
17. Rausing Family
The Rausing family is worth $30.9 billion and its wealth is derived from running Tetra Laval, a packaging conglomerate.
18. Thomson Family
The Thomson family is worth $30.9 billion and its wealth comes from its 64% stake in Thomson Reuters TRI, a financial data and services provider, and stakes in the Globe and Mail newspaper in Toronto and telecommunications company Bell Canada.
19. Johnson Family of SC Johnson
The Johnson family is worth $28.2 billion and owns SC Johnson, which makes household products such as Windex, Pledge and Glade.
20. Dassault Family
The Dassault family is worth $27.8 billion and their riches come from Dassault Group AM, a behemoth that owns newspapers, real estate, military aircraft, and software businesses.
21. Duncan Family
The Duncan family is worth $26 billion and their wealth comes from Enterprise Products Partners  (EPD) - Get Free Report, an oil and gas company.
22. Hoffman-Oeri Family
The Hoffman-Oeri family is worth $25.1 billion and family members still have a 9% stake in Roche Holding  (RHHBY) , the pharmaceutical giant.
23. Hearst Family
The Hearst family is worth $24.5 billion and the descendants' wealth comes from the foundation that runs Hearst, which owns TV and radio stations, newspapers, magazines, plus stakes in cable channels.
24. Lauder Family
The Lauder family is worth $24.3 billion and derived its wealth from the Estée Lauder EL company that owns 30 brands of cosmetics and perfumes.
25. Ferrero Family
The Ferrero family is worth $22.9 billion and receives its wealth from Ferrero Group, which manufactures Nutella and also owns Nestle's  (NSRGY) - Get Free Report candy business in the U.S.