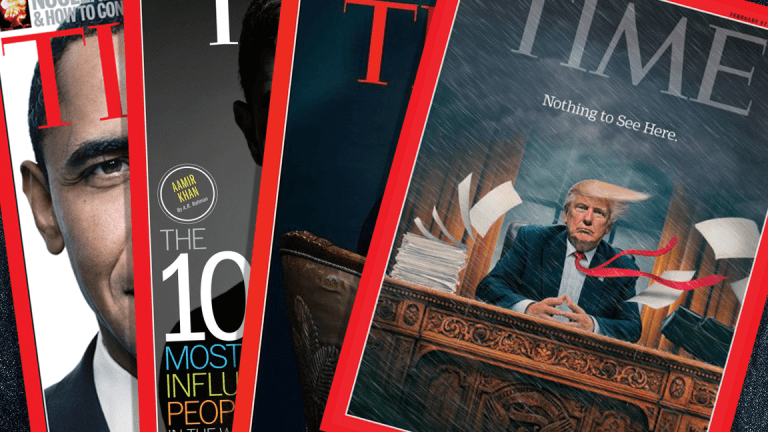 Trump and Mueller Make Shortlist for Time's 2018 Person of the Year
Some familiar names, including Donald Trump, make up the shortlist once again.
Time Magazine announced its shortlist for Person of the Year on Monday, and President Donald Trump is one of the finalists.
The others: separated families, Russian President Vladimir Putin, special counsel Robert Mueller, creator of "Black Panther" Ryan Coogler, Justice Brett Kavanaugh sexual assault accuser Christine Blasey Ford, deceased journalist Jamal Khashoggi, March For Our Lives activists, South Korean President Moon Jae-in and Duchess of Sussex Meghan Markle.
Every year Time announces a person who was the most influential in global events "for better or worse" to adorn its cover. It's the most hotly debated and sometimes controversial issue of Time every year. In 1938, Adolf Hitler was featured on the cover before the start of World War II. In 2006, Time put "you" on the front of its cover instead of choosing an individual. The magazine awarded the title to a woman only four times out of 91 Person of the Year issues: Wallis Simpson (1936), Elizabeth II (1952), Corazon Aquino (1986) and Angela Merkel (2015).
Trump is once again a finalist for the title after taking it in 2016 for his surprise election to the presidency of the United States. His second year in office still has him mired in controversy. Trump is under investigation for allegedly colluding with the Russians in cyber attacks against the U.S. and many from his campaign staff have been criminally charged by another in the shortlist, Mueller. Trump enacted several controversial policies, like starting a tariff war with China and separating families at the border, the latter which are also on the shortlist.
Separated families made the shortlist after a picture of a two-year-old Honduran asylum seeker wailing for her mother went viral. More than 2,000 families were separated at the U.S. border this year after the Trump administration announced a zero-tolerance policy aimed at curbing illegal immigration. Thousands of children were held in federal government facilities while their parents were sent to jail. 
Putin makes the shortlist after being reelected as Russian president in March. Russia is under U.S. sanctions for illegal activity in the country during the 2016 elections. The Washington Post wrote that Russians interacted with at least 14 Trump associates during the campaign and presidential transition, according to public records and interviews. Russians were also behind the poisoning of a former Russian spy in the U.K. and recently attacked Ukrainian ships in the Kerch Strait. 
Mueller is a hero in a crusade for some and a villain on a witch hunt for others. He was the runner-up for Person of the Year last year. Mueller was appointed special counsel by Deputy Attorney-General Rod Rosenstein to investigate Russian interference in the 2016 presidential election. So far, Mueller's investigation resulted in criminal counts against more than 30 people, some connected with the Trump 2016 campaign, and three Russian entities. The investigation is ongoing.
Ryan Coogler, the writer and director of the Marvel blockbuster film "Blank Panther" also made the shortlist. The superhero movie featuring a nearly all-African-American cast had the third-highest grossing U.S. release of all time. The movie was seen as a defining moment in history for African-Americans, as Hollywood tries to become more diverse and tries to shed its #Oscarssowhite label.
Christine Blasey Ford, a psychology professor, became a symbol for survivors of sexual assault as she testified against Supreme Court nominee, and now Judge Kavanaugh in front of senators in September. She alleged Kavanaugh sexually assaulted her three decades ago when they were high school students in Maryland. The public hearing was closely watched by the entire country and forced a reckoning on sexual assault victims.
Jamal Ahmad Khashoggi was a Washington Post journalist, a Saudi Arabian dissident and author who was recently assassinated in the Saudi Arabian consulate in Istanbul, Turkey. The CIA has implicated Saudi Arabian Crown Prince Mohammed bin Salman in the killing, saying the prince ordered his death, but the prince denies his involvement. Trump said he doesn't know if Mohammed bin Salman truly ordered the killing.
The March For Our Lives activists are collectively on the shortlist for uniting for gun control after 17 people were killed in a mass shooting at Marjory Stoneman Douglas High School in Parkland, Fla. The high school students created a nationwide movement named March for Our Lives under the hashtag #NeverAgain.
South Korean President Moon Jae-in is on the shortlist for thawing relations with the hermit kingdom of North Korea. The South Korean president has met his counterpart from the North in three historic summits and brokered the landmark meeting between the rogue nuclear power and President Donald Trump.
And finally, topping the list is former Hollywood actor and Duchess of Sussex Meghan Markle. Markle went from Hollywood to British royalty when she married Britain's Prince Harry in a high-profile wedding.