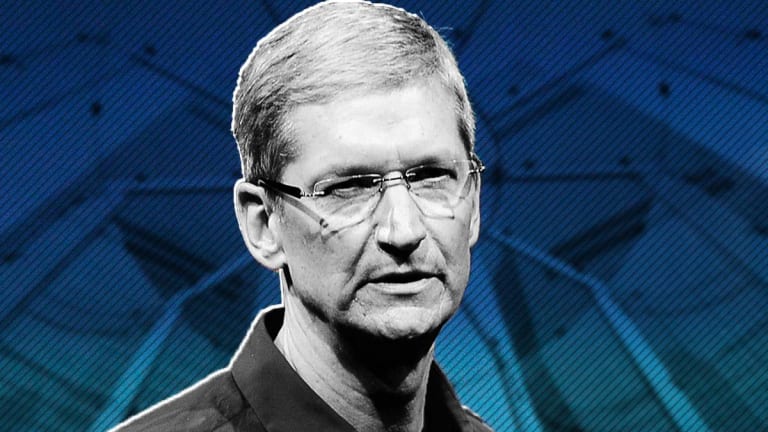 Tim Cook, Apple's chief executive officer, is worth a reported $625 million in 2019, based upon income earned through 2018.
That said, it's difficult to pinpoint Cook's wealth figures on a rolling basis, as the most recent figures don't account for the value of Cook's properties or the value of stock options that the Apple (AAPL) - Get Apple Inc. (AAPL) Report CEO has coming to him, but hasn't exercised yet.
For example, the total current value of the shares owned by Tim Cook (but not all are exercised and won't be until 2021 under the terms of his contract) are worth over $930 million. Consequently, if Cook were to sell all of his Apple stock by 2021 -- an unlikely occurrence but allowable by the company -- his net worth would skyrocket.
Ironically, Cook's current net worth of $625 million is well below the net worth of other technology industry titans.
For example, Jack Ma, founder of Alibaba (BABA) - Get Alibaba Group Holding Ltd. Sponsored ADR Report , has an estimated net worth of $36 billion, while Sergey Brin, co-founder of Google (GOOGL) - Get Alphabet Inc. Class A Report is reported to have a net worth of $9.3 billion. At $625 million, Cook has a long way to go before he's at the same wealth level of many of the top guns at global technology firms.
Cook isn't even the wealthiest member of the Apple family. That honor goes to Laurene Powell Jobs, widow of Apple founder Steve Jobs, who is worth a reported $21.3 billion.
Early Life
Timothy Donald Cook was born Nov. 1, 1960 in Mobile, Ala.
Cook's father was a shipyard worker while his mother was employed for years at a local pharmacy. Both parents were devout spiritualists and Cook grew up in a household that tightly embraced its Baptist traditions.
Cook's early school years were nondescript and certainly didn't foretell his rise to a CEO post at a $1 trillion technology powerhouse.
He attended Robertsdale High School, near Mobile, and earned an industrial engineering degree from Auburn University in 1982. Cook later earned an MBA degree from Duke University and worked for IBM (IBM) - Get International Business Machines (IBM) Report as a fulfillment specialist for 12 years.
Cook's interest in fulfillment and logistics led him to becoming chief operating officer at Intelligent Electronics, where he received some on-the-ground training in computer sales. He accepted a position as vice president for corporate materials at Compaq in 1997, but left quickly for Apple as then-CEO Jobs personally offered him a job after a one-on-one interview.
The move was a "once in a lifetime" opportunity for Cook, who found himself inspired by Jobs and the chance to rebuild a once-legendary American company.
A Career at Apple
Tim Cook once said that it was "intuition" that led him to leave a comfortable job at Compaq for a significantly riskier post at Apple. Steve Jobs was known throughout the industry as a tough taskmaster who routinely hired and fired managers who failed to meet his sky-high expectations.
But Cook was up to the task. His first job at Apple was a senior vice presidency post for global operations. He made his mark early by shuttering company-owned factories and warehouses across the globe and began contracting out inventory management services to third-party manufacturers.
Apple saw an almost immediate improvement in inventory costs but Cook was just getting started.
A fervent believer in long-term investments, Cook steered Apple toward the flash memory technology market in 2005. That market was hardly a blockbuster at the time, but Cook knew that Apple's iPhones and iPads were gathering marketplace momentum, and saw flash memory as a much-needed component as the market for smaller digital devices expanded, which was exactly what happened.
With a long-term deal in place with flash memory providers, Cook and Apple were getting a critical device component at a discount - an advantage competitors didn't have. Soon, iPhones and iPads were flying off the shelves, and the company was able to build them more cost-efficiently and make billions in the process.
Cook's work as an operational and financial risk-taker caught the eye of Jobs, who promoted him to lead Apple's global operations in 1997. Jobs followed that up by appointing Cook as acting CEO, as Jobs began his long fight against pancreatic cancer, a disease he would succumb to in 2011.
That same year Cook was officially tabbed as Apple' CEO, a move the company board of directors was more than happy to make. When Tim Cook came aboard in 1997, Apple was in the middle of a financial slump that saw revenues fall from $11 billion in 1995 to $6 billion in 1998. By the time Cook was officially appointed CEO, Apple's revenues had soared to $100 billion under Cook's guidance.
He also began pushing Apple into different and often contentious directions. Cook once told the audience at a shareholders meeting to "get out of the stock" if they didn't like Cook's push into the climate sustainability debate. Other moves, like Apple's aggressive marketing efforts in China long before other firms were doing so, wound up adding to Apple' bottom line, and the company prospered even more after its founder's passing in 2012.
Today the company boasts a market share of $1 trillion with revenues of $266 billion in the fiscal year 2018. Tim Cook didn't produce those kinds of numbers alone, but credit has to be given to the decision-maker at the top of the leadership chain, at a time when the company needed it most.
How Does Tim Cook Spend His Money?
By 2019, Tim Cook was earning a $15.6 million yearly compensation package at Apple, with $3 million earned as salary and $12 million earned in bonuses. If you count the shares of stock Cook sold, his income for the year, his income would be tens of millions of dollars higher.
But that massive increase in personal wealth doesn't seem to matter all that much to Cook. Even though he has become a millionaire hundreds of times over at Apple, when it came to actually spending some of his wealth, Cook is largely indifferent.
He has said in the past that money isn't a big motivator in his life, and he spends the money that he does earn with largely the same philosophy - money doesn't matter all that much to Tim Cook.
Cook reportedly buys his underwear when it goes on sale at Nordstrom's (JWN) - Get Nordstrom, Inc. (JWN) Report . He owns a modest $1.9 million home in Palo Alto, Calif., that's 2,400 square feet in size -- that's not a big number for pricey Palo Alto, where the median sale price is about $2.7 million.
Where Cook does spend his money in large quantities is in philanthropy. He has spearheaded the Apple corporate effort to eradicate AIDS (the company has given $130 million to the cause) and Apple has also given over $180 million to company diversity in technology and to the medical community over the past eight years.
Cook practices what his company preaches. In the last several years, Cook has donated over 23,000 shares of Apple stock to charity. Unmarried and with no children, Cook has already said he wants to leave all of his money to charity after he's gone.
That may be the biggest legacy of all for Tim Cook - a man who earned hundreds of millions of dollars, but would rather give it away than keep it.
It's never too late - or too early - to plan and invest for the retirement you deserve. Get more information and a free trial subscription toTheStreet's Retirement Dailyto learn more about saving for and living in retirement. Got questions about money, retirement and/or investments? EmailRobert.Powell@TheStreet.com.