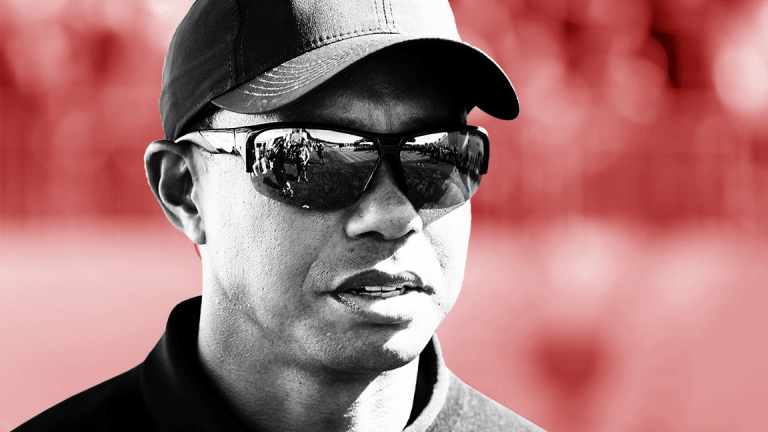 What Is Tiger Woods' Net Worth?
The famous golfer is estimated to be worth $800 million as of 2019. Tiger Woods boasts a long career full of controversy and sponsors, but here's what he makes and spends.
Everyone knows the name Tiger Woods - golf fan or not. While the mega-star athlete has had a long and controversial career, Woods is undeniably one of the most recognizable names in sports.
And after Woods's astonishing performance at the 2018 British Open, he could find himself back in the golf spotlight. Woods finished the tournament tied for 6th place, but had the lead for long enough that many wondered if he could shock everyone and win. But for a while, he looked like the Tiger of old. Now that it looks like he may be back, the idea of him winning another major is suddenly a possibility.
In fact, since his return to golf, Woods has scooped up a PGA Tour win in 2018, and became the biggest story in sports during the 2019 Masters Tournament, securing his first Masters win since 2005 as he teed off against some of the best golfers in the game, from Phil Mickelson to Jordan Spieth.
Still, in the wake of all this, what is Woods' net worth? Better still, how does the golfer spend his millions?
What Is Tiger Woods' Net Worth?
Throughout Woods' illustrious career as a professional golfer, Forbes has estimated that he has amassed quite the fortune. In December of 2018, they estimated his net worth to be $800 million.
Tiger Woods Salary
According to Celebrity Net Worth, Woods' salary is estimated to be $50 million per year.
Ever since the iconic golfer began to play professionally in 1996 at 21 years old, Woods' earnings have become increasingly impressive.
In 1996, Woods' first professional year in the sport, the athlete's on-course earnings amounted to some $894,060, with off-course earnings already amounting to $12,250,000. Around 20 years later, Woods' earnings total $1.4 billion for his career - only around 10% of which came from actual prize money.
Tiger Woods' Career
Woods began his professional career in 1996, and the famous golfer's astounding success has earned him a spot among the top highest paid athletes.
Over the course of his career, Woods claims 80 PGA Tour victories, 14 Majors, and countless records to his name. The famous golfer is only second in total Major wins, only 4 shy of Jack Nicklaus, and holds the lowest-scoring average on a course in PGA Tour history, at 68.17 in 2000.
Apart from his athletic accolades, Woods also founded the Tiger Woods Ventures, or TGR, foundation, devoted to "recognizing a generation of under-served students that were challenged by limited access to educational resources, … focusing on Science, Technology, Engineering and Math before STEM was broadly embraced by the global learning community," reads the Tiger Woods website.
Controversy and Loss of Endorsements
Despite many very successful years as the world's best golfer, Woods' controversial infidelity in 2009 drastically changed his career overnight - costing the athlete millions in potential earnings.
Following a car crash in November of 2009, Woods was found to be having affairs with up to 120 women, including a 21-year-old neighbor the golfer reportedly knew since she was 14, according to the National Enquirer.
Almost overnight, Woods lost a reported $23 million worth of endorsements in 2010, according to CNBC.
Additionally, many companies broke ties with the athlete due to the athlete's scandal and subsequent divorce in 2010. Most notably, AT&T (T) - Get Free Report , General Motors (GM) - Get Free Report , Gillette (PG) - Get Free Report , and Gatorade (PEP) - Get Free Report are among the top to split with Woods.
Apart from Woods' losses due to endorsements, the golfer also coughed up a cool $100 million divorce settlement to now ex-wife Elin Nordegren.
However, since Woods' public divorce, the golfer has still been in the news for scandal. Following their breakup, leaked nude photos of Woods and his now ex-girlfriend Lindsey Vonn, Olympic skier, caused the golfer to seek legal action against the celebrity gossip site that was responsible, the New York Post reported in 2017.
The photos have since been removed, but the damage to the already tarnished golfer's reputation has been severe. With his endorsements pulling out, Woods' former success seems to be in decline.
Tiger Woods' Return to Golf
Still, the sports world is notoriously forgiving. Following several years of more controversy and multiple surgeries, Woods announced his return to professional golf in November of 2017.
Despite Woods' recent efforts in the game, the player hasn't matched his former prowess.
Woods told ESPN and The Golf Channel that he has been seeking treatment for sex addiction exposed in 2010.
"I still have a lot more treatment to do, and just because I'm playing, doesn't mean I'm gonna stop going to treatment," Woods said.
The 2018 Masters was the golfer's first return to the tournament since 2015, but a reported poor performance landed him tying for 32nd place.
Still, Woods managed to kickstart his comeback with a big win.
After a dry spell in his career, Woods snatched his 80th PGA Tour championship - and first since 2013 - in September of last year.
The golfer was vocal about what this career win meant to him.
"Certainly, this is going to be up there as one of my better accomplishments I've had [if I win]," Woods told NBC. "Just considering where I've been, what I've had to dig through and fight through and the amount of help I've had to have to get myself to this point. My body was a wreck."
If Woods' 2018 PGA Tour win was a fun surprise for the golf world, his 2019 Master's Tournament was the biggest story in sports all weekend. A solid first three rounds saw Woods tied for second as the final round began, and a stellar round saw him take the lead against competitors near the top like Francesco Molinari and Brooks Koepka. Woods' bogey on the 18th hole with a two stroke lead secured the victory, giving him his 5th ever Master's Tournament championship, second only to Jack Nicklaus. Woods followed this up with a disappointing PGA Championship later in the year, failing to make the cut. He advanced further later on in the U.S. Open, finishing in a tie for 21st.
While Woods may have lost millions in endorsement deals due to his indiscretions, it seems as though a comeback, both on and off the course may be happening.
Tiger Woods' Endorsements
Perhaps the biggest contributor of annual salary for any athlete lies in his or her off-the-course endorsements and sponsorships. Woods has been famous for endorsements from some of the biggest companies and brands in the world, including Nike (NKE) - Get Free Report , AT&T (T) - Get Free Report , Gillette (PG) - Get Free Report , General Motors (GM) - Get Free Report , Gatorade (PEP) - Get Free Report , TaylorMade (ADDYY) , Monster Energy (MNST) - Get Free Report , Rolex, Bridgestone undefined  and Hero MotoCorp (to name a few).
After losing several of the athlete's biggest endorsements, Woods' repertoire is reduced to a lean 10 or so, maintaining his longstanding relationship with brand giant Nike (NKE) - Get Free Report .
Tiger Woods' House
Woods resides in a sprawling home in Jupiter, Fla., on a property costing $54 million, purchased in 2010. 
The 9,700-square-foot Florida mansion has a four-hole practice area for the golfer, lap and diving pool, tennis court, and boating dock, as well as a substantial amount of land. The property also boasts a wine cellar, boathouse and top-of-the-line gym.
Woods moved to the island house in 2010 during his divorce to Nordegren. The athlete reportedly used the home as collateral when paying his settlement to his now ex-wife.
How Does Tiger Woods Spend His Money?
Apart from buying a lavish mansion on the coast, Woods also bought a large yacht, ironically dubbed Privacy, said to cost $20 million. 
The golfer has also owned a G5 private jet estimated to be worth $54 million. 
Tiger Woods' Taxes
Although the particulars of 42-year-old Woods' taxes are unknown, he does not pay state income tax due to his residence in Florida. The golfer declared to have left California (where Proposition 55, an additional tax on single income filings of over $263,000, was passed in 2016) due to the high taxes. Woods famously claimed to understand why fellow golfer Phil Mickelson expressed his displeasure with increased taxes back in 2013, according to Daily Mail.
However, Woods is still in the federal tax bracket of 39%.