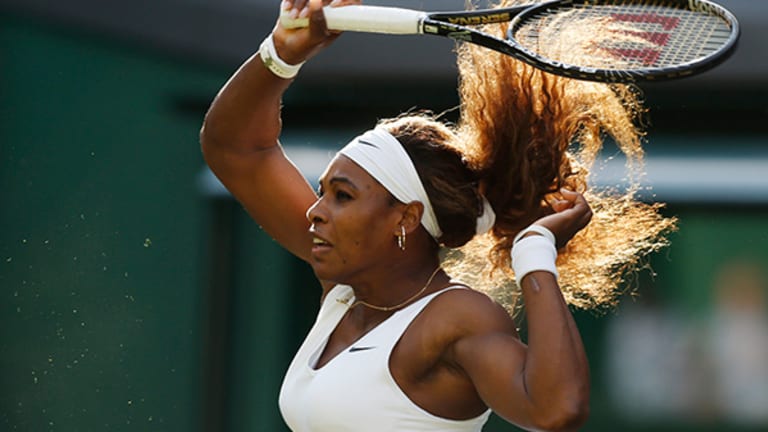 Tickets to Wide Open U.S. Open Tennis on Target to Set New Record
The average ticket price has risen more than 12% from last year. Top seeds Serena Williams and Novak Djokovic enter the tournament with injuries.
Serena Williams won't be the only potential record breaker at the 2016 U.S. Open tennis championships. 
The tournament itself may set records for ticket prices. 
Williams began won her opening match Tuesday night as she seeks the 23rd Grand Slam title of her career, a feat that would snap her current tie with Steffi Graf for second most all-time behind Margaret Court, who won 24 titles. Meanwhile, tickets for the event are the most expensive since at least 2010 on the secondary market.
Such a claim is backed by data provided by TicketIQ, a leading online ticket aggregator offering consumers access to primary and secondary market inventory. U.S. Open tickets on TicketIQ currently own an average price of $422.34, up 12% from last year's record-setting average price of $378.22.
As is the case each year, fans looking for the cheapest tickets will find them during the early rounds. Tickets across the first four sessions have owned an average resale price of $174, and tickets could be found for as low as $37. Prices rise until the round of 16, when there is a slight decrease in average price compared to the round of 32.
Tickets will be pricey for both finals. 
For the women's final on Sept. 10, the average secondary market price for tickets is now $843. That marks a 45% drop from last year's final average of $1,526. Tickets for the final start at $162.
Tickets to the men's final on Sept. 11 currently own an average resale price of $940 and a $253 get-in price.
Both draws seem more open than in the past few years. Serena Williams has been complaining of shoulder trouble and lost surprisingly in the third round of the Olympics in Rio earlier this month. She has looked more vulnerable over the past year, as well, losing the Australian and French open finals and suffering a few other surprising defeats. The German Angelique Kerber, who defeated Williams at the Australian Open, has had an outstanding year, and the U.S. Open's hardcourt surface suits her style. 
Spain's Garbine Muguruza, who beat Williams in the French Open final, and Romania's Simone Halep have also played well in recent months. 
 On the men's side, world number one Novak Djokovic lost early at Wimbledon and the Olympics and has suffered from a wrist injury. He won his first round Monday over Poland's Jerzy Janowicz, but dropped a set. To be sure, the 6-foot-8 Janowicz is a dangerous player with one of the biggest serves in tennis. Still, Djokovic's frame of mind has seemed less than ideal in the build-up to the event. 
He is looking to win his 13th Grand Slam, which would surpass his contemporary, Spain's Rafael Nadal. The injury-plagued Nadal, also a former U.S. Open champ, won his first round match. 
The field also includes three other former U.S. Open winners, Andy Murray of Great Britain, Marin Cilic of Croatia and Juan Martin Del Potro of Argentina. Murray, who is currently ranked second in the world, has enjoyed a stellar summer. He won Wimbledon and the U.S. Open.
Missing for the first time in nearly two decades is Roger Federer, who suffered a season-ending knee injury earlier this year.   
While fans continue searching for the best deals on tickets, travel accommodations won't be as hard on the wallet. According to Priceline.com, hotels in New York start from $63 per night over the remainder of the tournament. For the die-hard fan set on taking in the final Grand Slam of the year, flights can also be arranged from anywhere in the world on Priceline.com.
This article is commentary by an independent contributor. At the time of publication, the author held TK positions in the stocks mentioned.